24 Dec

Colonel Roger D. Ingvalson Headed West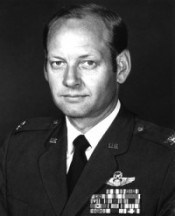 Roger Dean Ingvalson, Col. (Ret) USAF, 83, of Chattanooga, headed west on December 24, 2011. Born in the farming community of Blooming Prairie, MN on June 20, 1928, he was preceded in death by his parents, Bennie and Ida Hanson Ingvalson, his first wife, Jackie, three sisters and two brothers. He is survived by his wife of 38 years, Booncy, and four sons: Mike Fullam (Dawn), Cleveland, TN; Craig Ingvalson (Katy), Chattanooga, TN; Mark Fullam (Nancy), Rising Fawn, GA; and Gary Fullam (Melissa), Atlanta, GA; and seven grandchildren, Wayne Fullam, Cadet Haden Fullam, Cadet Jay P. Fullam, Ben Ingvalson, Maggie Ingvalson, Grace Fullam, and Eliason Fullam.
Roger joined the Air Force in 1950, becoming a pilot and flew F-86 Sabre Jets, and the F-100 Super Sabres. Video Summary F-86/89/94.100. At the peak of the Vietnam war, he was called to combat duty with orders to fly 100 F-105 missions over North Vietnam. On May 28, 1968, his 87th mission, he was shot down by enemy fire and taken a prisoner of war, where he remained until March of 1973. Upon his return in 1973, he married his best friend's widow, Booncy, uniting the two Air Force families, and moving to Chattanooga, TN. in 1976. His Air Force decorations include the Silver Star, the Legion of Merit, three Distinguished Flying Crosses, two Bronze Stars, two Purple Hearts, and seven Air Medals. In 1981, he started Chattanooga Prison Ministries, now Prison and Prevention Ministries.
He was active in several civic organizations; Boards of Directors for Bethel Bible Village, Goodwill, Salvation Army and Bonny Oaks Foundation, and was active on the Chattanooga Armed Forces Committee, Chattanooga Downtown Rotary, and Christian Businessmen's Committee. He and his wife have been longtime members of First Presbyterian Church where he was a ruling elder. Raised in a church all his life, he turned his life over to his personal Lord and Savior, Jesus Christ, in 1968. Since that day, his life's actions and decisions were guided by that act. He was a man who successfully blended military bravery and heroism with a gentle, compassionate heart for every person he met. In lieu of flowers, donations may be made to Prison and Prevention Ministries, Changed Lives, World Missions of First Presbyterian Church, or Siskin Children's Institute