George Cline Wells "Headed West" on April 25, 2021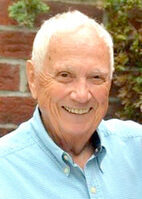 Flat Rock, NC – George Cline Wells, 86, of Flat Rock, NC and formerly of Crystal Lake, IL passed away peacefully on April 25, 2021.
Born August 23, 1934, to Glenn and Esther Wells in Farina, IL, George had a fascination with aviation when seeing a formation of P38's fly over the barnyard at 8 years old. That dream for flight was far exceeded by the reality of his adventures.
Days after graduating from the University of Illinois and ROTC, George married his high school sweetheart, Martha Ann Hotz of St. Peter, IL. They were married 64 years.
His career in the United States Air Force and American Airlines included flying F-100's, the F-104 Starfighter, the DC-10. He owned a Pitts Special with his brother, Charlie Wells, and flew aerobatics.
George and Martha made their home on Crystal Lake in Illinois. George was President of the Park District Board and served as Mayor of Crystal Lake.
Settling in Flat Rock in 1995, George became a regular morning hiker at Sandburg and enjoyed riding his Gold Wing trike thru the mountains. Martha and George are members of the Upward Christian Fellowship.
George will be lovingly remembered by his wife, Martha Ann Wells; siblings Ruth Wilson, Leland Wells, and Donna Mae Rickey; children, Karen Bork (Wayne) and Sharon Swing (Tom); grandchildren Janine Wetzel (Caleb), Joy Bork, and Matthew Swing (Bekah); and 3 great-grandchildren. He was preceded in death by his parents, Glenn & Esther Wells, and brother Charles Wells.
Memorials can be made to Friends of Sandburg at Connemara, P.O. Box 16, Flat Rock, NC 28731, Elizabeth House Hospice, 581 S. Allen Rd. Flat Rock, NC 28731 or The SECU Center for MemoryCare 100 Far Horizons Lane, Asheville, NC 28803. Online condolences may be offered at www.shulerfuneralhome.com.