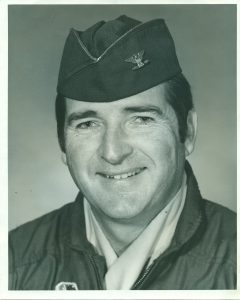 Colonel Paul "Rex" Hammock USAF (Ret.) Rex Hammock, 83, loving father, grandfather, and friend, passed headed west on March 8, 2017, after a long hospital stay. Born on May 27, 1933, in Long Beach, Rex spent the majority of his youth in San Diego. A seven-year boarding student at Army-Navy Academy in Carlsbad, he earned varsity letters in football, basketball, and baseball, served as Class President as well as Cadet Major, and was voted Outstanding Senior upon his graduation in 1951. In 1956, Rex graduated from San Diego State College, where he played baseball, participated in AFROTC, and was a member of Kappa Sigma Fraternity. He later earned a Master's Degree from Shippensburg State in Pennsylvania. The joy of his professional life came in the 24 years Rex spent as a fighter pilot, "the greatest job in the world," in the United States Air Force.
Most of his time was spent flying the F-100 Super Sabre and the F-4. His many career highlights include: flying 100 missions over North Vietnam during the Vietnam War in which he earned the Silver Star for "gallantry in action against the enemy;" graduating from the U.S. Army War College in Carlisle, PA (1972); living abroad as U.S. Air Force Attaché to the Republic of Iran; serving as Director of Operations for the F-4 Wing at Luke A.F.B.; and molding young men and women as Professor of Aerospace Studies and Commander of the AFROTC at Arizona State University (1977 – 1980).
He was a proud member of The Super Sabre Society, The Order of Daedalians, Command Bar Stool Association, and the Military Officers Association of America. Following his Air Force retirement in 1980, Rex spent 20+ years in various management and leadership roles, ultimately retiring "for good" as Director, Motor Vehicles Division, for the Arizona Department of Transportation.
Rex was a 40-year resident of Litchfield Park, AZ, and spent the final year of his life near his family in Encinitas, CA. What he loved most were his family and friends, flying, playing golf, sports of all kinds, and his Catholic faith. Rex is survived by his son Steve (Maureen) of Encinitas, CA, his Aunt Charlotte Webster of National City, CA, his "oldest and dearest friend" of 73 years, Chuck Freebern of Del Mar, CA, and his eight grandchildren – Mick, Maggie, Rebecca, Rex, Kat, Phillip, Kelsey, and Bennett. He was preceded in death by sons Phillip (1978) and Kevin (2013), and his wife of 40 years, Sharon (2015).
A public visitation will be held at 9:30am followed by a rosary at 10:00am with Mass at 10:30am, Monday, March 27, 2017 at St John Vianney Catholic Church, 539 E. La Pasada Blvd in Goodyear, AZ 85338. Burial will take place at Arlington National Cemetery in Arlington, VA at a later date. Condolences for the family may be left at www.thompsonfuneralchapel.com.