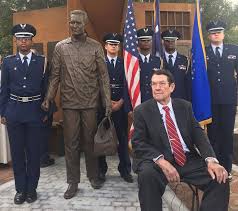 21 Oct

Col Jack Van Loan – An Impressive Memorial Service and Flyby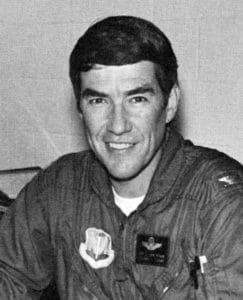 Col. Jack Van Loan's Memorial Service was held on October 26, 2019, in downtown Columbia, SC, at Five Points' Centennial Plaza where a statue of Jack leaving the P.O.W. camp is situated. About 2oo attended the service which included tributes to Col. Van Loan, a Memorial Fly-by by the SC Air National Guard in F-16s, and a "nickel on the grass ceremony".
Col. Abu Gandhi, SCANG Commander, 169th Fighter Wing out of McEntire JNGB, SC presented the Flag to Linda VanLoan in an impressive ceremony. Other notables attending included Congressman Joe Wilson, Columbia's Mayor Steven Benjamin, and 6 former fighter pilots from the SC Air National Guard (Silver Foxes). Representing the Super Sabre Society were members Leo Mansuetti and Win Reither. South Carolina VFW members and pilots from the Daedaleon's Palmetto Flight 70, Sumter, SC also attended.
After the formal portion of the ceremony was completed, retired "Silver Fox" pilots held the traditional "nickel on the grass" ceremony.  Jack was recognized for his service and sacrifice to our country by the throwing of 133 nickels on the grass. The tradition stems from an old WWII ballad with the words, "throw a nickel on the grass and save a pilot's ass", but has grown to include a poem titled "Tribute to the Fighter Pilot" by an anonymous author.
"So here's a nickel on the grass to you, my friend, and your spirit, enthusiasm, sacrifice, and courage – but most of all to your friendship. Yours is a dying breed and when you are gone, the world will be a lesser place."
Afterward, a toast of Jeremiah Weed Whiskey was made to recognize Jack and the joy that all fighter pilots share in flying for our country.
This event was managed by Jack's youngest son, Doug VanLoan. The hour-long ceremony included tributes by Jack's sons Doug and Glen VanLoan, Grandson Jackson VanLoan, Win Reither, Mayor Steve Benjamin, and Chaplain Phillip Bradley.
Jack is survived by the love of his life, best friend and wife, Linda; brother James Wendell Van Loan and wife Sharon; six children, Steven, Glenn and Douglas Van Loan, Brian Black, Holly Black, and Megan Ruppert; 19 grandchildren; and many nieces, nephews, and great-grandchildren.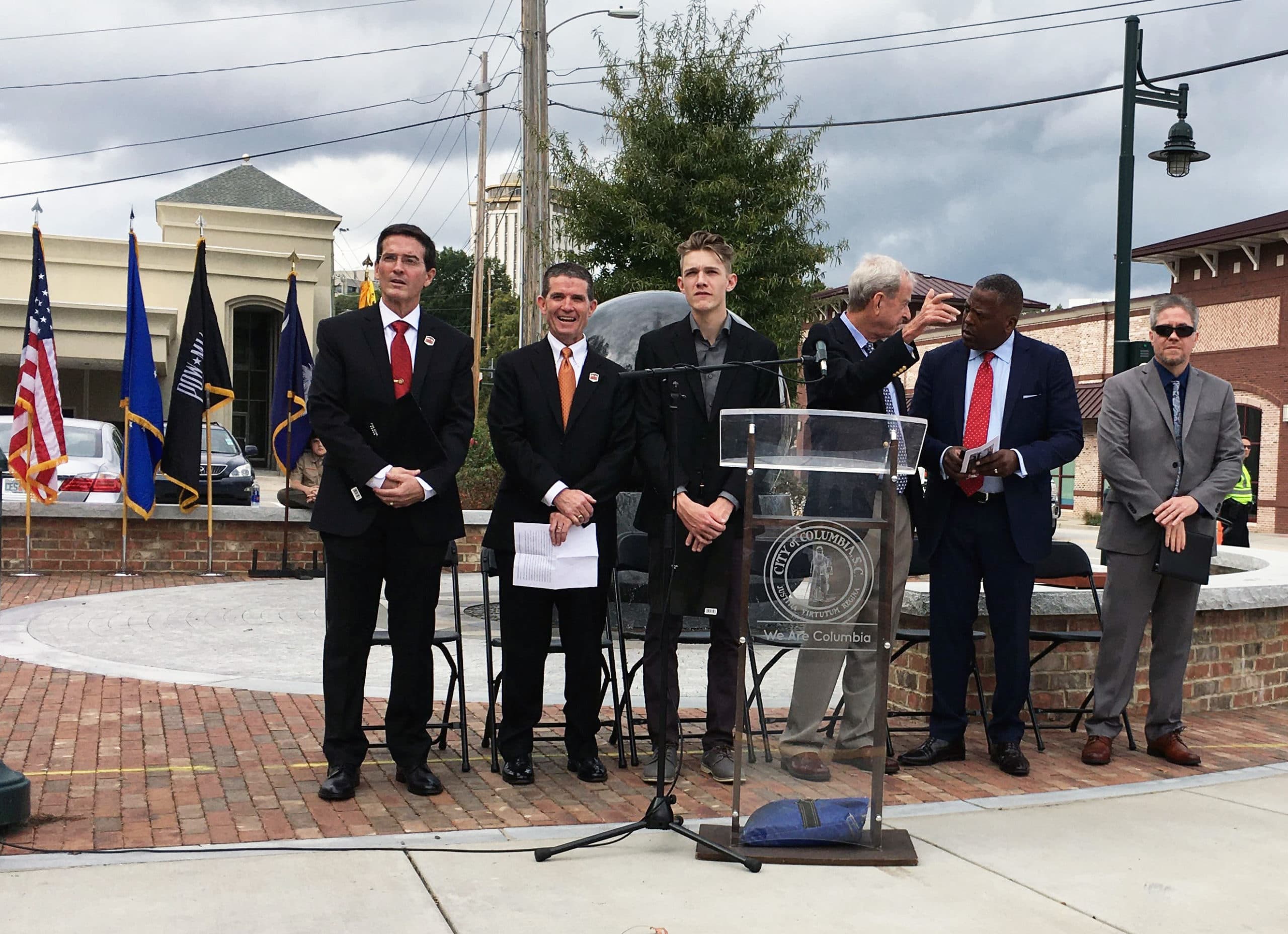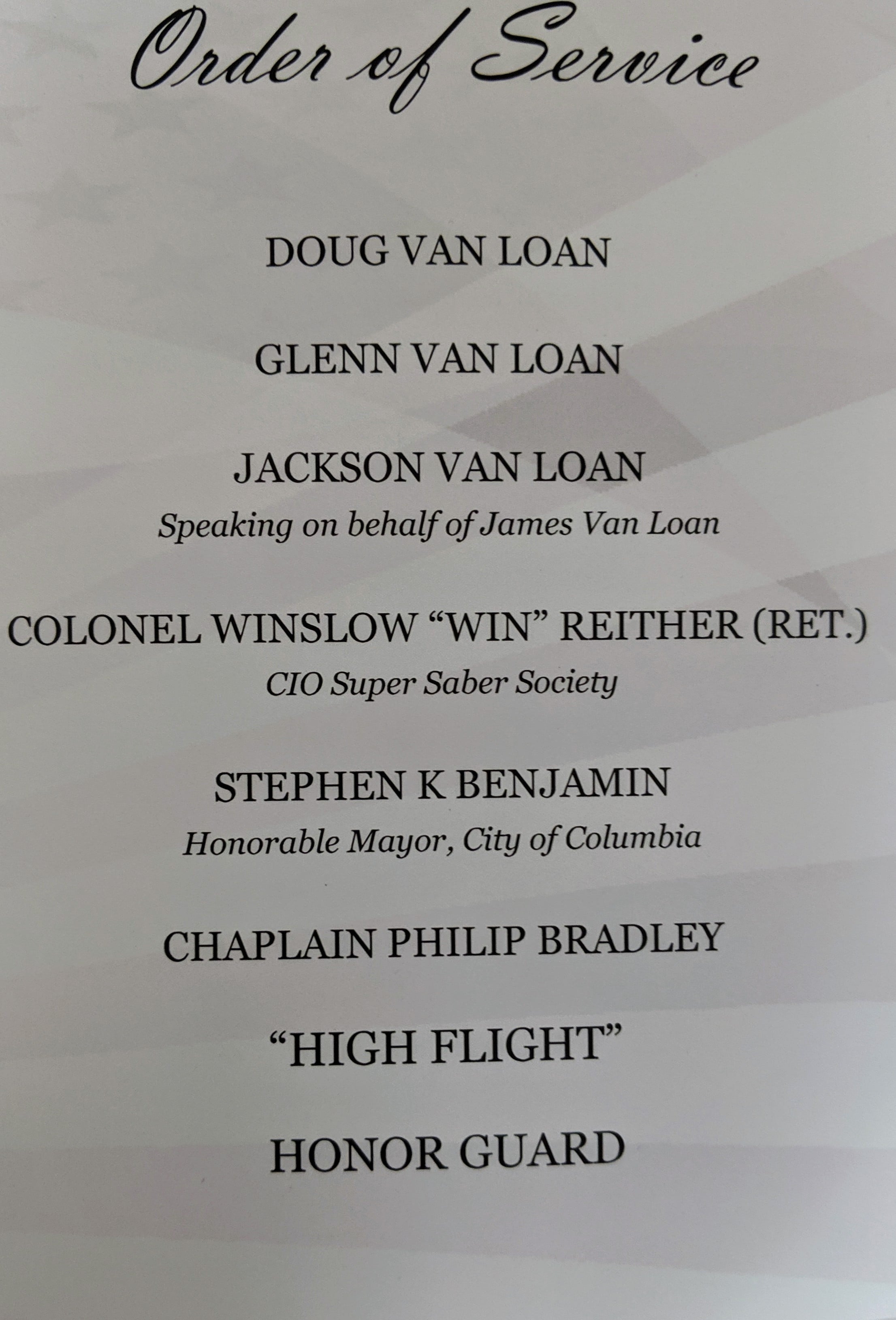 Jack's P.O.W. Story – MiG Sweep with 15-20 Bandits
Jack was on a MiG Sweep lead by Robin Olds in an F-4C with his pilot, Joe Milligan, northeast of Hanoi on May 20, 1967. Olds engaged a gaggle of 15-20 North Vietnamese Mig 17F's. During the ensuing furball, Jack's aircraft was hit with 37MM cannon fire and he and Joe Milligan both punched-out. They were captured and imprisoned for six years.
Jack later said of his captors, "They treated us like animals and criminals … we were subjected to constant degradation, humiliation, and privation." He refused to gave interrogators any information and suffered for it for nearly two years.
Jack spent part of his time at the infamous "Hanoi Hilton," alongside Navy pilot (and later Arizona Senator) John McCain. Van Loan "did not agree" with demonstrations against U.S. involvement in Vietnam" but said, "I will absolutely defend their right to demonstrate peacefully and their right of assembly." …I always believe we, as citizens, must keep in mind what effect our actions have in the enemy capitol."
To read about Jack and his life as a POW go to https://supersabresociety.com/biography/van-loan-jack-l/