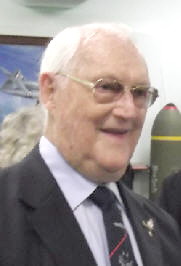 11 Feb

Jim Flemming, RAAF headed west
Jim Flemming, (89) passed away on 11 February at the National Capital Private Hospital, Australia after a lengthy period of deteriorating health owing to cancer and renal disorders. He leaves behind his wife Pat and three children – Peter, Geoffrey and Terese.
Jim Flew the F-100 on exchange with the USAF in 1958-59.
The Fighter community mourn the passing of such an inspiring confrère in a profession spanning over 40 years.
Career in a nutshell:
Joined RAAF 1943, trained under EATS in Aust. & Canada, graduated as Sgt Pilot 1944 and based in New Guinea and Darwin;
Converted to Mustangs 1946, then served with 78 Sqn;
Flew Mustangs in Japan 1948;
First RAAF mission in Korean War 1950;
Commissioned 1950 (MID, US DFC & Air Medal);
Served with 3 Sqn 1951;
Flying Instructor Course 1955;
CO 75 Sqn 1956,
Formed Meteorites (first official RAAF aerobatics team);
CFS 1957;
Exchange posting with USAF 1958, flying F-100 and F-104;
Chief Flying Instructor 2 OCU;
CO 76 Sqn;
RAAF Staff College 1962;
Director Operational Research;
Led Operation Fast Caravan 1967 (Deployment of Mirages to Butterworth)
CO 75 Sqn (Mirages) Butterworth, Malaysia, 1966-68;
OC RAAF Contingent Ubon, Thailand, 1968;
Principal Staff Officer & Senior Admin Staff Officer, HQ Support Command 1969;
OC RAAF Williamtown, NSW, 1973-75;
Royal College of Defence Studies 1975;
RAAF Director General Tactical Fighter Project, 1976-77;
Commander IADS 1977;
Chief of Air Force Ops. 1981-82 , Retired RAAF 1982;
Director Australian War Memorial 1982-1987
Bon Voyage
James Hilary Flemming
Good and True Australian