19 Aug

Misty FAC story at Southeast Asia War Gallery

SSS Member Frank Kimball (Misty 61) visited the Southeast Asia War Gallery a week ago. He sent a photo of the Misty plaque at the newly renovated museum. Frank says it's worth visiting.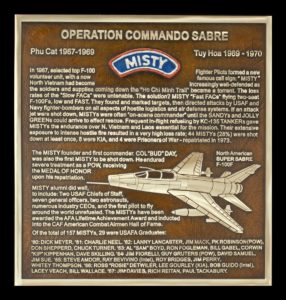 Here's the write up:
"Misty" forward air controller story told in Southeast Asia War Gallery
One of the many courageous groups that served during the Southeast Asia War is highlighted in the renovated Southeast Asia War Gallery at the National Museum of the U.S. Air Force.
"Misty" forward air controllers (FACs) flew at low altitude, spotting and marking enemy targets in heavily-defended areas in Laos and North Vietnam. In spite of their skill, specialized tactics and fast aircraft, the all-volunteer group paid a high price for striking at the vital, well-defended communist supply lines. Enemy ground defenses shot down nearly a quarter of the 155 Misty FAC pilots, and two were even shot down twice.
"The Misty FACs were a resourceful, all-volunteer group who willingly took on an extremely dangerous mission and, in the process, blazed a new trail in the Air Force's history," said Jeff Duford, a research historian at the museum. "Previously, forward air controllers only used propeller-driven aircraft. The Misty FACs proved that jet-powered aircraft could provide effective forward air control in high threat areas."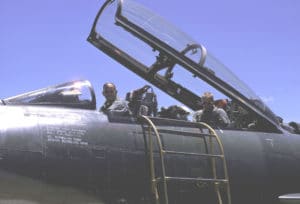 Both Misty FAC aircrewmen were fully qualified fighter pilots. During a mission, the front-seater usually flew the aircraft while the back-seater navigated and observed. (U.S. Air Force photo)
During their missions, Misty FACs often flew against the Ho Chi Minh Trail, focusing on its key passes from North Vietnam into Laos. They operated at relatively low altitude, constantly turning their aircraft to throw off the aim of enemy anti-aircraft gunners. Misty FACs located and marked targets for other aircraft to hit, and they occasionally used their 20mm cannon to attack targets themselves. Misty FACs also spotted targets in southern North Vietnam and supported rescue forces to recover downed aircrew, often being the first aircraft on the scene. For more information and photos of the Misty FACs, see www.nationalmuseum.af.mil/factsheets/factsheet.asp?id=17183.
The centerpiece of the Misty FAC exhibit is the museum's North American F-100F, which was assigned to the 37th Tactical Fighter Wing at Phu Cat Air Base, South Vietnam. This specific aircraft was flown in combat by several notable U.S. Air Force figures, including Gen. Merrill McPeak and Gen. Ronald Fogleman (former USAF chiefs of staff), and Col. Richard Rutan (chief pilot of the first around-the-world unrefueled flight).
Museum staff began renovating the Southeast Asia War Gallery in 2010 in preparation for the 50th anniversary of the first U.S. Air Force campaign during the Southeast Asia War.
The National Museum of the United States Air Force is located on Springfield Street, six miles northeast of downtown Dayton. It is open seven days a week from 9 a.m. to 5 p.m. (closed Thanksgiving, Christmas and New Year's Day). Admission and parking are free. For more information about the museum, visit www.nationalmuseum.af.mil.
(Updated for dates, from an article by Sarah Swan, National Museum of the U.S. Air Force / Published March 23, 2011)