17 Sep

POW/MIA Day

Larry Spencer, AFA President, sent out the attached message on POW/MIA Day. Our F-100 community had four POWs captured during the Vietnam War:
Hayden Lockhart (first USAF POW – captured, 2 March 1965, POW for 2905 days);
Bud Day (Misty1, RIP, 5 years, 7 months as a POW, Medal of Honor);
Bob Craner (Misty17, RIP, 5 years, 4 months as a POW);
Guy Gruters (Misty 29, shot down with Bob Craner, 5 years, 4 months as a POW).
The stories of the Mistys can be found in the book, Misty, First Person Stories of the F-100 Misty Fast FACs in the Vietnam War.
Also, we have four F-100 MIAs:
Mike McElhanon, (Misty46, RIP);
John Overlock (Misty51, RIP);
Larry Whitford (Misty136, RIP);
Patrick Carroll (Misty127, RIP).
As Super Sabre Society members we ask for the blessings of a good and gracious God upon our missing and deceased comrades and peace for their families.
WE WILL NEVER FORGET!
Larry O. Spencer's letter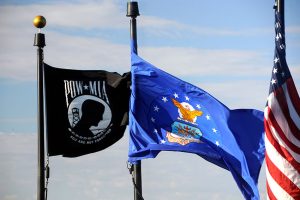 We, as a nation, made a solemn promise to the members of our armed forces and civil servants stationed around the world. That promise is to leave no one behind in combat and to honor the special sacrifices made by our prisoners of war.
According to the Defense POW/MIA Accounting Agency there are 82,479 service members unaccounted for since World War II. Many of these service members might never be found but their families still cling to the hope there will be an answer to the fate of their loved ones.
Following the end of the Vietnam War, the United States Congress passed a resolution authorizing National POW/MIA Recognition Day to be observed on July 18, 1979 and later, it was moved to the third Friday of September. On this day, we all pause to remember those who were prisoners of war (POW) and those who are missing in action (MIA), as well as their families.
The brave men and women who serve our country today in Iraq, Afghanistan, and in other hot spots throughout the world have voluntarily accepted the risks associated with their service. They are willing to pay the highest price to preserve our peace and freedom. They do so with confidence, knowing that if captured, injured or killed in battle, our nation will make every effort to bring them home. We will not abandon or forget them.
Clausewitz said "war is a mere extension of politics by other means." But it is also about people. The reality is that some do not come home. The United States is one of the few nations who actively search out and seek answers to the fates of our missing so we can bring closure to families and bring their loved ones home.
In war, being a member of the military comes with risk. We ask a lot of our men and women. We must continue to honor our vow to bring them home. It is also paramount we always remember them and remember our promise to those who bear the burden of war for it is a solemn vow we must keep.
Sincerely,
Larry O. Spencer
AFA President