Al Bartel's Bailout Story! July, 1959: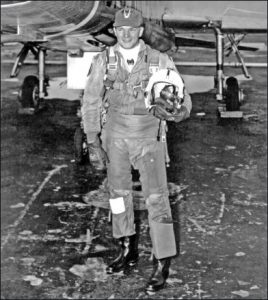 While preparing to brief the weather for our dawn take-off gunnery mission out of Chi-yi, Taiwan, the young 2nd lieutenant weatherman chose to ignore the local Chinese guys, who had forecast fog and zero-zero, and tell our flight of fearless Hun drivers it would be clear and a bunch.
The gunnery part went well—think I may have won a couple of quarters—then it was time to RTB back to the "clear and a bunch." The zero-zero fog that was now covering our runway was testimony to the idea that maybe being born and raised in an area might just make you more qualified to predict weather than being able to read a skew T log P, or whatever.
I made two GCA approaches on the wing of my fearless leader, Harry "Arch" Archeleta, and never saw the runway; mainly because the GCA was lined up on the parking ramp (this fact was determined later). I came down final on the second try with 200 pounds indicated fuel (dumb) and was lucky to actually have enough gas for the J57 to break the downward trajectory and get me to 600 feet before the noise stopped.
I told Arch my problem and, God bless him, he said, "What are you waiting for—GET OUT!" So, I did. I landed in a nice soft rice paddy and got whatever they fertilize with over there all over my body.
I was in a routine of taking three showers a day for two weeks, just to get the rice paddy stuff off me, when I noticed that my flight commander, my squadron commander and my wing commander had all been replaced. That says something for keeping the light on the star and your mouth shut.
It took the powers-that-be a month before they scheduled me for a post-accident check ride. The check ride went well, but the next mission was a high-altitude dive bomb sortie, and (wouldn't you know) while at altitude, the turbine blades went out the tailpipe. Rather than go through the accident board deal again, I dead-sticked it into Kadena.