01 Aug

SSS Member Walter J. Rabe, Headed West
Super Sabre Society member Walter J. Rabe, Col USAF (Ret) headed west on July 23, 2017, at age 83. He is survived by his wife, Janet, five daughters, one son, and nine grandchildren.
In 1957 as a cadet at West Point, Carl Rabe marched along the parade route during the Inauguration of President Dwight D. Eisenhower. Sixty years later his grandson, Ethan Rabe, a Fishburne Military School student was one of the members of the corps of cadets to march in the Inaugural Parade for President Donald Trump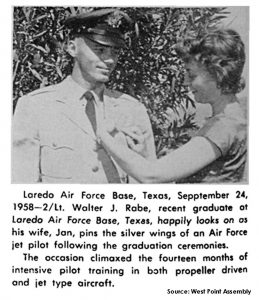 Walt was a very early Flyer of the F-100 with assignments to 12TFS/18TFW, Kadena, 1959-62; 355TFS/354TFW Myrtle Beach 1962-64; and a Vietnam combat with 306TFS, Tuy Hoa in 1967.
A Visitation will be held 6 to 8 p.m. on Friday, August 4, 2017, at Demaine Funeral Home, 5308 Backlick Rd, Springfield, VA. The funeral mass will be held at 10:30 a.m. on Saturday, August 5, 2017, at St. Michael Church, 7401 St. Michael Lane, Annandale, VA. Interment will follow at a later date at Arlington National Cemetery. In lieu of flowers, memorial contributions may be made to one's 
charity of choice
.