15 May 1941 – The flight was delayed by weather until 7:41 pm, then Chief Test Pilot Phillip Edward Gerald Sayer taxied the Gloster Whittle E.28/39 to the "hard-surfaced runway at RAF Cranwell, stood on the brakes and advanced the throttle.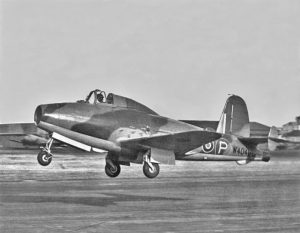 When the engine reached 16,000 r.p.m., Sayer released the brakes and the little airplane began to roll forward.
Acceleration was slow. Relying on the feel of the flight controls rather than a pre-calculated airspeed, Sayer lifted off after 600–700 yards (550–640 meters), at about 80 miles per hour (129 kilometers per hour). At 1,000 feet (305 meters), he retracted the landing gear and continued to climb at reduced r.p.m. He reached a maximum 240 miles per hour (386 kilometers per hour) Indicated Air Speed at 4,000 feet (1,219 meters).
Sayer landed after a 17-minute first flight."(1)
The E.28/39 was a low-wing monoplane designed around the Power Jets W.1 turbojet engine. The W.1 used a double-sided centrifugal compressor of Hiduminium RR.59 alloy,[5] reverse-flow 'Lubbock' combustion chambers, and a water-cooled axial-flow turbine section using 72 blades with 'fir-tree' root fixings; the turbine was later modified to use air-cooling. The turbine blades were of Firth-Vickers Rex 78, a stainless steel developed under Dr. W. H Hatfield. The design rating was 860 pounds-force (3.8 kN) at 16,500 rpm, which increased to 17,750 rpm above 4,000 feet. With the W.1 aircraft, maneuvering would subsequently be limited by a compressor casing stress to 2g. Maximum jetpipe temperature was 597°C.(2)
(1) This Day in Aviation, c. Bryan R. Swopes. 
(2) Wikipedia