Adams, Michael Thomas - KIA
Date of Birth: March 28, 1943
Highest Military Grade Held: 0-3 – Captain
Hometown: Albuquerque, NM
Capt. Michael T. Adams was born on March 28, 1946, and lived in Albuquerque, NM. He was a member of the New Mexico Air National Guard serving with the 188TH TAC FTR SQDN/31ST TAC FTR WING/7TH AF, United States Air Force. The squadron had been activated in January of 1968 and deployed to Vietnam later that year.
Adams officially began his tour on June 4, 1968. He had completed 11 months of his tour when he was shot down over Laos, in the vicinity of Ban Nathon Mai, 40 miles west of the De-Militarized Zone (DMZ) between North Vietnam and the Republic of Vietnam. He came into contact with heavy automatic weapons/small arms and was Killed in Action.
Mike is buried in the Santa Fe National Cemetery.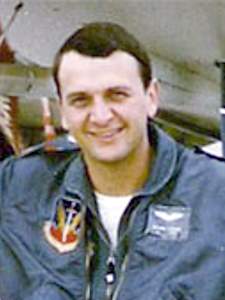 Michael Thomas Adams (March 28, 1943 – May 04, 1969)
At the time of his death, Captain Adams was survived by his mother Nora E. (1920-2001) and father Michael D. Adams, Jr. (1918-2001), living on Flower Place NE, Albuquerque, New Mexico. He was also survived by his brother James.
Capt Michael Thomas Adams was buried in Santa Fe National Cemetery, New Mexico as are his mother Nora C. and father Michael D. Adams, (a World War II Navy Veteran).
188th Tactical Fighter Squadron/31st Tactical Fighter Wing, 7th Air Force

Distinguished Flying Cross

National Defense Service Medal
Military & Civilian Education