The Intake — Journal of the Super Sabre Society is published three times per year: mid-March, mid-July and mid-November. This publication is normally a full color, 36–44 page document produced entirely by a volunteer staff. It features F-100/Hun history, heroics and humor. Two popular recurring items are the Stake Your Claim (SYC) Dept. and its "Scoreboard," which tracks which member holds what title to valid claims of achievement or derring-do done in or in association with an F-100, AND the Dumb Things Done in a Hun (DTDH) Dept. and its "Roundup," which tracks "who done it" and what they did!
I-42 Stake Your Claim "Scoreboard" (and the DTDH "Roundup").  Click here for both documents.
What's in the Spring 2020, Issue 42 of The Intake? Click either image below to view a full size preview of each page.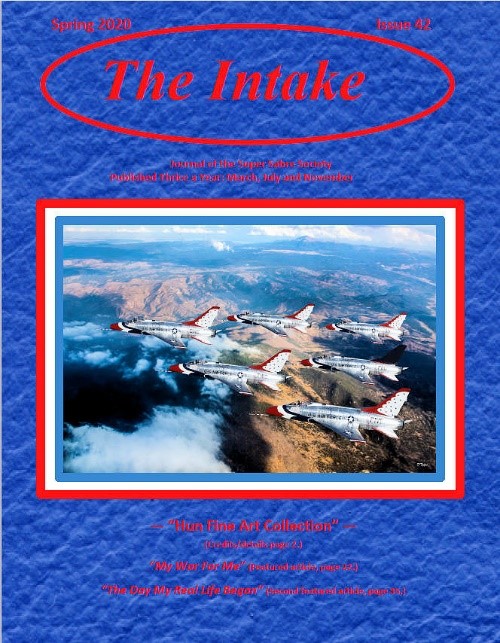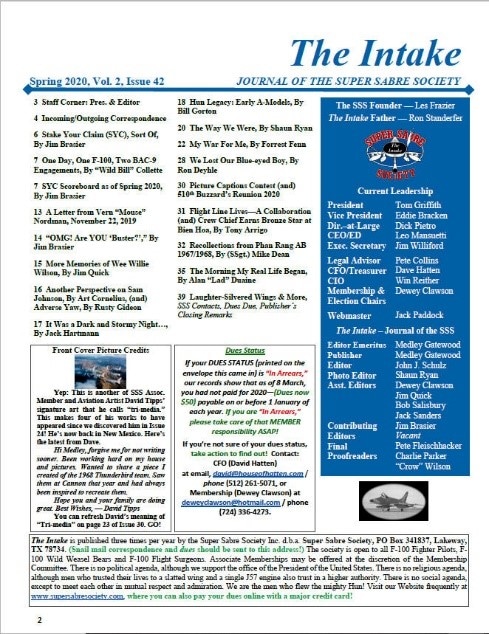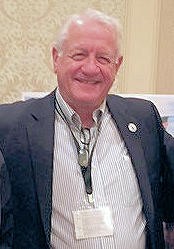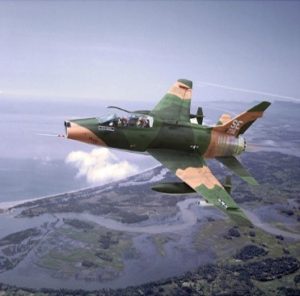 This Front Cover image is another of SSS Assoc. Member and Aviation Artist David Tipps's signature art that he calls "tri-media." This makes four of his works to have appeared on our front covers since we discovered his works gracing a Smithsonian Magazine article we republished (with their permission) in Issue 24! Actually, this T-bird Tri-media work is but one of three works David intended to be a set depicting the 1968 team as he saw it that year touring in his home state of New Mexico. You might like to visit his Website for a glimpse of his other works in his Portfolio of Works at www.davidtipps.com.
It's an eye opener, well worth your time and patronage consideration!
 Our first featured article for Issue 42 is on page 22. It's by Charter SSSer Forrest Fenn (now inactive) who pinned, shall we say, a different type of recollection about war and life back in 2006, about the same time the Super Sabre Society was founded. Here's our introduction to this treatment of war and serious introspection The title? My War for Me.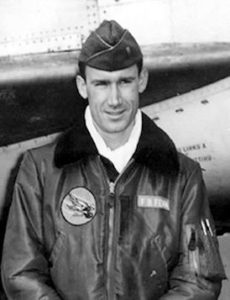 This article has been in our files for quite some time, and, length aside, we have thought long and hard about whether parts of it were perhaps too introspective and philosophical to fit within the scope of our mandate to preserve the "history, heroism and humor of the men who flew the mighty Hun." There is plenty of flying adventure here. Plus many points to ponder. For some of us, there has come, in solitude, in the quiet of the night, one of those unbidden moments when thoughts, memories, feelings and recollections we've either repressed, or never thought about before,  suddenly creep into active focus. Some are thoughts that, in our flying days, would have made it difficult or impossible to climb into our Hun cockpits, suddenly too aware of the risks, instead of the adventures, that awaited us in the skies above and in the target area ahead. A friend of Forrest's put it this way: "It's rare when an individual allows us a glimpse into their inner soul. Forrest does that in his article. I've read it several times and regret that I am unable to express myself as well. Do not stop—read the entire article. You might find yourself reflecting on your own life's experiences in ways you never have before. It has deeply affected me … . Thanks to my old friend, Forrest Fenn." I would add: This may be the longest article we've ever published, and includes Fenn's first version of his second ejection (which he enlarged in his Caterpillar version, which we published in Issue 39). Accept or reject its notions and perhaps some factual inaccuracies … it's well worth the read. — Ed.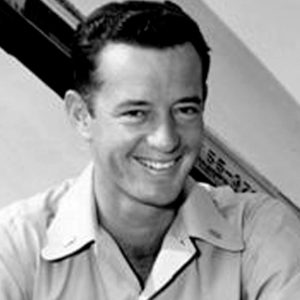 Our second designated "Feature" article for Issue 42 is at page 35. Truth be told, this literary piece was published in Issue Three of The Intake, exactly 14 years ago. It was the first of many stand-alone Hun stories (received with much aplomb) by Alan "Lad" Duaine on his way to be published in his first book (Cold Warrior) of an Aviation Trilogy. At the time, here's what we said. (Editor's Note: This gem of a story is an extract from an unpublished manuscript that "Lad" ls working on. Given the quality of the example, it should make a great read. "Coming to a bookshelves near you soon," we hope.) And here is why we just now reran Cold Warrior.
New Note from Older Ed.  If this article titled "The Morning My Real Life Began," by Alan "Lad" Duaine, looks, reads and sounds familiar, there are only two reasons why: 1) You are an astute reader by virtue of being one of the first 1,000 SSS members who read the story when it came out in Issue 3 of our thrice-a-year journal [most likely]. 2) Or you read it somewhere else [possibly in one of Lad's bio books, Cold Warrior, that came out in 2010; or, least likely, you came into the SSS after Issue 3 was published and managed to locate the PDF archives of all published editions of our journal and took advantage of that stash to read all the issues published BEFORE you started getting your copies in the mail!
In any case, if and when you read Lad's first offering for our Intake, you'll have read and enjoyed one of my dozen-favorite articles of the hundreds/thousands of quality reads found in now-42 issues comprising some 1,600 pages (give or take a few). And the heck of it all, is that those quality articles keep coming as we head into our 15th year of The Intake!        
Be that as we may, however, the flow of articles/stories we've been blessed with is beginning to slow perceptively. Hence, we encourage our old-timers to take their time (if need be) and send in your "fresh" articles and/or ideas for others to write.
And, we suggest that all members who know good stories when they see them to take some time browsing the SSS Website's PDF Archived versions of all The Intake editions for truly GREAT articles/stories and recommend them to the journal's staff for recycling in forthcoming re-publication. Visit the "Intake Journal" link on the Home Page for how to find and use The Intake-Journal Archives in the Member Area. You'll be glad you did it!
 For a closer glance at the full menu of items in this issue, please click on the Table of Contents image above.

Invitation to Join US: As members of the Super Sabre Society know, ALL of our journal's articles are riveting, "must reads." For those Hun drivers viewing this announcement, but who are not yet Society members, we hope the Front Cover and our featured articles, along with the promised reads in the Table of Contents will stimulate you to go to our Join-up Page (click link here) and become one of us!
Just imagine 36-44 or more real pages in your own hands full of astounding stories of Hun-related history, heroics and humor. What's not to like for three issues per year, plus lots of other member benefits, for only $50 per calendar year! Bye for now.
Medley Gatewood
Founding SSS Member and Publisher of The Intake.
We'll leave you with a copy of the proverbial "Big Picture" of Issue 42. All 40 pages!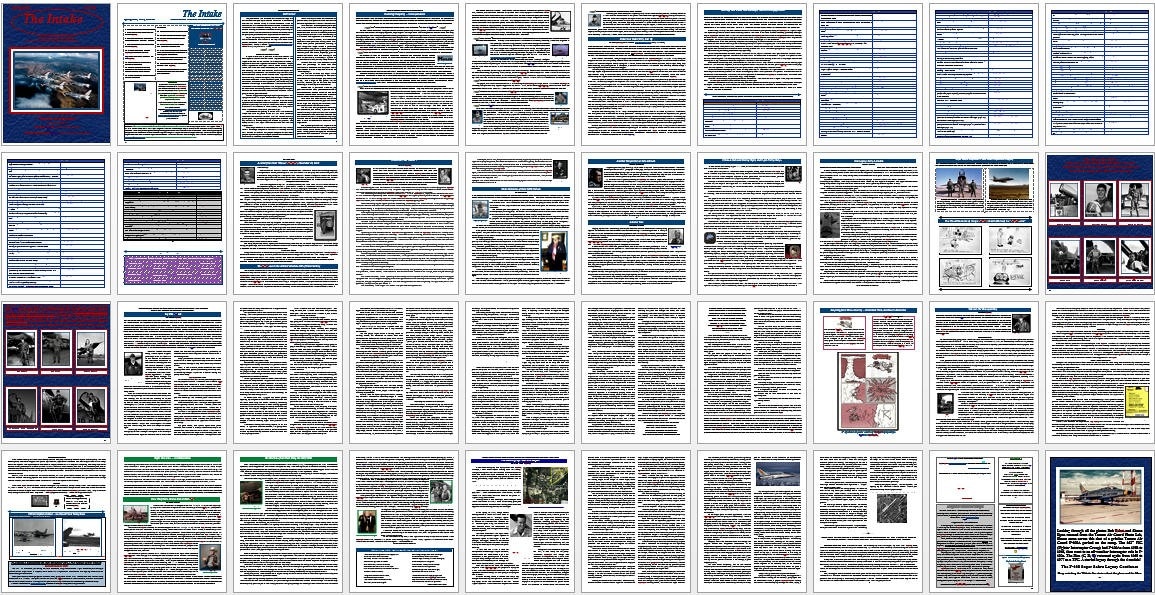 Check out both the Front and Back Covers!!!
If you were ever an F-100 Pilot, Wild Weasel "Bear," or Flight Surgeon aircrew, and you're NOT an SSS member, you're going to want to join up after looking at this colorful collection of Hun-driver eye candy. So, click on the Regular Membership Application link on our Home Page and just DO IT!
 ***** SSS Members can view full PDF copies of all published issues in The Intake archives when logged into our secure Member Area with their email address and personal passwords. If you are a late joiner, you'll have many an hour … perhaps weeks or months … of catch-up reading to do, starting from Issue One to present day Issue 42!