The Intake — Journal of the Super Sabre Society is published three times per year: mid-March, mid-July and mid-November. This publication is normally a full color, 36–44 page document produced entirely by a volunteer staff. It features F-100/Hun history, heroics and humor. Two popular recurring items are the Stake Your Claim (SYC) Dept. and its "Scoreboard," which tracks which member holds what title to valid claims of achievement or derring-do done in or in association with an F-100, AND the Dumb Things Done in a Hun (DTDH) Dept. and its "Roundup," which tracks "who done it" and what they did!
Stake Your Claim "Scoreboard" (and the DTDH "Roundup").
What's in the Summer 2020, Issue 43 of The Intake? Click either image below to view a larger preview of each page.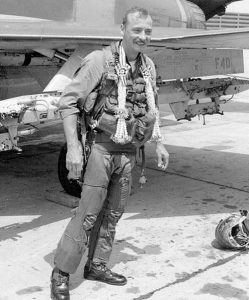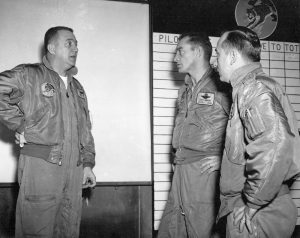 This Front Cover image was recently provided by Gene Bures and it is NOT a Vietnam vintage picture. So, it was easy to select it for Front Page duty … for a change. Here's what Gene had to say about this vintage USAFE Hun … back when:
"This picture of the two F100Ds was one of several taken in 1965, at and around Hahn AB during a local photo shoot. The pilots were 81st TFS guys poising for a base photographer in the back of an F100F. As to who the guys flying the Ds were, I am afraid I just don't remember clearly. It is interesting to note that on these clean birds the center line "Nuke" pylon is quite apparent. On Victor alert, we either had a Mk 28 or B61 Nuke on board that pylon. The star stripes on the tail were red, yellow and blue in color. Yellow with the 50th Wing patch in the middle represented the 81st, the top stripe was red and represented the 417th, and the bottom stripe was blue representing the 10th, the three squadrons of the 50th TFW. The 81st and 10th were located at Hahn and the 417th was at Ramstein. The other attached picture (L to R) is of Ops Off Doug Carter, Squadron CO Tony Greget and me (Flight Cdr. & Asst. Ops). This picture was taken at about the same period of time as when the Hun pictures were taken. I'm afraid that's all I have on these pictures. Hope it is enough." More than sufficient, Gene. Thanks for a really swell B & W picture.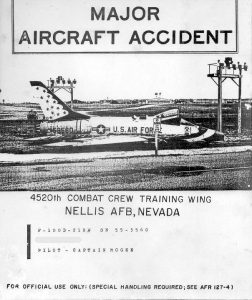 Featured articles for the current journal usually come next on these pages, and so they do here. However, we have a first time opportunity to feature a pair of articles about the same "happening" … but from different viewing perspectives. Say what? Yes, the pair are both about a major aircraft accident involving a Thunderbird F-100D that ended up parked in a ditch, sans undercarriage, out of a four-ship takeoff, in which the number three didn't make it off the ground. The slightly different tales are told on pages 14 and 15 by Buster McGee (#3 on Lead's right wing) and Hank Canterbury (#4, the Slot Man, on Three's left wing).
Readers should plan on reading first the page 14 background on as to how we came by this pair of stories in the first half of that page, and then wade into the scary facts of his short-lived attempt to get airborne, as told by Buster in the second half of page 14, which is titled A Thunderbird Hun Parked in a Ditch—And the Rest of the Story. Then, on page 15, Hank takes on the action as seen from his perch, where he survives by exercising his Thunderbird skills, not common to the average Hun driver. Hank's title is A View From The Slot where he delves into a most interesting technical dissertation about not only what went on, but why it went on the way it did, covering Bustser's moves on the ground and his own maneuvering on the ground and in the air! Between the two near misses (as the safety folks like to say), we had two very lucky pros, still alive to tell their tales … and, yes, able to thrill the airshow lovers for another season, at home and around the world!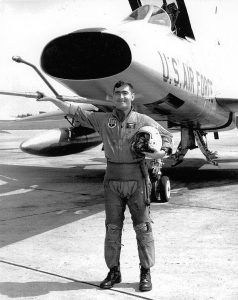 Our third designated "Feature" article for Issue 43 is at page 22. Way back in Issue 41 of The Intake, we closed Jim Braiser's three-part series about the August 1964 TDY deployment of his then-614th TFS to Vietnam, which was triggered by the Gulf of Tonkin Incident. It turned out that Jim had already submitted several more historic, heroic and humorous tales for future publication in our journal, which we welcomed into our dwindling stash of great stories on hand. But what we didn't realize at the time, was that Jim's stash was actually from what he calls his Continuing Journal, and that the individual stories were pretty much in consecutive order! We wish we had realized that continuity angle earlier. Else we would not have published his truly humorous tale ("OMG! Are YOU 'Buster'?") in Issue 42. Oh well … . "Live and learn," as they say.
So, here's a quickie review of Jim's situation, provided in Issue 41, at the end of his 1964 TDY to Vietnam. "By the end of November '64, Jim was back at England AFB with his blushing bride again, and awaiting his PCS move to one of the USAFE wings at Wheelus AB, Libya." And now we'll wade into Jim's recollections of life at Wheelus, the Six-day War, and how he managed to get back to the war in Vietnam for a one-year PCS tour. And you guessed it: It involves Colonel William J. Evans, aka "Buster!" And, as you might guess, there will be a follow-on story that covers that 1-year tour, where Jim survived the full year in the familiar skies of Vietnam, including learning how to fight at night … and about six months of the 1968 Tet Offensive. It all was exciting! — Ed.
For a closer glance at the full menu of items in this issue, please click on the Table of Contents image above.
Invitation to Join US: As members of the Super Sabre Society know, ALL of our journal's articles are riveting, "must reads." For those Hun drivers viewing this announcement, but who are not yet Society members, we hope the Front Cover and our featured articles, along with the promised reads in the Table of Contents will stimulate you to go to our Join-up Page (click link here) and become one of us!
Just imagine 36-44 or more real pages in your own hands full of astounding stories of Hun-related history, heroics and humor. What's not to like for three issues per year, plus lots of other member benefits, for only $50 per calendar year! Bye for now.

Medley Gatewood
Founding SSS Member and Publisher of The Intake.
Check out both the Front and Back Covers!!!
If you were ever an F-100 Pilot, Wild Weasel "Bear," or Flight Surgeon aircrew, and you're NOT an SSS member, you're going to want to join up after looking at this colorful collection of Hun-driver eye candy. So, click on the Regular Membership Application link on our Home Page and just DO IT!
 ***** SSS Members can view full PDF copies of all published issues in The Intake archives when logged into our secure Member Area with their email address and personal passwords. If you are a late joiner, you'll have many an hour … perhaps weeks or months … of catch-up reading to do, starting from 
Issue One to present day Issue 43!