The Intake — Journal of the Super Sabre Society is published three times per year: mid-March, mid-July and mid-November. This publication is normally a full color, 36–44 page document produced entirely by a volunteer staff. It features F-100/Hun history, heroics and humor. Two popular recurring items are the Stake Your Claim (SYC) Dept. and its "Scoreboard," which tracks which member holds what title to valid claims of achievement or derring-do done in or in association with an F-100, AND the Dumb Things Done in a Hun (DTDH) Dept. and its "Roundup," which tracks "who done it" and what they did!
Stake Your Claim "Scoreboard" (and the DTDH "Roundup").
What's in the Fall 2020, Issue 44 of The Intake? Click either image below to view a larger preview of each page.
About This Front Cover Image:
Membership Chairman Dewey Clawson provided the Connecticut Air Guard F-100D back on March 29, 2020. He called it the "Beauty Shot." And we agreed … it is a beautiful Hun against a Connecticut background resulting in a spectacular painting-like picture.
SSS Associate Member Laird Leavoy obtained this info from a member of the 118th TFS "Flying Yankees" flying out of Bradley Field, Windsor Locks, CT. Laird said a fellow from those Yankees opined it was doing a low level headed for the range for "Quarters." He also said that 939 served with the 416th TFS/3rd Wing at Tan Son Nhut and Phu Cat Air Bases.
If you know about and/or have a better history of 939 (55-2939, full serial #), please tell Dewey about it.
Our First Featured Article Is "Memories of Long Ago, and Pretty Far Away" By John Purves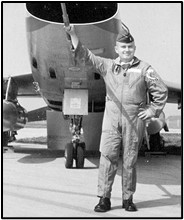 This is an extract from a book written by John that was in final manuscript form when it, and the computer memory of the entire book, were destroyed in a flood in Nashville a few years ago. He was able to save some of the pages and has sent us the following anecdotes from that partial manuscript about life and times when he was TDY at Hahn AB in the late 1950s. His 48th TFW, 494th TFS was based at Chamaunt AB in France (until 1960), where and when nuclear activities were forbidden by the French government and had to be carried out in Germany. So the Hun drivers pulled lots of duty at Hahn, and for one full summer at Ramstein AB. Here's a sample of one of John's several Hun experiences, now documented. Ed.
An incident worth mentioning was the time Dave "Pig Pen" Hatten (the nickname a result of his housekeeping skills) started losing oil pressure about 100 miles from Ramstein. The procedure at the time was to throttle back and hope the engine held together for the "guaranteed" 10 minutes. Dave had the presence of mind to light the afterburner before throttling back, thus getting a lot more airspeed with lower RPM. The average fighter jock would have ended up bailing out, but Dave came screaming back, probably supersonic, declared an emergency, and landed before the engine seized. The ironic part of this was that after clearing the active runway, he was so relieved to have made it that he tried to taxi in after landing, instead of shutting down the engine. As a result, the engine seized (froze up) about halfway back and we lost an engine that might have been saved … but … he did save the aircraft!
When John submitted this article he promised a follow-on effort. That is, if he can find a few more pages of his book that took a beating in the great Nashville flood of years gone by. Let's hope he comes through with a Part II. Ed.
Our Second Featured Article Is "Lam Son 719: The Death of Pete Moriarty" By Ron Deyhle
The great Mance Lipscomb sang, "Whatcha' gonna do when death creeps in your room?"
I will probably pull the covers over my head and hope it goes away, or try to negotiate. But I hope I can be as brave as Captain Peter Gibney Moriarty on 22 March 1971.
This was Ron's preamble to his opus, based on a faraway HELL in 1971.
Here's his setting for the bloodiest battles in the war. Vietnamization was in full swing. President Nixon wanted all combat roles slowly turned over to ARVN forces. "Well," Nixon thought, "let's see how it is working out." So the top-secret battle plan, Lam Son 719, was formulated. Unfortunately, it was driven by military policy, not good planning. As Winston Churchill said, "Never, never believe any war will be smooth and easy, or that anyone who embarks on the strange voyage can measure the tides and hurricanes he will encounter. The statesman who yields to war's fever must realize that once the signal is given, he is no longer the master of policy, but the slave of the unforeseeable and uncontrollable events."
The plan was for ARVN troops to invade Laos at the narrow panhandle part of Vietnam along Route 9. They would penetrate to Tchepone, Laos, sever the Ho Chi Minh trail and stop NVA infiltration. U.S. troops were no longer permitted on the ground outside of South Vietnam, but air power was permitted. This was an all-South Vietnamese effort. Nixon wanted to see how the ARVN troops would do, sort of like South Florida Junior College playing Alabama in football. The ARVN troop levels were lower than the number battle planners thought would be necessary. Despite being top secret, spies had informed Hanoi of the operation. Hanoi began to pour troops in. The NVA had 20,000 men in the area. It was no surprise!
The Chief Studies and Observation Group (SOG) told General Abrams to "stay out of there." But it is hard to stop an elephant when he starts running! The terrain, with high ground along Route 9 and Tchepone, favored defenders. The NVA moved defensive armament in, 130-200 antiaircraft guns, troops, LZ watchers, and unknown to planners, tanks! The invasion started on February 8, 1971. Because of the inability to face military realities, plus poor planning and poor execution, the campaign was a disaster. U.S. planners estimated it would take 60,000 troops. ARVN committed only half that number. The passage of the Cooper-Church Amendment on 29 December 1970 prohibited U.S. ground forces and advisors from entering Laos. The U.S. provided enormous air support, B-52 Arc Light strikes, fast-mover fighters, massive helicopter support and artillery.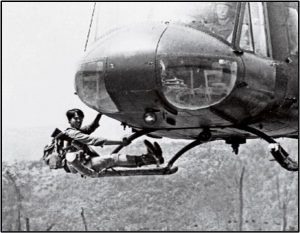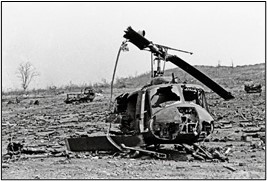 Right away there was trouble. Route 9 was in poor condition and only tracked vehicles could get through. Immediately, air helicopter use for troop transport was needed. Quickly, supporting helicopters began taking fire from elevated positions. Tank battles began. The ARVN reached Tchepone and soon started a retreat after a "victory," but failed to secure the battlefield. Historical speculation is that President Thieu had ordered his commanders that when casualties reached 3,000, they should withdraw and declare victory. The U.S. expected them to remain in Laos and establish a defensive barrier. Then came the retreat, a rout, a turkey shoot. As LBJ once said, "I feel like a hitchhiker caught in a hailstorm. I can't run, I can't hide, and I can't make it stop." ARVN lost 60% of their tanks, half their APCs, 54 105 mm and 28 155 mm Howitzers. The ARVN abandoned their armored brigade three miles from the border. The troops made a run for South Vietnam. We have all seen the television newscast of helicopters picking up ARVN soldiers and some hanging on the skids in terror to escape.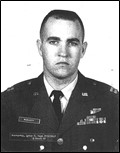 This was the setting on 22 March 1971. An armored division trapped on route 9; 1,700 ARVN troops in danger of annihilation by Russian T-54 tanks bearing down on them. Route 9 was littered with damaged vehicles and high banks, compromising escape.
The author is just getting started with when and where the fighting … and the killing got serious. He goes on principally with a narrative covering who Pete Moriarty was and that day he was shot down—and then the aftermath with its hindsight. It's both the combat action (or lack thereof) and that hindsight that qualifies Deyhle's work to be selected as a featured article in our Intake Journal! And here are some of the images used.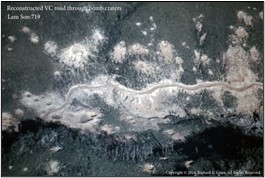 For a closer glance at the full menu of items in this issue, please click on the Table of Contents image above.
Invitation to Join US: As members of the Super Sabre Society know, ALL of our journal's articles are riveting, "must reads." For those Hun drivers viewing this announcement, but who are not yet Society members, we hope the Front Cover and our featured articles, along with the promised reads in the Table of Contents will stimulate you to go to our Join-up Page (click link here) and become one of us!
Just imagine 36-44 or more real pages in your own hands full of astounding stories of Hun-related history, heroics and humor. What's not to like for three issues per year, plus lots of other member benefits, for only $50 per calendar year! Bye for now.

Medley Gatewood
Founding SSS Member and Publisher of The Intake.
Check out both the Front and Back Covers!!!
If you were ever an F-100 Pilot, Wild Weasel "Bear," or Flight Surgeon aircrew, and you're NOT an SSS member, you're going to want to join up after looking at this colorful collection of Hun-driver eye candy. So, click on the Regular Membership Application link on our Home Page and just DO IT!
 ***** SSS Members can view full PDF copies of all published issues in The Intake archives when logged into our secure Member Area with their email address and personal passwords. If you are a late joiner, you'll have many an hour … perhaps weeks or months … of catch-up reading to do, starting from 
Issue One to present day Issue 44!