The Intake — Journal of the Super Sabre Society is published three times per year: mid-March, mid-July and mid-November. This publication is normally a full color, 36–44 page document produced entirely by a volunteer staff. It features F-100/Hun history, heroics and humor. Two popular recurring items are the Stake Your Claim (SYC) Dept. and its "Scoreboard," which tracks which member holds what title to valid claims of achievement or derring-do done in or in association with an F-100, AND the Dumb Things Done in a Hun (DTDH) Dept. and its "Roundup," which tracks "who done it" and what they did!
Stake Your Claim "Scoreboard" (and the DTDH "Roundup").
What's in the Spring 2021, Issue 45 of The Intake? Click either image below to view a larger preview of each page.
About This Front Cover Image:
This art is by then-well-known aviation artist William J. "Bill" Reynolds (RIP in 2008). The original painting (titled "The F-100 Over the Grand Canyon") was done in 1997 for the Vice-Commander of the 9th Air Force at Shaw AFB. His first experience in tactical aircraft was the F-100, which he flew on several occasions over the Grand Canyon. The image we proudly display is a picture of a framed lithograph belonging to one of our SSS members who gave us the picture ☺ to show in our "Hun Fine Art" collection. The name of this member is lost in the sands of time, and we would like the owner, or someone who can ID the owner, to let us know who this donor is/was.
Our First Featured Article Title Is "Ramrod Bar Hijinks" By Tom Brandon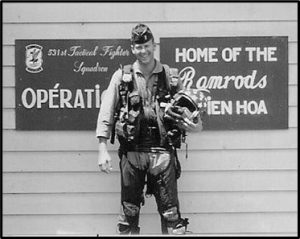 A relative newbie, Tom asked about writing a story for The Intake, and we gave him the essentials we need (not much) to make a silk purse out of a sow's ear (a reversal of Alexander Barclay's 1518 similar proverb) and told him, "Don't worry, we help folks all the time if they need it." Tom took that to heart and when he sent his opus to us, sure enough, it was a regular sow's ear to work with! It included only two large paragraphs for a full page and not a single picture to support all that "grey" text stuff, much of which was enumeration of and/or characteristics/backgrounds given of selected individuals.
Editor JJ and I had a challenge, and we won, thanks to Tom, his willingness to supply some missing essentials and his patience to help create a silk purse! Read on. ~Pub Med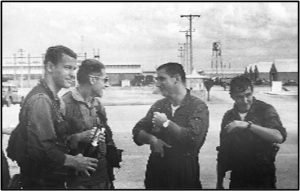 A typical evening in the 531st TFS Ramrod Bar found perhaps 10 or 12 pilots gathered to inflate their deeds of the day, down a beer or cocktail, watch the only TV channel (Armed Forces, I believe), and plot their dinner plans. During my tour at Bien Hoa (June, 1968–69), there was a fairly rowdy crew of Majors, Captains and 1st Lieutenants. Our squadron commander was Bud Yeager until Sept, 1968, when Bob Bazley, the "Silver Fox," arrived. He was a "stud," and we all worshipped the ground he walked on.
Ron Clements was the Ops Officer, Clarence Langerud and Earl Michler were the Schedulers, and some of the Flight Commanders were Jim "Stein" Steinmiller, "Whiskey" John Shafer, Chuck Chapin, Joe Brown, Kirk "Jesse" James, Don Boss, Rusty Dickensheets, Bob Sumner, Al "Chief" Mayfield, and Ron Violette. Tom's intro itself is largely a litany of some 50 squadron members and their individual jobs with uncanny accuracy. More on that phenomenon at the end. Meanwhile, we race on to the Bar Hijinks
 While walking to the "Hooch" one evening, we were on a sidewalk with narrow concrete drainage ditches on each side. There was usually a little water in these ditches as well as some small frogs, and that was the case that night. Someone bent over and scooped up one – about the size of a 50-cent piece – and carried it back to the bar. You can probably see where this is going by now. Sure enough, as we gathered around the bar with fresh drinks, Bob Sumner was flying his hands around, regaling us with a description of past flying feats, and the frog-napper dropped his victim into Bob's glass. The on-lookers tried to keep from snickering as the tiny frog stroked and kicked his way around among the ice cubes floating in the scotch.
Finally, Bob finished his tale and picked up his glass. Seeing the frog, he didn't miss a beat. He plucked that little sucker out, popped it into his mouth and swallowed it whole! Raucous laughter and disbelief ensued, to which Bob simply replied … "Ribbit. Ribbit." And that's my story, typical hijinks going on most any night at the famous … Ramrod Bar!
From our first look at Tom's rough text, both JJ and I wondered how he could remember the names and characteristics/backgrounds of so many people he mentioned in his story. So, as I worked with Tom to come up with that silk purse, I asked him how he remembered every little detail as his story unfolded—down to BDA given for each mission.
His answer was a surprise: "Well, it's not a secret, lots of us kept fairly thorough flight logs, and about halfway through my tour I bought a fancy Minolta camera with which I accumulated quite a few black & white and a few color prints by the time I left Vietnam for my next assignment. I ended up at Webb AFB in late 1969 as a T-38 IP. Not long after arrival, I decided to paste all my Vietnam pictures into a scrapbook, along with the mission log sheets from all 225 of my missions. The names of my squadron-mates and other folks in the 3rd TFW were still fresh then, and the log prompted the recall of others not in the photos. I hope this and the photos give you what you're looking for." "Absolutely," I replied, and I really meant it. A silk purse, indeed! ~ Pub Med
Our Second Featured Article Title Is "We Need to Remember Every One of Them" By Ron Deyhle
The "Them" in the title refers directly (of course) to our KIA/MIA personnel in the Vietnam War. This be Ron's fourth-in -a-row article for our journal, The Intake. If he can keep up that pace, we'll have to consider him for a space on the Intake staff somewhere! Meanwhile, he's welcome to keep 'em coming after our publisher (RMG) retires this March. Here's Ron's introduction to Them KIA/MIA folks he urges us to remember, every one of 'em. ~Ed.


As Richard Sellers, a famous jazz songwriter, wrote, "Time moves like molasses when you are children, but it rages like a river when you're grown." As I sit here, a little rusty with the spring in my step now an effort, I see "the great divide" coming. I worry about who will remember those of us who served in Nam.
It's been 50 years and our ranks are now thinned (and that continues with a gathering pace). Another of my singer-songwriter heroes died this year, Johnny Prine. The last song he wrote and sang was, "I remember everything." We need to heed this advice … and remember our wartime comrades and brothers lost.
For instance, who remembers Captain William "Bill" Carl Buerk? Born 2/15/40 in Los Angeles, California, he was a SAC KC-135 pilot, married, no children, and was a Regular Air Force Officer. He volunteered for a tour in Vietnam, partly because he needed a combat tour on his record for that career boost. Bill was assigned to fly F-100s, making it into the next to the last class for upgrade training at Luke AFB. He arrived at Phan Rang Airbase on 12/15/70, and was assigned to the 614th TFS Lucky Devils. He soon rose to Flight Lead status, and one day in April, 1971, he was "Blade 1" on the alert pad. He and Blade 2 were scrambled, and Blade 1 didn't come home. Now, as we remember Bill, all that's left are the meaningless lines in Chris Hobson's Vietnam Air Losses (published in 2001).
As usual after his introductions, Author Ron uses mini chapters to cram a lot of information into a rather small space, in this case he covers a lot of ground in only two full 8×10 pages. Mini-Chapters are: History and More, A Conversation on Medals, Paternal Advice. You'll ponder a lot in each of those chapters, particularly the worth of medals they pin on both the quick … and the dead. And, oh yes, our author has a closing reading recommendation: "For additional reading, I recommend Embers of War by Fredrik Logevall. This book is a detailed and interesting history of the French effort and early American involvement in Vietnam. Finally: Thanks to Linda and Lee Howard and Ella Nye for editing chores." ~ RD
For a closer glance at the full menu of items in this issue, please click on the Table of Contents image above.
Invitation to Join US: As members of the Super Sabre Society know, ALL of our journal's articles are riveting, "must reads." For those Hun drivers viewing this announcement, but who are not yet Society members, we hope the Front Cover and our featured articles, along with the promised reads in the Table of Contents will stimulate you to go to our Join-up Page (click link here) and become one of us!
Just imagine 36-44 or more real pages in your own hands full of astounding stories of Hun-related history, heroics and humor. What's not to like for three issues per year, plus lots of other member benefits, for only $50 per calendar year!
If you were ever an F-100 Pilot, Wild Weasel "Bear," or Flight Surgeon aircrew, you're going to want to join the SSS after looking at this colorful collection of Hun-driver eye candy. So, click on the Regular Membership Application link on our Home Page and just DO IT! If you are a late joiner, you'll have many an hour … perhaps weeks or months … of catch-up reading to do, starting from Issue One to present day's Issue 45.

R. Medley Gatewood, A Founding SSS Member
Editor Emeritus and Publisher of The Intake.
15 Years On The Job.


P.S. The SSS has recently opened our archives for the Society's premier publication, The Intake Journals. The page for this asset is available from the front page of the website under the "THE INTAKE" link. There you will find access to the public in support of the realization of our Society's mission to preserve the history of the F-100 Super Sabre and the men who flew the aircraft. Please enjoy this public service to all F-100 aircrew, current aviation aficionados and all future people interested in military aircraft history.  Welcome All!
Check out both the Front and Back Covers!!! Bye for now.