Alan L. Mosher
---
Preferred Name: Al
Nickname/Call Sign: Cougar
Date Of Birth: September 2, 1938
Highest Military Grade Held: Lieutenant Colonel, O-5
Hometown: Dexter, MI
Biography
Excerpted from Al's story: Scribbling for Eternity, from the book "Those Red Tag Bastards…"
After completing four years of intensive instruction at USAFA, I managed a GOM of 275. That entitled me to be the very first one to choose Craig AFB Alpha class as my pilot training base of choice. I, along with most of the football team, would compete for fighter assignments at the end game. However, about halfway thru the T-37 phase of training, we were informed that all the fighter assignments would go to those who trained in the T-38. We poor T-33 jocks would have to fill in the rest.
We ended up with two of our class going to ADC, but the rest were out of the game. The competition went out the window after the announcement and fun was had by all. The "best" assignment I could muster was as a T-33 instructor to Moody AFB. I knew they were transitioning to the T-38, so there was hope. After completing T-33 instructor training at Randolph AFB, I reported to Moody and was immediately put into the T-37 with the promise of a T-38 in a year and a half.
Well, that went out the window with…so I'd try academics and a volunteer statement for Vietnam. That worked and a prized F-100 assignment popped-up. Off to Luke I went for a short course following survival at Fairchild. After about two weeks at Luke, our Squadron CC, "Birddog" Ellis, announced that had we gone to Cannon we'd stay in the Hun; however, we were destined to be badly-needed O-1 FACs. A quick checkout at Hurlburt and I was off to Vietnam.
"Where do you want to go?" was the question the Personnel Office asked and "Home" was not a satisfactory answer. I chose the 21 st TASS at Nha Trang and the 9th ROK "Whitehorse" division. It was a great unit to work with, but after six months an assignment to B-52s at K.I. Sawyer came down. NO WAY!!! I fired-off a strong letter stating that I would stay in Vietnam forever if I could go back to the HUN. The bait worked, and it was off to Phu Cat and the 416th squadron. When I checked-in, they asked if I would like to fly with "Misty." I politely refused as I knew what those guys were up to.
…Things were going well and an assignment to the 492nd at RAF Lakenheath came along; staying in Huns, [I thought], "life is good". At Lakenheath, the DO, Bill Hosmer, asked me to take over the wing flying safety job and I agreed. For some strange reason, we quit losing F-100s on a monthly basis and again, life was good. After three years the wing was "upgrading" to F-4s and said "If I would extend for a year" I could do that. Well, no self-respecting single-seater would have ever considered that, so I said, "No," and took my chances. An A-7 assignment appeared and I'd be off to Myrtle Beach and then Thailand.
Life really was good! About two weeks prior to returning to the States, I got a call from Col. Bob Darlington, who announced that I was a TAC asset and would be spending the next three years at TAC headquarters in the flight safety office. Boo! Hiss! Life was not so good. At TAC I ended up as the Air National Guard safety guy as well as an accident investigator and survived General Dixon. I was able to keep the A-7 assignment and got a personal request from Bill Hosmer to be the Chief of Safety at DMAFB (Davis–Monthan Air Force Base). …The A-7 was a great aircraft and at least it was single-engine, single-seat.
Things were working out nicely, but then Bill retired and along came Bill Curry. I knew Bill Curry at TAC and knew he was a carbon copy of Gen. Dixon. He treated people terribly. After about two weeks in the 492nd Tactical Fighter Squadron, he called me into his office and wanted me back in the safety office. NO WAY! I got the tour of the staff offices (scheduling, command post, et al) and knew I had cut it to the short hairs. But, all was not lost – the Air National Guard (ANG) was always in the back of my mind. I cut the Air Force string and headed for the 162nd Tactical Fighter Group at Tucson International Airport.
After prostrating myself before Shep (Don Shepperd), I came on as a part-timer (and investigated a couple more aircraft accidents) and finally weaseled a full-time slot. What a difference in the way business is done. The Guard was absolutely first class! Master sergeants for crew chiefs, great maintenance and most of all, "everyone wanted to be there." Thus ends my case for the Air Force personnel assignment system; it's too big for the wants of the individual. Thirty-six years of mostly flying came to an end with a smile on my face, knowing that the Air Force system is not perfect, but, again, life is good – I'm still an RTB! I got a lot of back seat time, but SE/SS is the only way to go–keeps decision making to a minimum and I still fly F-16's. For this story and Al's other story "Life with Butch" see Those Red Tag Bastards, Their Dreams, Their Lives, Their Memories, available on Google Books.
Units Assigned
1962-1963 Pilot Training, Craig AFB, AL (T-37, T-33)
1963 PIT Randolph AFB, TX (T-33)
1963-1966 IP Moody AFB, GA (T-37)
1966-1967 CCTS Luke AFB, AZ (F-100)
1967 FAC, Hurlburt Field, FL (O-1)
1967-1968 FAC 9th ROK, Phu Hiep, Vietnam (O-1)
1968-1969 416TFS Phu Cat AB, Vietnam (F-100)
1969-1972 492TFS RAF Lakenheath, UK (F-100)
1972-1975 HQ TAC SE, Langley AFB, VA (T-33)
1975-1977 Davis-Monthan AFB, AZ (A-7)
1978-1993 162 TFG, AZANG, Tucson IAP, AZ (A-7, F-16)
Flight Info
T-37
T-33
F-100
O-1
A-7
F-16
Military Education
1962 USAFA (RTB)
SOS
ACSC
ICAF
Civilian Education
Dexter High School
University of Michigan
University of Southern California
Arizona State University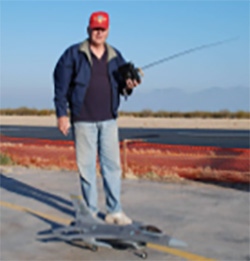 Biography

Excerpted from Al's story: Scribbling for Eternity, from the book "Those Red Tag Bastards…"
After completing four years of intensive instruction at USAFA, I managed a GOM of 275. That entitled me to be the very first one to choose Craig AFB Alpha class as my pilot training base of choice. I, along with most of the football team, would compete for fighter assignments at the end game. However, about halfway thru the T-37 phase of training, we were informed that all the fighter assignments would go to those who trained in the T-38. We poor T-33 jocks would have to fill in the rest.
We ended up with two of our class going to ADC, but the rest were out of the game. The competition went out the window after the announcement and fun was had by all. The "best" assignment I could muster was as a T-33 instructor to Moody AFB. I knew they were transitioning to the T-38, so there was hope. After completing T-33 instructor training at Randolph AFB, I reported to Moody and was immediately put into the T-37 with the promise of a T-38 in a year and a half.
Well, that went out the window with…so I'd try academics and a volunteer statement for Vietnam. That worked and a prized F-100 assignment popped-up. Off to Luke I went for a short course following survival at Fairchild. After about two weeks at Luke, our Squadron CC, "Birddog" Ellis, announced that had we gone to Cannon we'd stay in the Hun; however, we were destined to be badly-needed O-1 FACs. A quick checkout at Hurlburt and I was off to Vietnam.
"Where do you want to go?" was the question the Personnel Office asked and "Home" was not a satisfactory answer. I chose the 21 st TASS at Nha Trang and the 9th ROK "Whitehorse" division. It was a great unit to work with, but after six months an assignment to B-52s at K.I. Sawyer came down. NO WAY!!! I fired-off a strong letter stating that I would stay in Vietnam forever if I could go back to the HUN. The bait worked, and it was off to Phu Cat and the 416th squadron. When I checked-in, they asked if I would like to fly with "Misty." I politely refused as I knew what those guys were up to.
…Things were going well and an assignment to the 492nd at RAF Lakenheath came along; staying in Huns, [I thought], "life is good". At Lakenheath, the DO, Bill Hosmer, asked me to take over the wing flying safety job and I agreed. For some strange reason, we quit losing F-100s on a monthly basis and again, life was good. After three years the wing was "upgrading" to F-4s and said "If I would extend for a year" I could do that. Well, no self-respecting single-seater would have ever considered that, so I said, "No," and took my chances. An A-7 assignment appeared and I'd be off to Myrtle Beach and then Thailand.
Life really was good! About two weeks prior to returning to the States, I got a call from Col. Bob Darlington, who announced that I was a TAC asset and would be spending the next three years at TAC headquarters in the flight safety office. Boo! Hiss! Life was not so good. At TAC I ended up as the Air National Guard safety guy as well as an accident investigator and survived General Dixon. I was able to keep the A-7 assignment and got a personal request from Bill Hosmer to be the Chief of Safety at DMAFB (Davis–Monthan Air Force Base). …The A-7 was a great aircraft and at least it was single-engine, single-seat.
Things were working out nicely, but then Bill retired and along came Bill Curry. I knew Bill Curry at TAC and knew he was a carbon copy of Gen. Dixon. He treated people terribly. After about two weeks in the 492nd Tactical Fighter Squadron, he called me into his office and wanted me back in the safety office. NO WAY! I got the tour of the staff offices (scheduling, command post, et al) and knew I had cut it to the short hairs. But, all was not lost – the Air National Guard (ANG) was always in the back of my mind. I cut the Air Force string and headed for the 162nd Tactical Fighter Group at Tucson International Airport.
After prostrating myself before Shep (Don Shepperd), I came on as a part-timer (and investigated a couple more aircraft accidents) and finally weaseled a full-time slot. What a difference in the way business is done. The Guard was absolutely first class! Master sergeants for crew chiefs, great maintenance and most of all, "everyone wanted to be there." Thus ends my case for the Air Force personnel assignment system; it's too big for the wants of the individual. Thirty-six years of mostly flying came to an end with a smile on my face, knowing that the Air Force system is not perfect, but, again, life is good – I'm still an RTB! I got a lot of back seat time, but SE/SS is the only way to go–keeps decision making to a minimum and I still fly F-16's. For this story and Al's other story "Life with Butch" see Those Red Tag Bastards, Their Dreams, Their Lives, Their Memories, available on Google Books.

Units Assigned

1962-1963 Pilot Training, Craig AFB, AL (T-37, T-33)
1963 PIT Randolph AFB, TX (T-33)
1963-1966 IP Moody AFB, GA (T-37)
1966-1967 CCTS Luke AFB, AZ (F-100)
1967 FAC, Hurlburt Field, FL (O-1)
1967-1968 FAC 9th ROK, Phu Hiep, Vietnam (O-1)
1968-1969 416TFS Phu Cat AB, Vietnam (F-100)
1969-1972 492TFS RAF Lakenheath, UK (F-100)
1972-1975 HQ TAC SE, Langley AFB, VA (T-33)
1975-1977 Davis-Monthan AFB, AZ (A-7)
1978-1993 162 TFG, AZANG, Tucson IAP, AZ (A-7, F-16)

Flight Info

T-37
T-33
F-100
O-1
A-7
F-16

Military Education

1962 USAFA (RTB)
SOS
ACSC
ICAF

Civilian Education

Dexter High School
University of Michigan
University of Southern California
Arizona State University