Date of Birth: September 27, 1932
Headed West: April 17, 2020
Highest Military Grade Held: 0-6 – Colonel
Hometown: Philadelphia, PA
Colonel Albert J. DeGroote flew 283 combat missions with the 90th TFS "Pair O' Dice" Squadron as Assistant Ops Officer. He stayed in aviation after AF retirement flying corporate aircraft, primarily as Chief Pilot for a food company flying the Gulfstream III.
At the 2015 Super Sabre Society Reunion in Dayton, OH, Al brought a radio-controlled F-100. With the help of one of his sons, he gave the group a  unique experience watching it fly along with the Wright Flyer activity that day.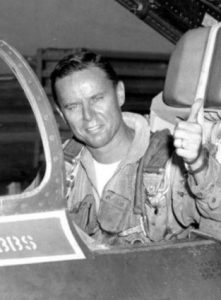 Col. Albert J. DeGroote (USAF Ret.) "Headed West" April 17, 2020
Col. Albert J. DeGroote (USAF Ret.), 87, originally of Philadelphia, PA, passed away, Friday, April 17, 2020, at the Willow Valley Communities in Lancaster, PA. He was the youngest of five children to the late Gilbert DeGroote and Marie Scherpereel DeGroote. His wife of nearly 67 years and the love of his life, Marion Cresson DeGroote, along with their three sons were at his bedside.
Albert served a distinguished career in the United States Air Force for 26 years in various capacities spanning the globe but always considered himself first and foremost a Fighter Pilot. After the Air Force, he continued a corporate aviation career working for both Chester County Aviation and Keystone Foods for another 22 years. As his career closed, he maintained close relationships with many of his fellow aviators and was active in the Super Sabre Society and the Order of the Daedalians, allowing him to relive his love of flying fighter jets.
He later authored his autobiography "A Flight through Life" and captured his life and love of aviation in his own words:
"It's one man's flight through life and it involved some turbulence and even a few lightning strikes. But occasional rough weather is part of the big flight plan and all-in-all it's been a helluva ride!"
The cover of "A Flight Through Life" features a picture of one of his favorite rides: a North American F-100, part of his 90th Fighter Squadron, which was accessioned into the Smithsonian Udvar-Hazy collection where his book was introduced.
In addition to his wife, Marion, Albert is survived by his three sons: Steve DeGroote, husband to Caren, and their children, Nicholas and Jennay of Lewis Center, OH, David DeGroote of Pittsburgh, PA and Douglas DeGroote, husband to Maggie of Issaquah, WA. He is also survived by his brother, Gilbert DeGroote Jr., husband to Catherine Richmond DeGroote of Philadelphia, PA.
Funeral services and interment will be held at Arlington National Cemetery at a future date.
"In lieu of flowers, please consider donating to the Michael J. Fox Foundation to help find a cure for Parkinson's disease."
10/1952-1/1953 Aviation Cadets, Class 54ABC, Lackland AFB, TX
1/1953-1/1954 T-6, Marianna, FL/Victoria, TX /Williams, AZ (T-6, T-28, T-33)
1/1954-7/1954 Moody, GA (F-89D)
8/1954-8/1956 65th Fighter-Interceptor Squadron, Elmendorf AFB, AK (F-89 C/D)
9/1956-8/1962 2nd Fighter-Interceptor Squadron, Suffolk Co. NY (F-86D, F-102, F-101B)
9/1962-9/1963 4683rd Air Defense Wing, Thule, Greenland (F-102)
10/1963-7/1966 ORI Team, Ops Inspector, ADC Hq, CO, ADC (F-101B, F-89J)
7/1966-11/1966 Training, Luke AFB, AZ (F-100)
11/1966-11/1967 90th Tactical Fighter Squadron, Bien Hoa AB, Vietnam (F-100)
1/1968-1/1972 HQ 3rd Air Force, Dir of Safety, So. Ruislip, UK (F-100)
1/1972-6/1973 CINCLANT Staff Plans Off, Norfolk Naval Air Station, Norfolk, VA (T-29)
7/1973-7/1975 Air Attache, American Embassy, Vientiane, Laos (C-47)
11/1975-11/1978 Commander, Bolling AFB, Washington DC
11/1978 Retired USAF
Military & Civilian Education
Military Education
Civilian Education
BA/Political Science, University of Maryland
MA/International Relations, USC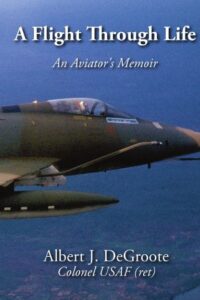 A Flight Through Life – An Aviator's Memoir by Albert J. DeGroote
"A Flight Through Life" begins with a boy growing up during World War II, and records his youthful fascination with aviation. It follows his career in aviation from becoming a private pilot through his eventful life as an Aviation Cadet and his careers in both the Air Force and commercial aviation. Al DeGroote's captivating descriptions of his experiences give both pilots and non-pilots a feel for the excitement and wonder of flying while sharing with them the experience of being part of aviation's transition from the piston to the jet age.
While aviation is the central theme of the narrative, Al's wide-ranging experience in command and staff positions brings the non-flying reader into his life as a war planner, accident investigator, and international affairs specialist. As the U.S. Air Attaché at the embassy in Laos, he and his family experienced the tragedy of the fall of Southeast Asia first hand and he provides a ringside seat for the reader to observe the many blunders and few triumphs of that debacle.
Available on Amazon: https://www.amazon.com/Flight-Through-Life-Aviators-Memoir/dp/1300922478/ref=sr_1_12?keywords=DeGroote&qid=1570804608&sr=8-12