Date of Birth: July 7, 1933
Highest Military Grade Held: 0-5 – Lieutenant Colonel
Hometown: Litchfield Park, AZ
My life really didn't begin when I checked out in the Super Sabre, it just seemed so.
I finished flying school, went to Willie (Williams AFB, AZ) for gunnery in the F-86 and was then assigned to Myrtle (Myrtle Beach AFB, NC) to the 333rd squadron.
Being a brown bar, I had to wait my turn to check out in the Hun (F-100). Actually, I got to Myrtle before any of the wing's Huns had arrived. My classmates and I took turns flying the two F-80s and the four T-birds the wing had.
Six or seven months later it was my turn fly the Sabre.  There were no F (2-seater) models so I was chased by my IP and Flight Commander. He actually burned me on my Officer Effectiveness Report (OER) for poor judgment because I did an aileron roll on my let down to the traffic pattern.
We were a Fighter Day outfit so shooting at the rag was the prime combat readiness hurdle. I lucked out and got the highest score in the wing (definitely not mentioned on that OER).
It was a week later that one of my peers beat my score on the rag anyway so I volunteered to take an assignment to Okinawa.  It was there that my new squadron helped me mature into a real Hun driver.
From Okie I went to Cannon, then Hahn Germany, then Bien Hoa AB, South Vietnam; and Luke AFB in Arizona, and I was dual-qualified in the F-100 and A-7.
I did a tour at Korat AFB, Thailand in the A-7 and then went back to the F-100 as the advisor to the Air Guard unit in Tucson, AZ. I expanded that job into a five-year stint before I retired.
I finished my career with 3300 hours in the F-100 and 1600 hours of A-7 with other time (F-86, F-80, T-33) adding up to a mile of jet time. I "deadsticked" one F100 and bailed out of one, but all else was normal. (see Al's Caterpillar story)
My wife's name is Nancy, we live in Litchfield Park, AZ.
1957 Flying School, Class 56-S
1957 -1958 Williams Field, AZ (F-86)
1958 353rd TFS, Myrtle Beach, SC (F-100)
1959144th TFS, Kadena AB, Okinawa
1961 481st TFS, Cannon AFB, NM (F-100)
1963 81st TFS, Hahn AB, Germany (F-100)
1965 510th TFS, Bien Hoa AB, Viet Nam (F-100)
1967 4411th CCTS, Luke AFB, AZ with dual currency in (A-7/F-100)
1971 Davis Monthan AFB, AZ (A-7)
1973 Korat AB, Thailand (A-7)
1974 162nd TFG (ANG advisor), Tucson International Airport, AZ (F-100)
Retired from the AF in 1979.

Distinguished Flying Cross

Meritorious Service Medal

Air Force Expeditionary Medal

National Defense Service Ribbon

Air Force Commendation Medal with 1 Oak Leaf Cluster

Air Force Longevity Service Ribbon with 5 Oak Leaf Clusters

Air Force Oustanding Unit Award

Air Force Presidential Unit Citation

Vietnam Service Medal with Bronze Star

Republic of Vietnam Gallantry Cross with Palm

Republic of Vietnam Campaign Medal

Small Arms Marksmanship Ribbon
Military & Civilian Education
Military Education
Industrial College of the Armed Forces
1956 Pilot Training, F-86F
1964 Advanced Fighter Weapons Instruction Course, F100
Civilian Education
Miami University/University of Phoenix
Al Bartels' Caterpillar Story – July 1959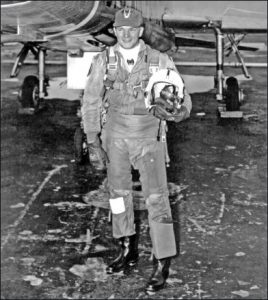 While preparing to brief the weather for our dawn take-off gunnery mission out of Chi-yi, Taiwan, the young 2nd lieutenant weatherman chose to ignore the local Chinese guys, who had forecast fog and zero-zero and tell our flight of fearless Hun drivers it would be clear and a bunch.
The gunnery part went well—think I may have won a couple of quarters—then it was time to RTB back to the "clear and a bunch." The zero-zero fog that was now covering our runway was a testimony to the idea that maybe being born and raised in an area might just make you more qualified to predict the weather than being able to read a skew T log P, or whatever.
I made two GCA approaches on the wing of my fearless leader, Harry "Arch" Archeleta, and never saw the runway; mainly because the GCA was lined up on the parking ramp (this fact was determined later). I came down final on the second try with 200 pounds indicated fuel (dumb) and was lucky to actually have enough gas for the J57 to break the downward trajectory and get me to 600 feet before the noise stopped.
I told Arch my problem and, God bless him, he said, "What are you waiting for—GET OUT!" So, I did. I landed in a nice soft rice paddy and got whatever they fertilize with over there all over my body.
I got into a routine of taking three showers a day for two weeks, just to get the rice paddy stuff off me, when I noticed that my flight commander, my squadron commander and my wing commander had all been replaced. That says something for keeping the light on the star and your mouth shut.
It took the powers-that-be a month before they scheduled me for a post-accident check ride. The check ride went well, but the next mission was a high altitude dive bomb sortie, and (wouldn't you know) while at altitude, the turbine blades went out the tailpipe. Rather than go through the accident board deal again, I dead-sticked it into Kadena.