Nickname/Call Sign: Misty 57
Date of Birth: September 23, 1928
Headed West: June 2, 2008
Highest Military Grade Held: 0-7 – Brigadier General
Biography
I grew up here in Knoxville, attended The University of Tennessee went to West Point, flew fighters in Korea and Vietnam.
After Korea, I flew a lot and made many friends at Moody AFB in Valdosta, GA; got an MA in English at The University of Southern California; and taught and trained Air Force Academy cadets.
Back in operations after Air Command and Staff College, I flew F-100's out of Lakenheath, England for three years, with a lot of deployments to North Africa, Italy, and Turkey. In Vietnam, I commanded a detachment (Misty) of volunteer pilots who flew into North Vietnam seeking and spotting targets for attack fighters. I was a 7th Air Force Headquarters near Saigon the last half of my Southeast Asia tour.
After the Pentagon (in the Under Secretary of the Air Force's office) and National War College (one year as a student, one a faculty member), I was vice commander at Luke AFB, Arizona. Then I commanded the 31st Tactical Fighter Wing (F-4s) near Homestead, Florida. It was the highlight of my career. After three years at Tactical Air Command headquarters in Hampton, Virginia, I concluded military service in Key West in a Caribbean contingency planning group. There I stood on the dock and welcomed thousands of Mariel boat lifters. It was time to retire.
My civilian jobs were interesting, but not earth-shakers. I even studied journalism, hoping to learn how the journalistic mentality is developed. My busiest and briefest job was superintendent of Castle Heights Military Academy in Lebanon Tennessee. Both daughters graduated from the University of Tennessee, and I was able to be with my mother for her last ten years. The decision to come home after three and a half decades proved to be a good one. My wife Bette died suddenly in 1992. She was a loving mother of four and a vital part of my life for 33 years.
At a West Pointer's birthday party, I met an alluring widow named Joyce Smith. I wooed her fervently, and in 1994 we were married.
Bud Bacon "Headed West" on June 2, 2008.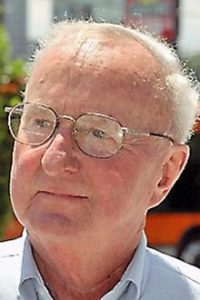 Walter Julian "Bud" Bacon II, 79, retired Brigadier General of the United States Air Force, died on Monday, June 2, 2008, at home. He was a member of the First Presbyterian Church. Born September 23, 1928, Knoxville, Tennessee, to the late Almon Kennedy Bacon and John Parshall Bacon, Sr.
Bud was proud to be a descendant on his father's side of Col. David Henley, Revolutionary War officer and George Washington's emissary to the East Tennessee region during Tennessee's quest for statehood; on his mother's side, he descended from Knoxville pioneer Francis Alexander Ramsey, builder of Ramsey House. His grandfather, Dr. John M. Kennedy, married Maria Laura Ramsey, daughter of Dr. F. A. Ramsey, the last child born in Ramsey House. His maternal grandfather and great grandfather, both Civil War veterans, were presidents of the Knox County Medical Association.
BGen Bacon graduated from Knoxville High School, attended the University of Tennessee and graduated from the United States Military Academy at West Point, New York, in 1951. He obtained his Master's degree from the University of Southern California in Los Angeles.
BGen Bacon was a member of James Park Sunday School Class (teacher and former president), Order of Daedalians, Air Force Association, Sons of the Revolution, the Retired Officers Association, Military Order of the World Wars, Sigma Chi Fraternity, East Tennessee Military Affairs Council (President 2000-2001), Eighth Air Force Historical Society, National War College Alumni Association, East Tennessee Historical Society, West Point Alumni Association, West Point Society of East Tennessee, Marine Corps League, Navy League, American Legion, East Tennessee Veteran's Memorial Association and the Ramsey House Board. BGen Bacon flew fighter aircraft in the Korean and Vietnam wars.
His awards and decorations include the Legion of Merit with two Oak Leaf Clusters, Distinguished Flying Cross with two Oak Leaf Clusters, Bronze Star Medal, Defense Meritorious Service Medal, Meritorious Service Medal (Air Force), and Air Medal with eleven Oak Leaf Clusters. He was preceded in death by his first wife, Elizabeth LeCrone Bacon of Colorado Springs, Colorado.
General Bacon is survived by his second wife, Joyce Phelan Bacon; children, George (Chip) Bacon of Cedaredge, Colorado, Timothy Crosby of Fruita, Colorado; Catherine "Kate" (Mrs. Jeff) Field of Hampton, Virginia, and Elizabeth "Betsy" Meadows of Knoxville, Tennessee; grandchildren, Brittany, Schuyler and Christopher Bacon, Eric Crosby, Erika, Hanna and Emma Field, and Hailey Meadows; brother and sister-in-law, John Parshall Bacon, Jr. and Jan Bacon of Palm Harbor, Florida.
Services were held on at the Tennessee State Veterans Cemetery with full military honors by The United States Air Force Honor Guard.
1951 Primary Flight Training, Bartow Air Force Base, FL/Bryan Air Force Base, TX,
8/1952-12/1952 Gunnery School, Pinecastle AFB, FL
12/1952 69th Fighter-Bomber Squadron, Taegu AB, South Korea (81 combat Missions – F-84G)
1953 IP, Moody Air Force Base, GA
6/1958 Faculty/Commanding Officer, U.S. Air Force Academy, Colorado Springs, CO
1965 494th Tactical Fighter Squadron/48th Tactical Fighter Wing, Royal Air Force Station, Lakenheath, England
5/1968-12/1968 Misty 57, Misty Strike Control and Reconnaissance Detachment, Tuy Hoa AB/Phu Cat AB, Vietnam
12/1968-5/1969 Chief, Special Actions Branch of the Operations Division, Seventh Air Force, Tan Son Nhut AB, Saigon.
5-1969-8/1970, General Bacon was deputy executive assistant to the undersecretary of the Air Force, Dr. John L. McLucas.
8/1970-6/1971 National War College, joined faculty
7/1972-3/1975 58th Tactical Fighter Training Wing at Luke AFB, AZ
3/1975-6/1976 31st Tactical Fighter Wing, Homestead Air Force Base, FL
7/1976-10/1979, Assistant deputy chief of staff, plans/Inspector General/Deputy chief of staff for logistics/Chief of staff, Headquarters Tactical Air Command, Langley Air Force Base, VA
10/1979-8/1980 Deputy commander, Caribbean Contingency Joint Task Force in Key West, FL
8/1/1980 Retired USAF

Legion of Merit with Oak Leaf Cluster

Distinguished Flying Cross with 2 Oak Leaf Clusters

Meritorious Service Medal

Air Medal with 11 Oak Leaf Clusters

Air Force Commendation Medal with Oak Leaf Cluster
Military & Civilian Education
1947 BS, US Military Academy at West Point
1964 Command and Staff College
1971 National War College
1957 MA/English, University of Southern California