John C. Bartholf
---

Preferred Name: John
Nickname/Call Sign:
Date of Birth: September 30, 1925 (January 18, 2019)
Highest Military Grade Held: Brigadier General
Hometown: Panama Canal Zone, Panama
Biography
Brigadier General John C. Bartholf was born in the Panama Canal Zone, Panama, to Brigadier General John and Madeline Bartholf on September 30, 1925. In June 1946, he graduated from the United States Military Academy, West Point, N.Y., with a Bachelor of Science degree, a commission, and his pilot wings.
He had an amazing 29-year Air Force career, flying P-51 Mustangs, F-84 Thunderstreaks, P-80's, F-86s, Navy F9/F-6 Cougars, F-100's, F-101's, F-102's and F-4D's.
A veteran of the Vietnam War, he was assigned to the 8th Tactical Fighter Wing as Assistant Director of Operations, Ubon Royal Thai Air Force Base (RTAFB) and later became the Director of Operations of the 432nd Tactical Reconnaissance Wing at Udorn RTAFB. During his tour, he completed 125 combat missions (100 over North Vietnam) and was awarded the Silver Star and the Distinguished Flying Cross for conspicuous gallantry and intrepidity in action against the enemy while serving as an F-4D Aircraft Commander over North Vietnam. He then Commanded the 79th Tactical Fighter Squadron and 81st Tactical Fighter Wing Royal Air Force Stations Bentwaters/Woodbridge, England.
His final assignments were with Logistics command at Warner Robins AFB and one last pass in the Pentagon in the Office of the Deputy Chief of Staff, Systems and Logistics. After retiring from the Air Force, he moved to Lusby, Md., where he enjoyed boating and crabbing on the Chesapeake Bay and Patuxent River, riding horses, and shooting the occasional woodchuck.k.
John was a brave and dedicated fighter pilot, as well as a loving husband and father. He married Eleanor Patricia "Patsy" Adams in 1957 in Sacramento, CA, and they were happily married for over 61 years. They have 1 daughter, 2 sons and 5 grandchildren.
Units Assigned
8th Tactical Fighter Wing as Assistant Director of Operations, Ubon Royal Thai AFB, Thailand
432nd Tactical Reconnaissance Wing, Director of Operations, Ubon Royal Thai AFB, Thailand (F-4D, 125 combat missions/100 over North Vietnam) F-4D Aircraft Commander over North Vietnam
179th Tactical Fighter Squadron/ 81st Tactical Fighter Wing, Commander, RAFS Bentwaters/Woodbridge, England (F-100, F-4D)
Logistics command at Warner Robins AFB, GA
Office of the Deputy Chief of Staff, Systems and Logistics, Pentagon, Washington, DC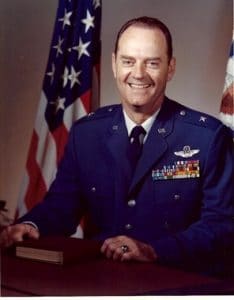 Brigadier General John C. Bartholf –  Headed West – January 18, 2019
BGen John Bartholf, 93, died peacefully in his Sumter, S.C., home on Jan. 18, 2019. He was born on Sept. 30, 1925, in the Panama Canal Zone, Panama, to Brigadier General John and Madeline Bartholf. In June 1946, he graduated from the United States Military Academy, West Point, N.Y., with a Bachelor of Science degree, a commission, and his pilot wings.
He had an amazing 29-year Air Force career, flying P-51 Mustangs, F-84 Thunderstreaks, P-80s, F-86s, Navy F9F-6 Cougars, F-100s, F-101s, F-102s, and F-4Ds.
A veteran of the Vietnam War, he was assigned to the 8th Tactical Fighter Wing as Assistant Director of Operations, Ubon Royal Thai Air Force Base (RTAFB) and later became the Director of Operations of the 432nd Tactical Reconnaissance Wing at Udorn RTAFB. During his tour, he completed 125 combat missions (100 over North Vietnam) and was awarded the Silver Star and the Distinguished Flying Cross for conspicuous gallantry and intrepidity in action against the enemy while serving as an F-4D Aircraft Commander over North Vietnam. He then Commanded the 79th Tactical Fighter Squadron and 81st Tactical Fighter Wing Royal Air Force Stations Bentwaters/Woodbridge, England. His final assignments were with Logistics command at Warner Robins AFB and one last pass in the Pentagon in the Office of the Deputy Chief of Staff, Systems and Logistics.
After retiring from the Air Force, he moved to Lusby, Md., where he enjoyed boating and crabbing on the Chesapeake Bay and Patuxent River, riding horses, and shooting the occasional woodchuck
John was a brave and dedicated fighter pilot, as well as a loving husband and father. He married Eleanor Patricia "Patsy" Adams in 1957 in Sacramento, Calif., and they were happily married for over 61 years.
He is survived by his wife Patsy, daughter Paige Weiland (Robert, Lt Col, USAF, Ret.), sons John P. Bartholf, COL, USAF, Ret. (Lynette) and Mark C. Bartholf, COL, USAR, Ret. (Tiffany), and five grandchildren, Emily, Logan, Blair, Brooke, and Rachel.
Funeral arrangements are pending at Arlington National Cemetery.
(source: https://www.af.mil/About-Us/Biographies/Display/Article/107696/brigadier-general-john-c-bartholf/)
Biography

Brigadier General John C. Bartholf was born in the Panama Canal Zone, Panama, to Brigadier General John and Madeline Bartholf on September 30, 1925. In June 1946, he graduated from the United States Military Academy, West Point, N.Y., with a Bachelor of Science degree, a commission, and his pilot wings.
He had an amazing 29-year Air Force career, flying P-51 Mustangs, F-84 Thunderstreaks, P-80's, F-86s, Navy F9/F-6 Cougars, F-100's, F-101's, F-102's and F-4D's.
A veteran of the Vietnam War, he was assigned to the 8th Tactical Fighter Wing as Assistant Director of Operations, Ubon Royal Thai Air Force Base (RTAFB) and later became the Director of Operations of the 432nd Tactical Reconnaissance Wing at Udorn RTAFB. During his tour, he completed 125 combat missions (100 over North Vietnam) and was awarded the Silver Star and the Distinguished Flying Cross for conspicuous gallantry and intrepidity in action against the enemy while serving as an F-4D Aircraft Commander over North Vietnam. He then Commanded the 79th Tactical Fighter Squadron and 81st Tactical Fighter Wing Royal Air Force Stations Bentwaters/Woodbridge, England.
His final assignments were with Logistics command at Warner Robins AFB and one last pass in the Pentagon in the Office of the Deputy Chief of Staff, Systems and Logistics. After retiring from the Air Force, he moved to Lusby, Md., where he enjoyed boating and crabbing on the Chesapeake Bay and Patuxent River, riding horses, and shooting the occasional woodchuck.k.
John was a brave and dedicated fighter pilot, as well as a loving husband and father. He married Eleanor Patricia "Patsy" Adams in 1957 in Sacramento, CA, and they were happily married for over 61 years. They have 1 daughter, 2 sons and 5 grandchildren.

Units Assigned

8th Tactical Fighter Wing as Assistant Director of Operations, Ubon Royal Thai AFB, Thailand
432nd Tactical Reconnaissance Wing, Director of Operations, Ubon Royal Thai AFB, Thailand (F-4D, 125 combat missions/100 over North Vietnam) F-4D Aircraft Commander over North Vietnam
179th Tactical Fighter Squadron/ 81st Tactical Fighter Wing, Commander, RAFS Bentwaters/Woodbridge, England (F-100, F-4D)
Logistics command at Warner Robins AFB, GA
Office of the Deputy Chief of Staff, Systems and Logistics, Pentagon, Washington, DC

Brigadier General John C. Bartholf –  Headed West – January 18, 2019
BGen John Bartholf, 93, died peacefully in his Sumter, S.C., home on Jan. 18, 2019. He was born on Sept. 30, 1925, in the Panama Canal Zone, Panama, to Brigadier General John and Madeline Bartholf. In June 1946, he graduated from the United States Military Academy, West Point, N.Y., with a Bachelor of Science degree, a commission, and his pilot wings.
He had an amazing 29-year Air Force career, flying P-51 Mustangs, F-84 Thunderstreaks, P-80s, F-86s, Navy F9F-6 Cougars, F-100s, F-101s, F-102s, and F-4Ds.
A veteran of the Vietnam War, he was assigned to the 8th Tactical Fighter Wing as Assistant Director of Operations, Ubon Royal Thai Air Force Base (RTAFB) and later became the Director of Operations of the 432nd Tactical Reconnaissance Wing at Udorn RTAFB. During his tour, he completed 125 combat missions (100 over North Vietnam) and was awarded the Silver Star and the Distinguished Flying Cross for conspicuous gallantry and intrepidity in action against the enemy while serving as an F-4D Aircraft Commander over North Vietnam. He then Commanded the 79th Tactical Fighter Squadron and 81st Tactical Fighter Wing Royal Air Force Stations Bentwaters/Woodbridge, England. His final assignments were with Logistics command at Warner Robins AFB and one last pass in the Pentagon in the Office of the Deputy Chief of Staff, Systems and Logistics.
After retiring from the Air Force, he moved to Lusby, Md., where he enjoyed boating and crabbing on the Chesapeake Bay and Patuxent River, riding horses, and shooting the occasional woodchuck
John was a brave and dedicated fighter pilot, as well as a loving husband and father. He married Eleanor Patricia "Patsy" Adams in 1957 in Sacramento, Calif., and they were happily married for over 61 years.
He is survived by his wife Patsy, daughter Paige Weiland (Robert, Lt Col, USAF, Ret.), sons John P. Bartholf, COL, USAF, Ret. (Lynette) and Mark C. Bartholf, COL, USAR, Ret. (Tiffany), and five grandchildren, Emily, Logan, Blair, Brooke, and Rachel.
Funeral arrangements are pending at Arlington National Cemetery.
(source: https://www.af.mil/About-Us/Biographies/Display/Article/107696/brigadier-general-john-c-bartholf/)