Date of Birth: October 2, 1930
Headed West: January 30, 2020
Highest Military Grade Held: 0-6 – Colonel
Bill Rippy was a member of the 1954 Far East Air Force Special Weapons Gunnery Team and participated in the First Air Force All Jet Gunnery Meet as a 2ND LT. He was also the right wing of the short-lived "Sacrojet" Aerobatic team, at Turner AFB in 1956 (until the Sec. of Air Force commanded all teams but the Thunderbirds to cease and desist).
He dead-sticked two F-84s and ejected from one in the traffic pattern, all within a 6 month period at Turner AFB, GA. Rippy flew 267 combat missions in Vietnam and "to top it all off, I believe I had the distinct privilege of giving one of our greatest fighter jocks, B/Gen. Robin Olds, his last Air Force instrument flight check while still at the Academy. I could be wrong on the "last" check, but I think he was assigned to Norton AFB a few months after I left the Academy."
Bill Rippy (Col USAF, Ret) "Headed West" on January 30, 2020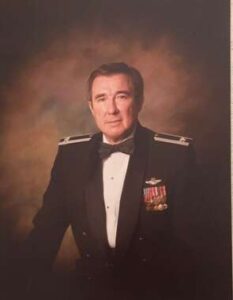 Colonel Bill G. Rippy, age 89, of Tifton, went home to be with his Lord on January 30, 2020, at his residence. His funeral services were held at Victory Baptist Church at 2:00 P.M. on Sunday, February 2, 2020, with Rev. Dan Eidson, Rev. Gerald Purvis and Rev. Jay Kimbro officiating.
The family received friends Saturday, February 1, at Albritton Funeral Directors.
The interment will be held in Arlington National Cemetery in Arlington, VA., with full military honors at a later date.
His grandsons; Billy Rippy III, Brock Alexander, Richard Rippy, Michael Rippy, Matthew Rippy and Garrett Rippy will serve as pallbearers.
Colonel Rippy was born on October 2, 1930, in Bethpage, TN to the late Basil Rippy and Earlene Cline Stone. Along with his parents, he was preceded in death by his brother, Robert Rippy.
He is survived by his wife of 62 years, Shirley Ann Wheeler Rippy of Tifton, and his sister, Sue Mitchell of Plymouth, Indiana. Also surviving are his daughter and son-in-law, Karen and Alan Alexander of Blairsville, GA and two sons and daughters-in-law, Bill, Jr. and Barbara Rippy of Ft. Myers, FL; and Bob and Natalie Rippy of Tifton, GA. His surviving grandchildren are Billy Rippy, III of Ft. Myers, FL; Brock Alexander (Chelsea) of Indiantown, FL; Richard Rippy of Tampa, FL; Kaylyn Jesifers (Andrew) of Manchester, GA; Michael Rippy (Veronica) of Orlando, FL; Matthew Rippy of Orlando, FL; Garrett Rippy of Greenville, NC; Ali Turner (Matthew) of Hahira, GA; and Kyndal Osborne (Nick) of Fort Bragg, NC. Colonel Rippy was also blessed with five great-grandchildren who were the joy of his life. They are John Cohen Alexander and Eden Alexander both of Indiantown, FL; Aspen Jesifers and Remey Kate Jesifers both of Manchester, GA; and Clark Rippy of Orlando, FL. and also a great-granddaughter soon to be born Elizabeth Anne Turner.
Colonel Rippy graduated from LaPorte High School in 1948, where he played football and was inducted into the LaPorte High School Football Hall of Fame in 1988. He continued his education at Wabash College where he played football for three years before enlisting in the Air Force. He went on to have a career as an Air Force fighter pilot. Colonel Rippy was a veteran of the Korean Conflict and Vietnam War. During his military career, he flew multiple fighter aircraft, including 267 combat missions in Vietnam. He was the first pilot to land an F-84F deadstick successfully; in fact, he did it twice and was awarded Pilot of the Month for the entire Air Force for his accomplishment. He was also one of the test pilots for the F-101 Voodoo and was the first pilot to break the sound barrier on the deck in that particular aircraft.
Colonel Rippy loved the Lord and he and his wife were very active in their church Victory Baptist and formerly Northside Baptist. He served as Deacon for Victory Baptist Church and previously Northside Baptist Church in Tifton. He was involved in Vacation Bible School and very active in visitation.
He transitioned from a leader to a servant in 1992, when he became a hospice volunteer with Hospice of Tift Area. He served in that capacity for 25 years. In addition to Hospice, he began visiting people he knew that were in the nursing homes and those visits became part of his weekly schedule. For some, he was the only visitor they received each week and they looked so forward to the time together.
In lieu of flowers, please make donations to Hospice of Tift Area, 618 Central Avenue, Tifton, GA 31794, or to Gideons International, through Victory Baptist Church, 3917 Hwy. 319 South, Tifton, Ga. 31793.
Albritton Funeral Directors, www.albrittonfuneral.com.
Published on January 30, 2020
10/195112/1952 Basic flight training, Mauldin, MO. Advanced flight training Goodfellow AFB, TX and Big Spring AFB, TX.
1953 49TH TFW, 8TH FBS, Kunsan AB, Korea, (F-84G), the Squadron moved to Misawa AB, Japan after the July ' 53 Truce
1954-1958 31ST SFW, 7TH TFS, Turner AFB, GA, (F-84G, F-84F, F-100D/F), TDY Edwards AFB, 1955, 2 Mos. Phase 2 Testing (XF-11), No. 45 of First 101 Pilots (ONEO-WONDERS) to Fly The Voodoo (F-101)
1958-1960 354 TFW, 352 TFS, Myrtle Beach AFB, SC (F-100D/F)
1962-1964 355TH TFW, Job Control Officer and Test Pilot, George AFB, CA (F-105)
1965-1966 TAC HQS, Langley AFB, VA
1966-1967 10TH Fighter Commando Squadron, 3RD TFW, Bien Hoa AB, Vietnam (F-5)
1967-1970 Director of Operations, Operations & Plans, USAF Academy, CO,
1971-1972 TAC HQS, Langley AFB, VA
1972-1974 HQS MASTER, US ARMY, West Fort Hood, TX
F-84F/G
F-100 D/F
XF-111
F-101
F-105
F-5
Military & Civilian Education
Military Education:
1958 Squadron Officers School, Maxwell AFB, AL
1964-1965 Command And Staff College, Maxwell AFB, AL
1970-1971 Army War College, Carlisle Barracks, PA
Civilian Education:
BA, Wabash College(3 yrs)
North Carolina State University(2yrs)
George Washinton University
Maxwell AFB Annex (1yr)