Date of Birth: December 16, 1929
Headed West: April 26, 1984
Highest Military Grade Held: 0-9 – Lieutenant General
"Robert M. Bond was a lieutenant general of the United States Air Force (USAF). He saw combat in Korea and three tours of Vietnam, before becoming an instructor and then vice-commander of an organization that developed and evaluated weaponry for the USAF.
Bond was born on 16 December 16, 1929, in Trenton, Tennessee, and attended Marion Military Institute in Marion, Alabama, and the University of Mississippi.
He joined the USAF in 1951 and flew 44 combat missions in the F-86 Sabre during the Korean War. He flew F-84 Thunderjets, F-86s, and F-100 Super Sabres in Europe, then in 1958 trained at the USAF Fighter Weapons School at Nellis Air Force Base. In 1963 he became chief of the Strike Branch at Kadena Air Base, Okinawa, and flew combat missions over Vietnam in the F-105 Thunderchief.
After going to Staff College from 1965 to 1966, he served as F-105 and F-111 project officer at Norton Air Force Base, California. From 1968 to 1969 he flew 213 combat missions from Cam Ranh Air Base in Vietnam, in the F-4 Phantom. On 30 December 1968 in Vĩnh Lợi District in the Mekong Delta, Bond, by now a major, made repeated ground attacks in poor weather and under heavy automatic ground fire, for which he won the Silver Star.
He was an F-100 instructor pilot at Luke Air Force Base, Arizona, from July 1969 to January 1970, when he was given command of the 310th Tactical Fighter Training Squadron, the first USAF unit to fly the A-7 Corsair.[2] While there, he became director of operations for the 58th Tactical Fighter Training Wing. In 1972 he served a third tour in Vietnam, this time in the A-7.
In June 1973 he joined USAF HQ at the Pentagon in Washington D.C. He was awarded the Distinguished Service Medal for his work there in modernizing and integrating weapon systems. He worked in many of the USAF's "black" programs, which were activities so undercover that they commanded secret funds to avoid scrutiny.
In August 1978 he was sent to Eglin Air Force Base, Florida, as commander of the Armament Division, Air Force Systems Command. On 25 April 1980, as a major general, Bond read out President Jimmy Carter's eulogy at a memorial service for the eight American servicemen who died in Operation Eagle Claw, the unsuccessful US attempt to free hostages held by Iran. In June 1981 he became vice commander, Air Force Systems Command, Andrews Air Force Base, Maryland, and was promoted to lieutenant general."
Source: Wikipedia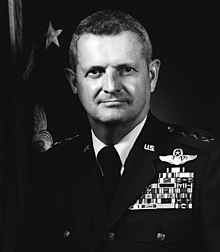 Robert M. Bond (LtGen, USAF – KWF) "Headed West" on April 26, 1984
LtGen Bob Bond, who was about to retire, made a farewell visit on 26 April 1984 to "an Air Force Systems Command unit" believed to have been the 6513th Test Squadron, Red Hats, at Groom Lake. The Red Hats, like the 4477th TES Red Eagles based at Tonopah Test Range, clandestinely operated Soviet aircraft.
On a previous visit to Groom, Bond had flown the secret YF-117A prototype. The MiG-23 was known as YF-113 in USAF service and, along with a greater number of MiG-21s, was part of a collection of Soviet-built aircraft that the 4477th flew. Bond insisted on flying the MiG-23 BN fighter-bomber after a cursory briefing over the cockpit rail, even though it was considered a difficult aircraft and pilots usually received several hours of ground instruction before flying it. On his second high-speed flight, he was flying at 40,000 feet and over Mach 2, and had left the T-38 chase plane that was flying with him far behind, when a hydro-mechanical inhibitor activated, preventing him from disengaging the afterburner. It was designed to avoid sudden shut-downs at high speed that could damage the Tumansky R-29 engine, or even cause it to explode and destroy the aircraft.
At such speeds, with the wings fully swept back to 72°, the MiG had very limited pitch authority and was inclined to yaw and roll. Bond lost control, made a distress call ("I gotta get out of here"), and was then killed in the ejection, when the slipstream broke his neck and shredded the canopy of his parachute. The aircraft crashed in the desert, diving in at a 60° angle and impacting on what is now known as Jackass Flats, part of Area 25 that was still contaminated from NERVA nuclear rocket testing years before. Bond's body was discovered by a USAF sergeant on his way to work, who removed the rank insignia from Bond's flight suit with a pocket knife before going to get help. (1)
Aftermath
The USAF would not confirm or deny that Bond was flying a MiG when he died, and stated that Bond was flying "an Air Force specially modified test craft", but it leaked the information to a journalist, Fred Hoffman. When Time Magazine reported on the accident and the rumors of the US MiG program, the USAF was forced to reveal that it was flying Soviet aircraft. There were fears that the publicity would also lead to the exposure of the F-117 program, which was still secret and was also based at Tonopah, but this did not happen.
Bond was buried in Ashland, Mississippi, and was survived by his wife Betty and four children. A memorial stone to him was placed in the desert where he crashed. (1)
SSS President Tom Griffith remembers Bob Bond as "one of our very best, a great fighter pilot, a great leader, and a great person."
Another source report of Bond's accident: (2)
Lt. Gen. Robert M "Bobby" Bond (USAF)
Killed in high-speed ejection April 26, 1984
NOT an F-117A (USAF operated Mig 23)
Cause: Loss of control during high-altitude, supersonic flight
It has been reported in many publications that Lt. Gen. Robert M Bond, vice commander of the Air Force Systems Command, died in a crash of the then-secret F-117A at the Tonopah Test Range in Nevada in the mid-1980s.
Recent reports however state that Lt. General Bobby Bond was killed when the MIG 23 he was flying out of Groom crashed into Little Skull Mountain on the Nevada Test Site on April 26, 1984. The flight was the second of two orientation flights for General Bond. The mission included a high-speed run, followed by a systems-radar familiarization. Bond's aircraft was accompanied by a T-38 chase plane following at a good distance. Bond reported to ground control that he had reached the planned speed without problems. At 10:17:50 AM Bond asked, "How far to the turn?" Ground control responded at 10:17:53 AM with "Turn now, right 20." Bond responded with two clicks of the radio. AT 10:18:02 AM Bond radioed "I'm out of control. I'm out of…" At 10:18:23 AM Bond radioed "I've got to get out, I'm out of control." Soon after radar contact was lost. Bond had ejected but was killed. The plane hit the ground in a high-speed 60-degree dive.
Examination of the debris found that all damage was due to impact. The engine was running normally at a throttle setting of about 80 to 90 percent. The accident report (released May 17, 1984) concluded that the plane had crashed due to loss of control during high-altitude, supersonic flight. Bond apparently attempted a high-speed ejection (possibly at Mach 2) and possibly shredded his parachute in the ejection.
Lt. General Bond was honored with the creation of the Lieutenant-General Bobby Bond Memorial Aviator Award which Recognizes an AFMC military-rated crew member for outstanding contribution to AFMC's T&E mission while participating in aerial duties.
Recently, it has been discovered that there is a memorial to Gen. Bond located near the crash site in Area 25 of the Nevada Test Site. (NOTE: This is government land which requires permission to visit. Area 25 is where the nuclear rocket development once took place.) The memorial is flush with the ground and is located in the middle of nowhere in particular. It is made of black granite and the dimensions are approx. 1 ft. by 2.5 ft. The inscription is as follows:
BOBBY BOND
APRIL 26, 1984
HE WAS A MAN OF GREAT STRENGTH
A WARM AND FAITHFUL FRIEND,
WHO GAVE HIS LIFE FOR THE
COUNTRY HE LOVED Source (1): Wikipedia, (2) source http://www.f-117a.com/Bond.html
1951-10/1952 Entered USAF – Aviation Cadet
10/1952 – Earned pilot wings and commission
Advanced gunnery training, Nellis AFB, NV
51st Fighter-Interceptor Wing, K-13 Airfield, South Korea (F-86-44 combat missions)
1954-1959 389th Tactical Fighter Squadron/366th Tactical Fighter Wing, early non-stop deployments to Europe from Alexandria (England) AFB, LA (F-84, F-86, F-100)
7/1958-10/1958 USAF Fighter Weapons School, Nellis AFB
1959  IP/Fighter Weapons School
1960 Nellis Weapons Team
1960 F-105 Test Pilot, Training Research and Development Section, Fighter Weapons School (F-105)
1963 6002nd Standardization and Evaluation Group, Chief of Strike Branch, Kadena Air Base, Okinawa (F-105)
1965-1966 Command and Staff College
1966 HQ 1002nd Inspector General Group, Directorate of Safety/Project Officer, Norton AFB, CA (F-105, F-111)
8/1968 Flight commander /Operations officer, Cam Ranh Bay AB, Republic of Vietnam (F-4 213 combat missions)
7/1969 IP, Luke AFB, AZ (F-100)
1/1970 310th Tactical Fighter Training Squadron, Squadron commander/Director of Operations, Luke AFB, AZ (A-7)
6/1972 23rd Tactical Fighter Wing, Vice commander, England AFB, LA (A-7 SEA missions)
6/1973 Deputy director for general purpose forces, HQ USAF, Washington, DC
8/1978 Commander of the Armament Division (formerly the Armament Development and Test Center), Air Force Systems Command, Eglin AFB, FL
6/1981-4/1984 vice commander, Air Force Systems Command, Andrews AFB, MD

Distinguished Service Medal

Meritorious Service Medal with Oak Leaf Cluster

Air Medal with 11 Oak Leaf Clusters

Air Force Commendation Medal with Oak Leaf Cluster

Air Force Outstanding Unit Award ribbon with 4 Oak Leaf Clusters
F-86
F-84
F-100
F-105
F-111
A-7
Rating: Command Pilot – 267 combat missions, 44 in Korea and 213 in Vietnam
Military & Civilian Education
Military Education:
1965-1966 Command and Staff College
7/1958-10/1958 USAF Fighter Weapons School, Nellis AFB
1965-1966 Command and Staff College
Civilian Education:
Ashland High School, MS
Marion Military Institute, Marion, AL
The University of Mississippi