Date of Birth: October 1, 1934
Headed West: January 5, 2020
Highest Military Grade Held: 0-5 – Lieutenant Colonel
Hometown: Salt Lake City, UT
"In 1953, when I was 18, been out of high school about six, eight months and I had finished one quarter up at the university and they were just about ready to draft me into the Army, which I didn't care a whole lot for. So I said, "Well, I think I'll just join something." And the Navy was about nine or ten months and the Air Force was about two or three months so I just joined the Air Force.
I was able to get into pilot training because with the beginning of the Cold War they were going to need a bunch of pilots. You used to have to have four years of college or at least two years of college to apply. But then when the Cold War started they lowered the requirements. If you had a high enough grade on your entrance exam in the Air Force and could pass the physicals, you could go to aviation cadet training."
For the rest of this interview with Ben Bowthorpe by KUED.org, go to https://www.kued.org/sites/default/files/benjamin-bowthorpe.pdf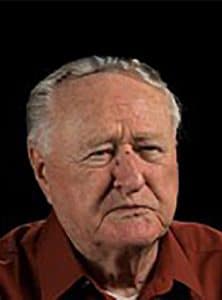 Benjamin (Ben) Warren Bowthorpe "Headed West" January 5, 2020
Ben Bowthorpe passed away peacefully in his sleep at his home in Cottonwood Heights, Utah on Sunday, January 5, 2020.
Ben was born in Salt Lake City, Utah on October 1, 1934 to Herbert and Edna Bowthorpe. Ben grew up in Holladay, Utah and attended Granite High School. He was one of 6 kids.
Ben joined the United States Air Force at 18 years old and began 20 years of traveling the world. He met Barbara Elizabeth Dotson while stationed at England Air Force Base in Alexandria, LA and they married on May 25, 1957. Ben and Barbara have three daughters, Stephanie, Tracy and Tamra and they spent the first part of their marriage living a full Air Force life, moving to different countries and giving their daughters experiences that none of them will ever forget. Ben retired from the Air Force in 1973 and moved his family back to his home of Salt Lake City, Utah.
Ben was a highly decorated fighter pilot in the United States Air Force who retired with full honors as a Lieutenant Colonel. During his distinguished military career, he was awarded several different medals for courage, bravery and skill. Some of these included the Air Force Commendation Medal, Combat Readiness Medal, and two Bronze Stars. He was also awarded the highly distinguished Silver Star.
Ben was the first pilot to fly 100 missions over North Vietnam in the F105 Thunderchief during the Vietnam War. Ben flew F104's, F105's and his beloved F4 and was never happier than when he was flying high and flying fast.
Ben is survived by his wife of 62 years, Barbara; his daughters Stephanie Bowthorpe Schaerrer (Mark), Tracy Bowthorpe DeRango (Denny), and Tamra Bowthorpe Gray (Cory), as well as his 6 grandchildren: Cody, Chelsi (Courtney), Keinan, MacKenzie, Grace, and Benjamin and his great-grandchildren: Lance, Lauren and Ryder. He is also survived by his two brothers, Jim and Bob. Ben is preceded in death by his mother and father, two sisters and one brother.
Ben is interred at Memorial Holladay Cemetery, Holladay, UT.
The family would also like to thank the Bristol Hospice Care team, especially Jerley and Scott, for their amazing care and compassion as they helped Ben transition from this life to the next in his own way with dignity and love.
(Excerpted from obituary published in Salt Lake Tribune on Jan. 8, 2020)
Assignments
1/1954-7/1955 Pilot Training, Cannon AFB, NM
Okinawa, Japan
F-105 Training, Nellis AFB, NV (F-105)
Korat AB, Thailand
Military & Civilian Education