Date of Birth: August 1, 1923
Headed West: August 14, 2010
Highest Military Grade Held: 0-9 – Lieutenant General
Hometown: San Francisco, CA
"Carroll Devol "Rock" Brett was a United States Air Force lieutenant general who piloted aircraft during crises and wars from 1948 (the Berlin Crisis) through the Vietnam War (1960s). He served in Austria, Germany, Korea, Vietnam, the United Kingdom, Iran, and Turkey, before his final assignment as commander of Allied Air Forces Southern Europe in 1977. After his retirement in 1978, he was a defense consultant for more than 20 years, retiring in 1998.
Devol Brett was born in California in 1923 at the Presidio of San Francisco, the son of U.S. Army Air Force General George Brett. He attended private high school, at Landon School in Bethesda, Maryland, graduating in 1941.[1] In 1945 he graduated from the U.S. Military Academy at West Point, N.Y.
Upon graduation, Brett was commissioned a pilot in the Army Air Corps. His first assignment after training, in 1946, was in Horsching, Austria; in 1947 he was assigned to the 86th Fighter Wing at Munich, Germany. In the early days of the Berlin Airlift in 1948, he flew C-47 cargo planes.
During the Korean War, Brett flew more than 100 combat missions, piloting P-51D Mustangs out of the 18th Fighter Wing. He sometimes led as many as 36 planes on a mission, each typically carrying two 500 pound bombs, six rockets, plus machine gun ammunition. His plane had the nickname "Noherohere" painted on it; his wife has asked him to "be good, but don't be a hero".
Beginning in April 1957, Brett commanded the 355th Fighter Day Squadron, out of Myrtle Beach Air Force Base, which consisted of 17 F-100 Super Sabre jets.[6] In that position, he was featured in a 1958 Time magazine article in which an editor went weightless during dozens of short climbs and dives in Brett's F-100. His unit made four major deployments to Europe, including the 1958 Lebanon crisis, where his squadron was part of the first Composite Air Strike Force, and the Berlin Crisis of 1961. In 2003 he was honored by The Air Command and Staff College Gathering of Eagles Foundation, which designated him an "Eagle"; the Foundation specifically noted his actions in the Lebanon Crisis:
On 14 July 1958, Rock Brett led his F-100D/F squadron in Operation DOUBLE TROUBLE, a top-secret mission to deploy the first full Composite Air Strike Force from the US to Turkey in support of Lebanon invoking the Eisenhower Doctrine following the 14 July coup d'etat in Iraq. This mission was also the first operational day/night transatlantic air-refueling mission by fighters. Brett's squadron was in place in less than 20 hours after notification. His leadership helped resolve the crisis and pave the way for today's critical Air Expeditionary Force deployments.
In the Vietnam War, Brett flew more than 100 missions in an F-4C jet fighter. In 1967, he was shot down over North Vietnam by anti-aircraft fire. He broke his nose and cheekbone while ejecting from his aircraft, and was picked up by a search and rescue helicopter team after several hours in the water. The other member of his crew, a radar operator, did not survive.
From 1973 to 1975, Brett was the senior U.S. military officer in Iran, as chief of the U.S. Military Mission with the Iranian armed forces and the U.S. Military Assistance Advisory Group (MAAG) to that country. He was followed in that position by Major General Richard Secord.
In 1978, Brett retired from the Air Force. His final position, which he had assumed in 1977, was as commander of Allied Air Forces Southern Europe, headquartered in Naples, Italy (part of Allied Forces Southern Europe) and (jointly) commander of U.S. Air Forces in Europe's Sixteenth Air Force, based at Torrejon Air Base, Spain.
Military consultant
After retiring from the Air Force, Brett became a private military consultant for the Institute for Defense Analyses (IDA). He specialized in conventional and nuclear tactical systems with emphasis on the employment of airpower. While at IDA, he also did studies on search and rescue and personnel recovery for the Defense Prisoner of War/Missing Personnel Office. Among his work was a joint report in 1985, with retired General Bryce Poe, for the Federal Construction Council, on quality control of Air Force construction programs.
He retired in 2009.
Family
In 1947, Brett married Hermine Mayerl of Austria. Brett, stationed in Germany, announced the birth of their first son by flying his P-47 over the village where his in-laws lived, a short flight from his airbase, and dropping a canister with the message "It's a boy – George Howard Brett II." The couple had a second child, Karla. Hermine, who went by Mimi, died in 1999. In 2005, Brett married Lou Longino, the widow of a long-time friend of his.
LtGen Brett "Headed West" on August 14, 2010, at the age of 87."(1)
Source: (1) Wikipedia
Carroll Devol "Rock" Brett (LtGen USAF, Ret) "Headed West" on August 14, 2010.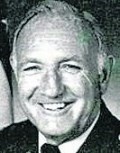 Devol "Rock" Brett (USAF Ret.) passed away on Saturday, August 14, 2010. A resident of Naples, FL, he was born at Letterman Military Hospital, Presidio of San Francisco on August 1, 1923. He was the son of Lt. General George H. Brett, the first chief of the Air Corp and grandson of Army Major C.A. Devol.
After graduation from the Sullivan and Landon preparatory school in DC, General Brett earned a Bachelor of Science degree from the U.S. Military Academy at West Point, and a Master of Arts degree in International Relations from George Washington University. He graduated from the USAF Air Tactical School, from Great Britain's Royal Air Force Staff College, and the U.S. National War College. He was a Trustee at the U.S. Air Force Academy and this year was named an outstanding alumnus of the Landon School.
An illustrious career in the Air Force began with the 86th Fighter Wing in Germany after WW II, including flights in the early stages of the Berlin Airlift. He flew 100 combat missions in a P-51 in Korea. As Vice Commander of the 12th Tactical Fighter Wing, he flew more than 100 combat missions in Vietnam. He was shot down over North Vietnam but was rescued by Air Sea Rescue. It was his rescue that led to the formation of the Air Sea Rescue Squadron that has been active ever since. Air-Sea Rescue and the subsequent development of helicopters designed specifically for these efforts was of major interest to General Brett, and he took great pride in serving as a consultant on several major Defense projects developing rescue strategies and technologies that recently have been extended to civilian situations.
Following his Air Force flying years, he continued his Air Force career serving in the Office of the Joint Chiefs of Staff and the Secretary of Defense. He became the first Air Force U.S. Military Assistance Advisory Group Chief in Iran and was named Allied Air Forces Southern Europe Commander of the 16th Air Force. Following his retirement from the Air Force, he joined the Institute for Defense Analysis that directly supports the office of the Secretary of Defense. This included major efforts involving personnel recovery and combat search and rescue.
He was the recipient of more than 25 medals, including the Silver Star and the Distinguished Flying Cross with two oak leaf clusters. He also earned medals from Italy and Vietnam and was awarded Vietnamese and Turkish Air Force pilot wings.
After fully retiring, he gave freely of his time to area youth including giving speeches at Memorial Day and Veterans Day celebrations and supporting the Junior ROTC Program in Collier County. He was also very active in the Air Force Falcon Founders Foundation that supports high school students who are candidates for the Air Force Academy.
General Brett is survived by his wife, Lou Longino Brett; his son, George Howard Brett II, and wife, Sally; daughter, Karla Wickett, and son-in-law, Ken; grandchildren, (Lt. USAF) Sarah Scott and Michael Dietz, Megan Brett, Brett Thompson, Lauren and Shane Hamilton, and Elizabeth Wickett; great-grandson, Cole Hamilton; and stepchildren, Kathy Sanchez, and Nolan and Kay Sanchez.
General Brett was preceded in death by his wife of 52 years, Mini Brett.
Source: Devol Brett Obituary (2010) – Naples, FL – Naples Daily News (legacy.com)
1945 Commissioned 1Lt Army Air Corps
1946  79th Fighter Group, Horsching, Austria
1947 86th Fighter Wing at Munich, Germany
1948  Berlin Airlift (C-47)
1951 39th Fighter-Interceptor Squadron/18th Fighter Wing, Korean  (P-51D -100 combat missions)
1952, Luke AFB, AZ (F-84)
1953 attended Royal Air Force Staff College at Bracknell, Berkshire, England
1954-1957 79th Fighter-Bomber Squadron at Royal Air Force Station Woodbridge, Suffolk, England.
4/1957 355th Fighter Day Squadron, Commander, Myrtle Beach AFB NC (F-100)
7/14/1958 Led F-100 D/F squadron in "Double Trouble", first full Composite Air Strike Force from the US to Turkey
1961 Berlin Crisis
7/1062 4452d Standardization and Evaluation Squadron, Waco, TX
4450th Standardization and Evaluation Group, Langley AFB, VA
1964 National War College
1965 Organization of the Joint Chiefs of Staff, Pentagon, Washington, DC
7/1967 12th Tactical Fighter Wing, Vietnam
1967 Shot down in Vietnam, ejected and was rescued (F-4C)
1968 HQ, 7th Air Force, Deputy director, Tactical Air Control Center, Tan Son Nhut AB, Vietnam
9/1968 81st Tactical Fighter Wing, Commander, RAFS Bentwaters, England
9/1969 Inspector general, Headquarters USAF in Europe, Lindsey Air Station, Germany
9/1970 Director, Office of the Assistant Secretary of Defense (International Security Affairs) Near East and South Asia Region
1973- 1975 Chief of the U.S. Military Mission with the Iranian armed forces and the U.S. Military Assistance Advisory Group (MAAG)
9/1975 U.S. Representative to the Permanent Military Deputies Group/Chief, U.S. Element, Central Treaty Organization
8/1/1977-1978 Commander of Allied Air Forces Southern Europe, Naples, Italy/Commander 16th Air Force, Torrejon AB, Spain
1978 Retired USAF

AF Distinguished Service Award (2)

Distinguished Flying Cross (3)

AF Outstanding Unit Award
2003 Eagle, Gathering of Eagles
C-47
P-47
P-51D
F-100
F-4C
Military & Civilian Education
Military Education:
1945 US Military Academy, West Point, NY
Air Tactical School
Great Britain's Royal Air Force Staff College
U.S. National War College
Civilian Education:
1941 Landon School, Bethesda, MD
1966 MA/International Policy, George Washington University