Date of Birth: June 26, 1929
Headed West: September 16, 2019
Highest Military Grade Held: 0-5 – Lieutenant Colonel
"The key to a fighter pilot's success is that there has to be "no second thought when you see an enemy plane, and you've got to immediately engage."
Korean War ace Lieutenant Henry Buttelman was born in Corona, New York on June 26, 1929. After serving two years in the U.S. Marine Corps Reserve and two years in the U.S. Air Force Reserve, he entered the Air Force pilot training program of class 52-E and graduated as a second lieutenant on Aug. 2, 1952.
After completing three months of advanced gunnery training at Nellis Air Force Base, Nevada, he was shipped out to Korea in December 1952 to serve with the 25th Fighter-Interceptor Squadron, 51st Fighter-Interceptor Wing, equipped with the F-86 Sabrejet. The Korean War was winding down and on June 19th on his 55th combat mission and his first mission as an element leader he scored his first aerial victory — a MIG -15.
Eleven days later, however, he became the youngest Korean ace at age 24 when he downed his fifth MIG on June 30th. He shot down two more in July to bring his total to seven, just before the cessation of hostilities on July 27, 1953. He logged 65 combat missions during this tour.
Following the outbreak of the Vietnam War, Major Buttelmann left McConnell Air Force Base, Kansas in April 1965 for four months of temporary duty at Takhli Air Base Thailand where he flew 46 combat missions in the F-105 with the 562nd Tactical Fighter Squadron. He returned for a second tour of duty in May 1969 to fly the F-100s as commander of the Misty Forward Air Controllers and the 308th Tactical Fighter Squadron. He logged 232 combat missions in his 12-month tour.
Lt. Col. Buttelmann retired from active duty in Oct. 1979 with 27 years of active duty. (1)
For more on Hank Buttelmann see: http://wingsmuseum.org/wp-content/uploads/2016/09/Lt.Col_.-Henry-Buttelmann.pdf
Source: https://airandspace.si.edu/support/wall-of-honor/henry-buttelmann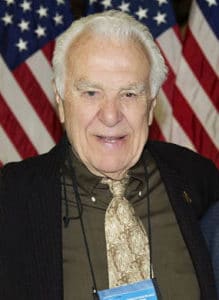 LtCol Henry "Hank" Buttelmann, the youngest Korean War Ace, "Headed West", September 16, 2019.
Hank Buttelmann was the 2nd to last living American Ace of the Korean War. He is credited with 7 MiG shoot downs during June and July of 1953.
Hank's wife says he "died peacefully" after battling dementia for several years". Hank and his wife Audrey had been living in Frankfort, IL for the past several years.
Hank flew F-100's on 232 combat missions with the 308th Tactical Fighter Squadron as "Misty 144" and a Commander of the squadron. He had previously flown F-86's with the 25th Fighter-Interceptor Squadron in Korea for 64 combat missions and F-105's with the 562nd Tactical Fighter Squadron in 46 combat missions in Vietnam.
He was known as a humble person and a great person and will be missed.
1946-1948 U.S. Marine Corps Reserve
1948-1950 USAF Reserve
1950-8/2/1952 Pilot Training, Class 52-E, commissioned second lieutenant, Greenwich AFB, CT
8/1952-11/1952 Advanced gunnery training, Nellis AFB, NV
12/1952 25th Fighter-Interceptor Squadron/51st Fighter-Interceptor Wing, Suwon AB, Korea (F-86)
6/1953 19th 55th combat mission, 1st mission as an element leader, first aerial victory – a MIG -15
6/30/1953 Eleven days later, became the youngest Korean ace at age 24, downed the fifth MIG
7/1953 He shot down two more MiGs, bringing the total to seven (65 combat missions in Korea)
1953-1965 McConnell AB, KS
4/1965 562nd Tactical Fighter Squadron, Takhli AB, Thailand (F-105 – 46 combat missions)
5/1969 308th Tactical Fighter Squadron, Commander Misty Forward Air Controllers "Misty 144" (F-100 – 232 combat missions)
10/1979 Retired USAF

Distinguished Flying Cross with 3 Oak Leaf Clusters

Air Medal with 4 Silver Oak Leaf Clusters

Air Medal with 4 Oak Leaf Clusters

Air Force Commendation Medal

National Defense Service Medal with Bronze Service Star

Korean Service Medal with Bronze Campaign Star

Vietnam Service Medal with 4 Bronze Campaign Stars

Air Force Longevity Service Award with 4 Oak Leaf Clusters

Republic of Korea Presidential Unit Citation

Republic of Vietnam Gallantry Cross
United Nations Service Medal for Korea

US Air Force Command Pilot Badge
Military & Civilian Education
Civilian Education:
The University of Bridgeport, CT