Frederick W. Celce
---

Preferred Name: Fred
Nickname/Call Sign:
Date of Birth: November 15, 1938
Highest Military Grade Held:
Hometown: Annapolis, MD
Biography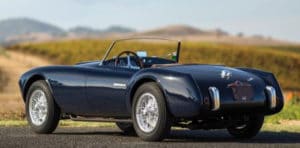 In 1956 Fred Celce bought a concours-winning 1955 Sciata 208S Spider. This car was an amazing feat of engineering with the utmost style in an interior designed by Michelloti. Fred owned the car for 12 years, so while he was flying F-100 fighter jets around Europe, he was also flying around in his beautiful Spider.
Units Assigned
492nd Tactical Fighter Squadron
523rd Tactical Fighter Squadron
Civilian Education
1960 Dartmouth
Biography

In 1956 Fred Celce bought a concours-winning 1955 Sciata 208S Spider. This car was an amazing feat of engineering with the utmost style in an interior designed by Michelloti. Fred owned the car for 12 years, so while he was flying F-100 fighter jets around Europe, he was also flying around in his beautiful Spider.

Units Assigned

492nd Tactical Fighter Squadron
523rd Tactical Fighter Squadron

Civilian Education

1960 Dartmouth