Date of Birth: August 31, 1934
Headed West: July 12, 2018
Highest Military Grade Held: 0-6 – Colonel
'I retired from the Air Force in 1979 and decided to remain in Montgomery. Worked as a Stock Broker with Smith Barney until 1994, when I was ordained as a Permanent Deacon in the Catholic Church.
I am semi-retired from the Diaconate now, but in August 2009 I became Flight Captain for Founders Flight #1, order of the Daedalians, and enjoy being around a great group of fellow military pilots. My wife, Joni, and I keep busy with 13 grandchildren, from Virginia, Chattanooga, and here in Montgomery.
My last flight was to ferry an F-4E from Udorn to Korea. The Vietnam war was about over. I still think that flying the F-100 is the greatest job that a person could have in the Air Force!"
Charles B. Gulley (Col USAF, Retired) "Headed West" on July 12, 2018.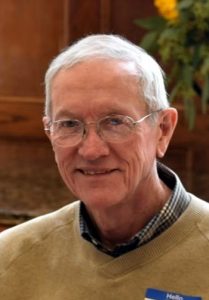 Charles was born on August 31, 1934, in Brookhaven, MS. He attended Brookhaven High School and McCallie Military School in Chattanooga, TN where he graduated Cum Laude.
After graduating from Tulane University, he entered the United States Air Force where he became a fighter pilot and did two tours of duty in the Vietnam War. He served his country in the USAF for 23 years before retiring as a decorated veteran.
He worked as a stockbroker with Robinson-Humphrey for 16 years. In 1994, Charles was ordained as a permanent deacon in the Catholic Church. A great man of faith, he loved serving God and spending time with his family.
Charles was preceded in death by his parents, George Hoke Gulley Sr., and Kathryn Brumfield Gulley, his brother George H. Gulley Jr., and his son, Michael Allen Gulley.
Charles is survived by his loving wife of 55 years, Joan Ritchey Gulley; children: Patrick Russell Gulley (Melissa), Laurie Gulley, Kathy Gulley McNabb (Rick), and Kiki Gulley Smith (Michael); grandchildren: Amanda, Allison, Ryan, Hannah, and Sarah Gulley; Molly, Megan, Emma, and Bennett McNabb; Katie, Drew, Grant, and John Russell Smith; and a host of nieces and nephews.
Visitation was held on Saturday, July 21, 2018,  in the St. Bede Family Life Center followed by a rosary in the Church. Funeral Mass was with Most Reverend Thomas J. Rodi, Archbishop of Mobile celebrating. Charles was laid to rest at St. Margaret's Cemetery with military honors.
The family is very grateful to the staff and volunteers of the Respite Ministry at FUMC and everyone at Angels for the Elderly for the loving care and support offered to him. We especially want to thank his "best friend."
Memorials may be made to St. Bede the Venerable Catholic Church or to the Respite Ministry at First United Methodist Church.
(source: https://www.dignitymemorial.com/obituaries/montgomery-al/charles-gulley-7932032)
11/1956 Pre-flight Training Lackland, AFB (rejected for flight. Too tall).
12/1956 Communications Officer Course Scott AFB, IL
11/1957 17th Comm. Construction Squadron, Kadena AB, Okinawa
3/1959 Waiver granted to begin flight training.
4/1959 3301st Pilot Training Group, Moore AB, TX (T-34, T-28)
10/1959 3617th Pilot Training Squadron, Craig AFB, AL (T-33)
4/1960 3615th Instructor Pilot Training, Craig AFB, AL (T-33, T-37)
8/1960 3617th Pilot Training Squadron, Instructor, Craig AFB, AL (T-33)
7/1964 Combat Readiness Training, Hurlburt AFB, FL (A-lE)
8/1964 1st Air Commando Squadron, Bien Hoa AB, RVN (A-lE)
10/1964 602nd Air Commando Sqd, Bien Hoa, AB, RVN (A-lE)
8/1965 USAF Operational Training Course, Luke AFB, AZ (F-100)
2/1966 306th TFS, Homestead AFB, Fl. (F-100)
6/1966 307th TFS, Homestead AFB, FL (F-100)
8/1966 307th TFS, Torrejon AB, Spain (F-100)
3/1970 Air Staff Plans & Policy/ Eur./NATO Branch, Pentagon (T-39)
5/1973 Tactical Fighter Upgrade Course, George AFB, CA (F-4-D)
9/1973 421st TFS Commander, Udorn AB, Thailand (F-4-E)
8/1974 Air War College, Maxwell AFB, AL
6/1975 Air War College Faculty, Maxwell AFB, AL
1979 Retired USAF
T-34
T-28
T-33
T-37
T-39
A-1E
F-100
F-4 D/E
Military & Civilian Education
Military Education:
4/1963 SOS In Residence
6/1972 ACS By Correspondence June 1972
9/1974-6/1975 AWC In Residence
Civilian Education:
1951-1952 McCallie Military School, Chattanooga TN
1952-1953 Attended Georgia Tech, Atlanta GA
1954-1956 BS/Mechanical Engineering, Tulane U, New Orleans LA
5/28/1956 Commissioned 2/Lt. through ROTC Program