Nickname/Call Sign: Velcro
Date of Birth: January 1, 1939
Highest Military Grade Held: E-4 – Buck Sergeant
My first conscious memory of an airplane was at about age three in 1942 when I was hoisted up to stand in the cockpit of a yellow biplane at the Cleveland, Ohio airshow. The smell of dope on fabric, the touch of the leather binding around the cockpit never left my memory. I noticed the squinty look of the pilot and immediately adapted that "pilot look." I then announced to my Mom and Dad that I was going to be a pilot.
Eighteen years later I enlisted in the U.S. Air Force and joined the SAC (Strategic Air Command) Aero Club at Altus Air Force Base, Oklahoma. During my five years there I obtained my Private Pilot License, then Commercial Pilot and Flight Instructor ratings and was preparing to obtain my Instrument Pilot's Certificate immediately after separation from the service. I did get my Instrument Pilot Certificate from the FAA examiner flying out of Cleveland-Hopkins Airport, and a few weeks later passed my "check-ride" for becoming an Instrument Flight Instructor.
Six months later I was hired by Allegheny Airlines as a copilot which ended when I was furloughed after six months. I was then hired by Delta Airlines where I enjoyed thirty-two years of flying everything from two and four-engine propeller planes to Two, three and four-engine jet aircraft.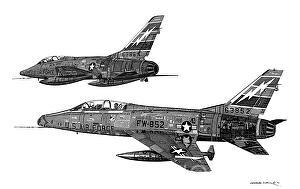 Because I was always a "wanna-be" Fighter Pilot" I was privileged to join the "Wild Weasel Air Museum" in Dallas, Texas, where I flew six different single-engine jet fighter and trainer aircraft, including the venerable Lockheed T-33. "T-Bird" and the US Air Force's North American F-100F "Super Sabre".
I started creating my list of favorite aircraft in pen and ink in 1983 through 1990 and took up the craft, (no pun intended) once again in 2014 as a relaxing and enjoyable "old-time retired" pilot's hobby.
Source: https://georgedubick.com/about
1993-1996 Wild Weasel Air Museum, Dallas, TX (F-100)
Military & Civilian Education