Preferred Name: Billy Joe
Date of Birth: December 11, 1928
Headed West: March 12, 2013
Highest Military Grade Held: 0-8 – Major General
Hometown: Baton Rouge, LA
Billy Joe Ellis was born on 11 December 1928 in DeQuincey, LA. He was appointed to West Point from the 7th Congressional District. He came to the Point after a year at LSU, was on the Lacrosse team for three years, and served as a Cadet Captain and E2 Cadet Company Commander his first class year.
On graduation, Billy Joe went in the Air Force and basic pilot training at Greenville AFB, and advanced training at Bryan AFB, where he received his pilot wings in June 1952. He then attended fighter gunnery school at Orlando AFB.
In December of 1952, Billy Joe was assigned to South Korea with the 8th Fighter-Bomber Squadron and accumulated 253 combat hours in F-84s, and was awarded the Distinguished Flying Cross, 3 Air Medals, and the Commendation Medal. Upon his return to the States in September 1953, he was assigned as flight commander and gunnery instructor with the 3604th Flying Training Squadron at Luke AFB.
While at Luke Billy Joe was selected to fly with the Thunderbirds in May 1955 and was an original member of the world's first supersonic aerobatic team when the team received the F-100 aircraft in 1956. Billy Joe then joined the 3597th Combat Crew Training Squadron, Nellis AFB, as a gunnery instructor in February 1957. In August 1957, he was assigned to the US Air Force Academy, CO where he served for three years as commanding air officer.
He returned to flying duties in October 1960 as an F-100 pilot and later served as assistant operations officer with the 22nd Tactical Fighter Squadron at Bitburg Air Base, Germany. In 1961, his unit became the first overseas squadron to transition to F-105s.
In 1963, Billy Joe attended the Air Command and Staff College at Maxwell AFB and earned a Master's degree from George Washington University at the same time. In July 1964 Ellis was assigned to Langley AFB, VA as an F-105 flight examiner and assistant chief, Jet Flight Branch, with the 4450th Standardization Evaluation Group. During this assignment, he went to Takhli Royal Thai AFB, Thailand, with the first F-105 unit from the Tactical Air Command. After 51 combat missions, he returned to Langley in November 1965 and was assigned to Headquarters Tactical Air Command in the Directorate of Operations as an F-105 weapon systems project officer. When the command began to enlarge its training capability because of Southeast Asia operations, he was assigned as chief, Combat Crew Training Branch.
In August 1967, he entered the Industrial College of the Armed Forces, at Ft. McNair. Following this Billy Joe joined the 388th Tactical Fighter Wing at Korat Royal Thai AFB, Thailand, in September 1968 as chief, Combat Operations, and later became assistant deputy commander for operations. He again was involved in an organizational aircraft change when the wing converted two squadrons to the F-4. He flew 159 combat missions in F-4s and F-105s and accumulated 388 combat hours, and was awarded the Bronze Star Medal, and 3 additional Air Medals.
In August 1969, Billy Joe became assistant in the Office of the Deputy Chief of Staff, Personnel, Headquarters, USAF, Washington, D.C. He then assumed command of the 40th Air Division, Strategic Air Command, with Headquarters at Wurtsmith AFB, Michigan in February 1972, this time he was decorated with the Distinguished Service Medal.
He returned to Thailand in February 1973 as commander of the 17th Air Division at U-Tapao Royal Thai Naval Airfield. The division was engaged in air operations in Southeast Asia, flying B-52 bombers, KC-135 tankers, U-2s, C-130 drones and reconnaissance aircraft. This tour brought his combat time to more than 660 hours.
Billy Joe was then assigned to SAC headquarters at Offutt AFB, in November 1973 as deputy chief of staff, personnel, and in July 1974 became deputy chief of staff, operations. In July 1975 he was appointed director of operations and readiness in the Office of the Deputy Chief of Staff, Plans and Operations, Headquarters, USAF. He became the deputy inspector general, USAF, in August 1976. He then returned to Langley AFB in August 1977 and assumed his last military assignment as vice commander of the 9th Air Force, Tactical Air Command, with headquarters at Shaw AFB, and he was awarded a second Distinguished Service Medal.
Billy Joe retired from the USAF in 1981 as a Major General and is the first officer ever to hold positions of operations officer for Tactical Air Command, Strategic Air Command and Headquarters, United States Air Force.
After his military retirement, Billy Joe became Assistant Vice President and later Senior Vice President of KVI. He also earned an MA degree from Notre Dame as a Catecheticallnst. He has served as Permanent Deacon at St. Jude Parish since 1991.
(source: Https://defender.west-point.org/service/display.mhtml?u=18176&i=51272)
Billy J. Ellis (MGEN USAF, Ret) "Headed West" on March 12, 2013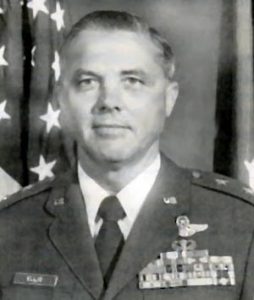 Deacon Billy J. Ellis, age 84, retired Major General, USAF, beloved husband of 61 years to Barbara Higginbotham Ellis, passed to his Lord on Tuesday, March 12, 2013.
He was born in DeQuincy, LA, a son of the late Nolan Price Ellis and Lillian Isdale Ellis Perkins. Deacon Ellis is a 1951 graduate of the US Military Academy, West Point, NY, and earned his master's degree in business administration from George Washington University and a master's degree in Religious Studies from Notre Dame Pontifical Catechetical Institute.
Deacon Ellis served over 30 years in the US Air Force and flew one combat tour in Korea and 3 combat tours in Vietnam. He flew a tour with the Thunderbirds, the USAF acrobatic team, and has flown fighters across both the Atlantic and Pacific oceans. During his third tour in Vietnam, he flew B-52 bombers and KC-135 tankers from Thailand to North Vietnam. He has over 8,800 flying hours including civilian aircraft.
After retiring from the Air Force, he voluntarily flew sick patients across the United State for Mercy Medical Airlift. His military decorations include 2 Distinguished Service Medals, the Legion of Merit with one oak leaf cluster, Distinguished Flying Cross with 2 oak leaf clusters, Bronze Star Medal, Air Medal with 10 oak leaf clusters, Air Force Commendation Medal, Presidential Unit Citation, and the Air Force Outstanding Unit Award. He has earned the parachutist and missile badges. His favorite airplane to fly was the SR-71 "Blackbird". He retired from his distinguished military career as the vice commander of 9th Air Force, Tactical Air Command from Shaw Air Force Base in 1981.
Following his military career, he was ordained as a Deacon in the Catholic Church Diocese of Charleston in May 1988. He served in the Arlington Diocese and at St. Jude, St. Anne, and Shaw Air Force Base in Sumter. He was very active in his ministry: coordinating/leading RCIA, teaching Baptism classes, coordinating/training Altar servers, Hispanic Outreach, Prison ministry, and preaching frequently at daily and Sunday masses. He was awarded the Pro Ecclesia Et Pontifice Medal also known as the Cross of Honor in December 2007, the highest medal awarded to the laity by the papacy for distinguished service.
He was an active outdoorsman: camping, frequent sailing trips even to Bermuda, hiking many sections of the Grand Canyon, competing in several racquet sports, and caring for his large yard in Stateburg.
He especially loved the "happy chaos" of his large family gatherings where stories told caused tears from laughing so hard.
Surviving in addition to his wife are: his children, Elaine Ellis and her husband Marty Krepcho of Phoenix, AZ, Mark Ellis of Eureka, CA, Kevin Ellis of Falls Church, VA, Yvonne Stoops and her husband Richard of Collinsville, CT, Adele Ference and her husband Dennis of Tampa, FL, and Brian Ellis and his wife Tracy of Charlotte, NC; his sister, Betty Breaux of Baton Rouge, LA; his brother, Donald Ellis of San Antonio, TX; his daughter-in-law, Gwyn Ellis of Sumter; his grandchildren, Steven Ellis, Byron Krepcho, Jessica Ellis, Kelly Cloud, Lauren Ellis, Ken Rousseau, Megan Ference, Theresa Ference, Cameron Bauerle, Camille Bauerle, Christopher Ellis, and Andrew Ellis; his great-grandson, Skyler Cloud.
He was preceded in death by his sons, Christopher J. Ellis and John P. Ellis; and a daughter-in-law, Ellen Bodie Ellis.
A Mass of Christian Burial was held on Sunday, March 17, 2013, and General Ellis is buried at the US Military Academy at West Point, NY
Memorials may be made to St. Anne Catholic Church, 216 E. Liberty Street, Sumter, SC 29150; The Wounded Warrior Project, PO Box 758517, Topeka, KS 66675; The Coalition for Pulmonary Fibrosis, 10866 W. Washing Blvd #343, Culver City, CA 90232 or to a charity of one's choice.
1951 graduated U.S. Military Academy, West Point, NY
1951 Basic pilot training, Greenville AFB, MS
1952 Advanced pilot training, Bryan AFB, TX
6/1952 Fighter Gunnery School, Orlando AFB, FL
12/1952-9/1953 8th Fighter-Bomber Squadron, South Korea (F-84) 253 combat hours in F-84s.
9/1953-5/1955 3604th Flying Training Squadron, Flight commander and gunnery instructor, Luke AFB, AZ
5-19552/1957 Thunderbirds 1st Supersonic Aerial Acrobatic Team (F-100)
2/1957-8/1957  3597th Combat Crew Training Squadron, Gunnery instructor Nellis AFB, NV
8/1957-10/1960 5th Cadet Squadron, Air officer commanding, U.S. Air Force Academy, CO
10/1960 22nd Tactical Fighter Squadron,  Bitburg Air Base, Germany (F-100)
1961-8/1963 22nd Tactical Fighter Squadron,  Bitburg Air Base, Germany (F-105)
8/1963-7/1964  Air Command and Staff College in August 1963 (Master's degree / George Washington University)
7/1964-11/1965 4450th Standardization Evaluation Group, Flight examiner and assistant chief, Jet Flight Branch, Langley Air Force Base, VA/Takhli Royal Thai AFB Thailand – 51 combat missions
11/1965-8/1967 Headquarters Tactical Air Command in the Directorate of Operations, F-105 weapon systems project officer/Combat Crew Training Branch (F-105)
8/ 1967-9/1968 Industrial College of the Armed Forces.
9/1968-8/1969 388th Tactical Fighter Wing, Chief, Combat Operations/Assistant deputy commander for operations, Korat Royal Thai AFB, Thailand (F-105, F-4) -159 combat missions
8/1969-28/1972 Assistant for general officer matters, Office of the Deputy Chief of Staff, Personnel, Headquarters U.S. Air Force, Washington, D.C.
2/1972-2/1973 40th Air Division, Strategic Air Command, Wurtsmith AFB, MI
2/1973-11/1973 17th Air Division, Commander, U-Tapao Royal Thai Naval Airfield, Thailand (B-52, KC-135, U-2, C-130, drones)
11/1973-7/1974 SAC headquarters, chief, Combat Operations, and later became assistant deputy commander for operations, Offutt Air Force Base, NE
7/1974-7/1975 became deputy chief of staff, operations. headquarters, Offutt Air Force Base, NE
7/1975-7/1976 Director of operations and readiness, Office of the Deputy Chief of Staff, Plans and Operations, Headquarters U.S. Air Force.
7/1976-8/1977 Deputy Inspector General, U.S. Air Force, Headquarters USAF
8/1977-3/1979  Deputy chief of staff, operations, Headquarters Tactical Air Command, Langley Air Force Base, VA
3/1979 9th Air Force, Vice commander Tactical Air Command, Shaw AFB, SC
1981 Retired USAF

Distinguished Service Medal

Legion of Merit with Oak Leaf Cluster

Distinguished Flying Cross (with 2 Oak Leaf Clusters)

Air Medal with 10 Oak Leaf Clusters

Air Force Commendation Medal

Presidential Unit Citation

Air Force Outstanding Unit Award
F-84
F-100
F-105
F-4
B-52
KC-135
Command Pilot –  7,300+ flying hours
Combat Missions – 280 in Korea and Vietnam
Military & Civilian Education
Military Education:
1951 graduated U.S. Military Academy, West Point, NY
Squadron Officer School Maxwell AFB, AL
Air Command and Staff College, Maxwell AFB, AL
Industrial College of the Armed Forces, Ft. Lesley J. McNair, Washington, DC
Civilian Education:
MS/Business Administration, George Washington University, DC