Date of Birth: April 21, 1937
Highest Military Grade Held: 0-6 – Colonel
Gary Findlay was born in Ottumwa, Iowa in 1937; stayed out of trouble as a kid, even earned an Eagle Scout award along the way; did well in school with good grades; and was a pretty fair athlete, a starter in football and basketball, all of which earned him a nomination to the U.S. Naval Academy from which he graduated in 1959.  The U.S. Air Force, with four Century Series fighters and much better home life, was an option at that time, and a clear choice given his desire to fly fighters and marry his high school sweetheart, Jerry.  A last-minute failed flight physical due to quirky sitting height limitation put a bump in the road map but a new physical while at Lowery AFB in Nuclear Weapons Officer School training got him off to pilot training a few months later with wings awarded in March 1960 and an F-100 assignment.  
Following gunnery school at Luke and Nellis, Gary was assigned the 510th TFS at Clark AB in the Philippines.  After two-plus wonderful years, the squadron was transferred to England AFB in Louisiana, and 18 months later transferred again to Bien Hoa, RVN.  Gary's time in the 510th came to an end on 14 September 1966 when he was shot down during a napalm delivery, suffering an injury to the radial nerve in his right arm which resulted in loss of all function in his right wrist, fingers and thumb.   Following surgery at Tan Son Nhut, he was medevaced to Letterman Hospital in San Francisco for additional surgery and recovery.  
After 10 months at Letterman, the hand recovered and it was back to the hun, this time at Nellis in the 4536th Fighter Weapons Squadron.  It took a couple months for Nellis and 12th AF flight surgeons to agree to let him return to flying status.  Once back in the air it was a hun checkout, Weapons School as a student, IP checkout, and then the dream job as an IP in the USAF Fighter Weapons School until the F-100 school was dropped and the last 100s left the base in late 1969.  
In July 1970 Gary entered AFIT for an MS in Aero Engineering.  Upon graduation, he was assigned to the Pentagon in RDQRM, Fighter Weapons Requirements.  In 1975 he was selected for ICAF at Ft. McNair and in 1976 finally returned to the cockpit.  After a quickie checkout at Willy, he was assigned to the US Military Training Mission in Saudi Arabia as Chief of the Army/Air Force Detachment in Taif flying the F-5E.  This assignment was followed by a return to the Pentagon as Division Chief at XOXFM, Munitions Planning and then back to Nellis again, this time as ADO for Training in the Weapons Wing where he flew the F-4E and F-5E.  Fifteen months later Gary moved down the ramp to 474th TFW as DO as they began transitioning from the F-4D to become the first operational wing in the F-16.  It took about 10 months to be ready for, and pass the ORI at which time he became Vice Commander of the wing, a position he held until retiring on 1 October 1982.
After retirement, Gary went to work for Aeronutronic Division of Ford Aerospace Corporation Newport Beach, CA as Manager of the Mission Analysis Department with subsequent positions as Director of Plans for the Division and Plans Manager of the Corporation, a position he held until the Corporation was sold to Loral.  
Gary's wife Jerry, his sweetheart since 7th grade died in 2006 and he remarried another Ottumwa friend, Jeanne whom he had not seen in 50 years until their 50th high school reunion.  They are living in Reata Glen, a retirement community in Rancho Mission Viejo, CA.           
1959-1960 Nuclear Weapons Officer School, Lowery AFB, CO
1960 Primary Pilot Training, Marianna, FL (T-34, T-37)
1961 Basic Pilot Training, Laredo AFB, TX (T-33)
1961 F-100 Gunnery School, Luke AFB, AZ, Nellis AFB NV, (F-100 C/D/F)
1962-1964 510th Tactical Fighter Squadron, Clark AB, Philippines (F-100 D/F)
1964-1965 510th Tactical Fighter Squadron, England AFB, LA (F-100D/F)
1965-1966 510th Tactical Fighter Squadron, Bien Hoa AB, RVN (F-100D/F)
1966-1967 Letterman US Army Hospital, CA
1967-1970 4536th Fighter Weapons Squadron, Nellis AFB, NV (F-100D/F)
1970-1971 AFIT, Wright Patterson AFB, OH
1972-1975 Pentagon, RDQRM, (T-39)
1975-1976 Industrial College of the Armed Forces, Ft. McNair Army Post, DC
1976-1977 Chief, Taif Advisory Detachment, Taif, Saudi Arabia (F-5E)
1978-1979 Pentagon, Division Chief XOXFM
1979-1980 5th Fighter Weapons Wing, ADO Training (F-4E/F-5E)
1980-1982 474th Tactical Fighter Wing, DO/CV (F-16 A/B)

Legion of Merit with Oak Leaf Cluster

Distinguished Flying Cross

Air Medal with 9 Oak Leaf Clusters
T-34
T-37
T-33
F-100 C/D/F
T-39
F-4E
F-5E
F-16 A/B
Military & Civilian Education
Education:
1959 BS, US Naval Academy, Annapolis, MD

1971 MS, Aeronautical Engineering  AFIT  Wright Patterson AFB, OH

1976 Industrial College of the Armed Forces, Ft. Leslie J. McNair, DC
Gary Findlay's Caterpillar Stories
Ejection #1
4 April 1966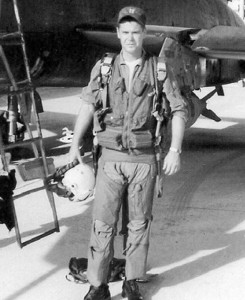 I was a pilot in the 510th TFS at Bien Hoa, with additional duty as an FCF pilot as needed.  On that date, I was called to fly an FCF on an F-100D, #53591, a 90th bird as I recall.  The airplane had undergone an engine change and major structural repairs after having flown through trees on a low pullout.  When I arrived at the jet I was surprised to see that it was half camouflaged and half silver, (one wing and I think the tail section was silver).  Obviously a lot of structural repairs.
I take off and all of the engine checks up to 47,000 feet were normal and the rigging seemed good as I made spiraling turns down, pushed it supersonic, and slowed to minimum control speed.  All good. Check flight complete.  Now the fun began.  After I pushed the power-up and cleaned up gear and flaps the nose continued to rise — full forward stick and trim –  still coming up – first reaction – AB, and that made it worse – basically starting a loop at 150 knots – is not a good idea.  I ruddered onto one side and was now in an AB turn at 150 knots with full back stick – not going anywhere. Finally came out of AB, rolled level, got the airplane and my mind under control, and the bird stabilized level at 165 knots.  I played with gear and flaps, power up or down, and no matter what, the nose would oscillate quite heavily until it stabilized in a climb or dive at 165 knots.  Landing was not an option.
I was out over the South China Sea, east of Vung Tau.  I called Paris, Paddy, and Bien Hoa tower on Guard several times and got no response.  Finally, an Army fixed-wing heard me and in short order had some Army helos on the way.  Once we got in contact and they had me in sight I punched.  All fine.  In the water pulling into my life raft, I saw a Chinook headed right for me.  Beautiful.  I got back in the water and waited until he was overhead and then the fun really began.
The ass-end of the chopper was in the water and the cockpit 10 ft. above.  They dropped a steel cable out of the belly but yelled to me that the winch didn't work and I needed to pull myself up.  Then the chopper descended and pushed me underwater.  My "scared shitless" count was at the very top of the "scared shitless" meter.  Once my head was out of the water I tried pulling up.  Couldn't.  Pushed under and was once again scared shitless.  Swam to the front and they dropped a strap from the cockpit.  Tried climbing the strap and in the process, my life raft still attached, got caught on the left main wheel while I was hanging on a strap from the right cockpit.  I waved for them to take me like that but they wouldn't.  Disconnected the raft and headed back to the center.  Now the hoist worked.  Hooked cable to front of my harness and was hauled inside.
I flew a couple of days later in the back seat of an F with Bob Fizer to get a back seat landing for my IP checkout.  No problem.  Flew a D in the afternoon, again with no problem until I pulled out from a strafing pass with my head still down looking through the gunsight and had a lot of pain in my neck.  Off to Clark for a week of rest and then flew without pain until…….
Ejection #2
14 September 1966
I was working in Ops on the wing staff, still flying with the 510th when I got a call to fill in for a guy who couldn't fly.  I was number two in a flight led by Ken Staten (RIP) and a young lieutenant, new to the squadron, whose name escapes me.  The target was in the Delta, further south than I had ever gone in the 10 months I was there.  I could see water in three directions.
The mission was a prestrike for an ARVN assault that was approaching a canal in a string of landing craft.  The FAC told us to expect .50 caliber defenses.  We were carrying nape and the incendiary CBU-1, and were told to drop nape first.  On my first pass coming in high, I was probably a little hot, pipper on the aim point, and thought NOW —–noooo — NOW!  The second NOW didn't happen.  Instead, I found myself leaning far right in the cockpit, looking at the floor, noticing that the canvas boot that covered the stick was empty and there was smoke coming through the floor.  I pulled the left ejection handle with my thumb and the trigger with my fingers.
The next thing I remember, there was a soldier standing over me trying to release my parachute harness, then becoming free from it and walking/running to a helicopter.  I was later told that Ken Staten and his wingman saw my chute on the ground in the middle of the target area.  They flew to the nearby water, dumped their ordnance, returned and each made eight or so strafe passes at the VC coming to get me.  As they departed bingo and Winchester, they heard that an Army chopper was inbound. They estimated that I was on the ground, unconscious, for about 15 minutes.
The Army chopper flew me to a small outpost at Ca Mau, and another one flew me to Tan Son Nhut.  Aside from a concussion, very sore back and heels, I had been shot through my right upper arm, injuring my radial nerve.  After surgery at Tan Son Nhut, I was medevaced to Travis and subsequently to Letterman Hospital in San Francisco for more surgery.  After five months, I detected motion in my wrist and after ten months, I had pretty much full function in my wrist, fingers, and thumb and was released from the hospital.
I was extremely fortunate.  Most guys didn't recover any function.  Another factor played into my good fortune.  After take-off and join-up we went into weather.  When Ken called for climb check we were bouncing a bit in close formation and I couldn't get my zero-delay lanyard off of my D-ring.  I thought, "I'll get it on top."  Didn't happen.  Zero-delay at 450 plus probably not a good idea; however, it may have saved my life.
Regardless; my next stop was Nellis, return to flight status, Hun checkout, Weapons School, upgrade to Weapons School IP, and two more great years in the Hun.