Date of Birth: September 11, 1933
Headed West: October 15, 2015
Highest Military Grade Held: 0-8 – Major General
Hometown: Forest City, MO
John France was born in Forest City, Missouri, on September 11, 1933. He earned a BFA and a law degree from Denver University, and he attended a number of military schools. He entered the USAF as an airman, in November of 1952, was selected as an air cadet, soloed in a PA-18 at Marana Air Base in Arizona, in April 1954. He received his wings and commission in March 1955. He served in Japan, Taiwan and he flew an F-86 during the Korean War.
He joined the 120th Fighter Squadron of the Colorado Air National Guard in October 1958 and flew as a solo pilot for the jet precision demonstration team, called the "Minutemen". The Minute Men were the first and only federally recognized aerial demonstration team in the history of the Air National Guard. As a member of the team, John flew the F-86 at air shows in the US and five foreign countries.
In May of 1968, during the Pueblo crisis, he led the flight of Colorado Air National Guard F-100s on deployment to Phan Rang Air Base in South Viet Nam. They compiled a record of 5934 combat sorties (8904 combat hours), with the lowest abort rate and highest munitions reliability rate in the theater.
During this one-year tour, he flew 239 missions and 337 combat hours. After his return from Viet Nam and he was assigned as Commander of the 120th Tactical Fighter Squadron, Commander of the 140th Tactical Fighter Group, then Commander of the 140th Tactical Fighter Wing. In 1977, he led the Colorado Air National Guard, flying A-7s, on deployment to Holland, where the unit received the Air Force Outstanding Unit Award. He led the 140th Tactical Fighter Wing to the "Gunsmoke '81" gunnery competition, to be named "World Champions".
In August 1979, John France was named Adjutant General for the state of Colorado. In this position, he implemented a program to provide T-43 navigator training for US Air Force Academy cadets. As Adjutant General, he was responsible for more than 5400 Air and Army National Guard, and Civil Air Patrol (CAP) personnel. He brought the High Altitude Training Site to the Eagle County airport and has assisted in planning the TCA for Denver International Airport.
During his long military career, John France received many awards and decorations. General France is a Command Pilot, having flown many different military propeller and jet aircraft. He also is a rated helicopter pilot. He has amassed more than 6600 flying hours.
He was promoted to major general on June 18, 1982. In 1993 he was inducted into the Colorado Aviation Hall of Fame.
After retiring in 1995, France served as president and vice president of both the National Guard Association of the United States and the Adjutants General Association of the United States. He was also a former board member of the Wings Over the Rockies Air & Space Museum.  His A-7 aircraft is on display there.
France's Minute Men jet is on display at Buckley Air Force Base, Aurora, CO
(source: http://www.coloradoaviationhistoricalsociety.org/bio_popup.asp?id=120 and Colorado.gov)
Major General John L. France, MGen USAF (Ret), "Headed West" on October 15, 2015.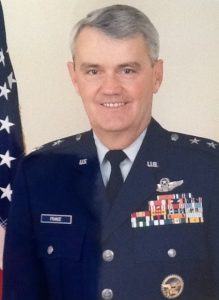 John Lyons France was born on September 11, 1933, to Calvert and Gertrude France in the small and beautiful town of Forest City, Missouri. This town was filled with character and was a childhood home John would hold dear to his heart his entire life.
His sister, Virginia Book, and her family continued to live in Forest City and this town became the place of memories, not only for John but for his wife and daughters as well. Long, hot summers, divine watermelon, and delicious Thanksgiving celebrations are just a few of the moments that continue to live on. John graduated high school in Oregon, Missouri in 1951. In his words, he graduated "by the Grace of God".
During his school years, he sang with a quartet all over the local county. A very savvy teacher was able to convince the principal of his high school that his beautiful tenor voice and his dedication to the singing group should be enough to get him that one missing credit needed for graduation. It worked!
His mother played an important role in his life and he loved her dearly. After a couple of blurry semesters at the University of Missouri his Mom, in her infinite wisdom, said: "John, you need to join the Army". So, in November 1952 he enlisted in the United States Air Force.
He was accepted into Aviation Cadet Training and received his pilot's wings and was commissioned as a 2nd Lieutenant in 1955. After advanced pilot training, he was assigned to Misawa, Japan as an F-86 Sabre pilot, where he spent two wonderful years. In 1958 he moved to Denver, Colorado where his parents had been living. One afternoon he saw an F-86 pass overhead. He jumped into his car and followed it down the road only to discover the Colorado Air National Guard. With much persistence, he was accepted into the 120th Fighter Squadron as an F-86 pilot.
In 1959 John competed for a position on the Air National Guards' official Jet Precision Demonstration Team, The Minutemen. He was chosen as the solo pilot and later flew left wing while participating in aerial demonstrations across the United States and Latin America.
When the team disbanded his mother gave him another bit of important advice and said: "John, you must go to college". So he enrolled in the University of Denver and received his undergraduate degree in 1963 and his Juris Doctor degree in 1966. It was also at the University of Denver where he met the beautiful Carole Denton. They fell deeply in love and were married in 1961. Later they would have two daughters, Allison and Amie.
After school and the Bar exam, he practiced law for about two years before his fighter unit was called to active duty and sent to Vietnam in April of 1968. He led a flight of Colorado Air National Guard F-100C's on a two-stop, 21-hour deployment from Denver to Phan Rang Air Base in the Republic of South Vietnam. During a one-year combat tour, he flew 239 missions. He didn't speak much about his experience in Vietnam but, when he did, it was always about the courage and devotion of his fellow pilots and colleagues.
Upon returning from Vietnam he was named Commander, 120th Tactical Fighter Squadron. In 1974 he was appointed Commander, 140th Tactical Fighter Wing. He was promoted to Brigadier General in 1976. Under his leadership, the 140th Tactical Fighter Wing was involved in a number of "firsts" with trailblazing deployments in Holland, Panama, and Turkey. The unit spearheaded the concept of a "homegrown" flying training program, and he worked with emergency services personnel throughout Colorado to set in place emergency procedures and training programs.
In 1979 General France was chosen by the Governor of Colorado, Richard Lamm, to be the Adjutant General, with responsibility for both the Army and Air National Guard. In 1982 he was promoted to the rank of Major General.
In 1983 he was elected to the office of President of the Adjutant's General Association of the United States and in 1994 he was elected President of the National Guard Association of the United States. In 1993 he was inducted into the Colorado Aviation Hall of Fame.
During his long military career, General France received many awards and decorations including the Legion of Merit, the Distinguished Flying Cross, the Meritorious Service Medal, and the Air Medal with ten Oak Leaf Clusters, among many others. He was a command pilot having accrued more than 6600 flying hours in many different military propeller and jet aircraft.
General John France retired on February 6, 1995, completing over 42 years in the military. His passion for flying, his dedication to service, and his love for his country, inspired an esteemed career that has made his friends and family very proud.
After retiring from military life, General France continued to serve the community as a board member for Wings over the Rockies Museum, a museum committed to educating and inspiring people of all ages about aviation.
Somewhere along the way John discovered a love for horse riding and was a member of the "Roundup Riders" of the Rockies, a group celebrating western tradition and the American Cowboy and his horse. For nineteen years he rode with this group and he cherished the camaraderie, lasting friendship, and the beauty of Colorado. He was also a member of The Ten Most Wanted riding group and served as their president for several years.
He was a member of the National Western Stock Show Association and served on many of the steering committees for the Citizen of the West dinner and the scholarship fundraiser.
He loved the outdoors and enjoyed camping and skiing with family and friends throughout Colorado. You could catch him on many an evening, sitting on the porch, enraptured by a summer thunderstorm or listening to the call of a small sparrow or a robin sitting in a tree. He had a tremendous ability to whistle and could mimic the call of many birds. Whatever he was doing around the house, cleaning the garage, or taking a shower, it was always accompanied by his melodious whistle. He also continued to sing and was often asked to sing a cappella at various events and dinners. This was something he loved to do.
John had a lively sense of humor. He was a storyteller with a gift for words and loved to make people happy. His beautiful grandchildren, Logan and Mackenna born in 2001, and Che born in 2003, were often on the receiving end of his, seemingly, endless ability to tell jokes and make others laugh.
After his retirement, he and his wife enjoyed traveling the country in their motor home and flying across the world to Bali, New Zealand, and, of course, trips to Wales to visit their daughter, Amie and her family.
John was a robust adventurer – with a spirit of freedom to the very end. It was a privilege to love him!
Interment at Fort Logan National Cemetery (1)
If you would care to make a donation in John's name, please consider:
The Alzheimer's Association of Colorado
455 Sherman Street, #500
Denver, CO 80203
Phone: 1-800-272-3900
www.alz.org/co/
or
Wings over the Rockies Air & Space Museum
7711 East Academy Boulevard
Denver, Colorado 80230-6929
Phone 303.360.5360
www.wingsmuseum.org
"We have lost a great American — a legend in our time," the statement quoted Maj. Gen. H. Michaels Edwards, Colorado's current adjutant general, as saying, "Our community, state and nation owe so much to this citizen warrior whose legacy will continue to inspire future generations of National Guard soldiers and airmen."(2)
(1) https://www.cremationsocietyofco.com/obit/john-lyons-france/
(2) news@stripes.com
1952 USAF Air Cadet
4/1954 Soloed in PA-18 at Marana Air Base, AZ (PA-18)
3/1955 Received wings and commission, served in Japan, Taiwan, Korean War (F-86)
10/1958 120th Fighter Squadron, "Minutemen Jet Precision Demonstration Team"
1960 120th Tactical Fighter Squadron/140th Tactical Fighter Wing, Buckley ANG Base, CO (F-86, F-86L)
5/1968-1969 120th Tactical Fighter Squadron, Phan Rang, Vietnam (F-100)
1970-1979 120th Tactical Fighter Squadron/ 140th Tactical Fighter Group, 140th Tactical Fighter Wing, Commander, CO ANG, CO (F-100)
8/1979 named Adjutant General, CO ANG, CO
2/6/1995 Retired USAF

Distinguished Flying Cross

Meritorious Service Medal

Air Medal with 10 Oak Leaf Clusters
F-86
F-86L
F-100 C
Rating: Command Pilot
Flight Hours: 6600+
Military & Civilian Education