Date of Birth: December 27, 1931
Highest Military Grade Held: Select
Hometown: Armstrong Creek, WI
Ed flew the F-100 with the 1st Fighter Day Squadron/413th Fighter Day Group out of Nellis AFB, NV.
1st Fighter Day Squadron/413th Fighter Day Group (F-100)
4450th SEG, OT&E, Nellis AFB, NV
Military & Civilian Education
Ed Gallardo's Caterpillar Story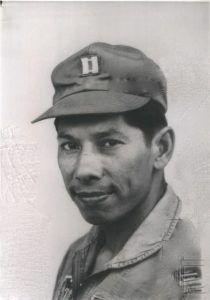 Here and There in S. Viet Nam . . . 16 Terrible Minutes for Fighter Pilot By Hal Boyle, Da Nang, South Viet Nam (AP)(1)
It all happened in 16 terrible minutes. In that incredible fraction of an hour, a U.S. Air Force pilot napalm-bombed a target, his plane caught fire, he bailed out, landed in enemy territory and was plucked to safety by a passing Army helicopter. "That's the only real emergency I've had in more than 4,000 hours in the air," said Capt. Edward F. Gallardo, 33, of Armstrong Creek, Wis. "I feel much safer flying a jet plane than I do driving an automobile." Ed is a dark-haired, F100 pilot who stands 5 feet 5, and weighs only 137 pounds. His wife, Pat, and their five children — none of whom is more than 5 years old — live in Hampton, VA.
The fighter pilot's battle ordeal came on a recent Sunday when he had to skip morning religious services because of an early mission. The mission was his 35th in some 40 days. "I was first of our flight in on the target, some Viet Cong emplacements 42 miles south of here," said Gallardo. "I came in fast at 50 to 100 feet above the ground. "I pushed what we call the pickle button to release the napalm cans. Immediately there was a loud explosion, and the cockpit filled with 'smoke. I didn't know whether I had been hit by ground fire, or something had gone wrong with the napalm. "But I couldn't see out. My plane was on fire." Instinctively, he put the plane into a climb.
"The smoke began to clear, but my plane was burning badly. I didn't know whether it would blow up or not. But you don't bail out over a target area if you can help it, and I headed toward the sea. "I got up to 5,000 feet. At 6,000 feet the speed began to bleed down. The plane started to roll. The controls had burned away. 1 had become just a passenger, I had to go."
The captain jettisoned his canopy, pulled his triggers and was ejected. "There was a big blast and the next thing I knew I was floating down about 12 miles from the target area. It was a great view and I had plenty of time to think, but all I thought about was landing in a clear space." Gallardo landed standing up between two houses in a native hamlet. "I hit about 20 feet from a small boy," he said. "His eyes got big, he made a 180-degree turn and ran. I ran in the opposite direction toward a rice paddy, scattering dogs and chickens. I could be picked up there, but hide in the shrubbery around it if necessary." Five planes circled protectively around his position and a pararescue team scrambled at the base here to get him. But an Army helicopter crew, apprised of his plight, picked him up. "I wasn't on the ground more than five minutes," said the captain.
(1) source: July 6, 1965, The Express from Lock Haven, Pennsylvania