Headed West: February 21, 2016
Highest Military Grade Held: 0-4 – Major
Tommy W. Gordon severed in the USAF from Aug 1952- March 1974. He was a Retired Teammate of McDonnell Douglas with 13 years of service as of January 1991.
Prior to this "Headed West", he was a member of the Gateway Senior Squadron, Missouri Wing of the Civil Air Patrol (since 1982) serving in the Rank of Lieutenant Colonel. He was current in the Cessna 172 Aircraft with over 7100 total flight hours
Tommy W. Gordon (Maj USAF) "Headed West" on February 21, 2016.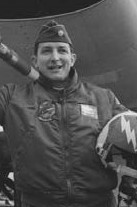 Tommy W. Gordon, 87, was called home on Sunday, February 21, 2016. He died peacefully in his sleep at Friendship Village in Chesterfield, MO.  He leaves his beloved wife of 59 years, Jane Gordon; his daughter, son, and five grandchildren.
Born and raised in Bessemer, AL, he attended Auburn University and received a degree in Mechanical Engineering.  He was an accomplished swimmer and was a lifelong supporter of the Auburn swim team.  He was commissioned as a 2nd Lieutenant in the Air Force to pursue his lifelong dream of flying.
Shortly after, he met and married the love of his life "Janie".  He then attended Oklahoma University where he received his Master's in Mechanical Engineering.  Tommy spent 22 years in the Air Force traveling the world serving his country.  During that time, he served two tours in Vietnam flying the F100.  He was awarded the Distinguished Flying Cross, the South Vietnam Cross of Gallantry, and the Air Medal seven times.
Upon retiring from the Air Force, he worked for The Boeing Corporation for 24 years.  He was very involved with the Civil Air Patrol, the Auburn Club, his church, The American Legion, Gardening, and spending time with his family and grandchildren.
1958, 1965 Luke AFB, AZ
1966 492nd Tactical Fighter Squadron/48th Tactical Fighter Wing, Lakenheath RAF, England
1969 90th Tactical Fighter Squadron/3rd Tactical Fighter Wing, Bien Hoa AB, Vietnam

Distinguished Flying Cross

National Defense Service Medal

Republic of Vietnam Gallantry Cross
United Daughters of the Confederacy
Military & Civilian Education
Civilian Education:
BS/Mechanical Engineering, Auburn University
MS/Mechanical Engineering, Oklahoma University