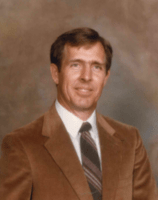 Donald R. Harrell, 85 of Chipley, FL, went home to be with the Lord on October 22, 2021, at his residence surrounded by his loving family.
Donald was born January 1, 1936, in Holmes County, Florida to Martin and Lera Underwood Harrell. A 1954 graduate of Washington County High School, Don accepted a Football Scholarship to Georgia Tech where he graduated with his Bachelor's Degree in Aeronautical Engineering in 1958.
After graduation, Don was commissioned in the United States Air Force and went to Flight Training School to be an F-100 fighter pilot.
Upon finishing his service in the military he returned home and opened Allied Development Company which he operated for 40+ years. Don was a lifelong member of First United Methodist Church in Chipley, Florida and directed the choir for over 22 years.
He was preceded in death by his parents: Martin and Lera Harrell; brother Reid Harrell; sister: Opal Harrell Sapp.
He is survived by his loving wife, Rena Harrell of Chipley, Florida; sons: Clay Wise and wife Sheri of Pensacola, Florida, Doug Harrell and wife Patti of Blountstown, Florida; daughter: Laura Dolly and husband John of Panama City, Florida; sister: Linda Bradow and husband Bill of Oviedo, Florida; eight grandchildren: eighteen great-grandchildren; numerous nieces and nephews
Funeral services were held Friday, October 29, 2021, with interment in Glenwood Cemetery in Chipley, Florida with Obert Funeral Home directing.
The family requests donations be made in his honor to the Wounded Warrior Project.
Source: FosterFollyNews.com