Nickname/Call Sign: Misty 66
Date of Birth: March 25, 1940
Headed West: September 4, 2020
Highest Military Grade Held: 0-4 – Major
Hometown: Colorado Springs, CO
From the "Misty Mystique" by Mark Bernstein, Air & Space Magazine, 2013
The constant low-level flying [of the F-100) was physically and mentally daunting. "We tried to maintain 400 knots and 4,500 feet while looking for targets," says [Gen. Don] Shepperd. "We constantly jinked—changed flight direction—and pulled Gs. This was very fatiguing."
All the jinking was a challenge for the F-100 as well. "The airspeed could not be maintained during the continuous G forces while flying the jink, so we frequently used the afterburner to regain the speed that kept us safe—or safer," says Don Jones, who flew for the Civil Air Patrol after leaving the Air Force. "Flying the F-100 at the low altitudes meant continuous exposure to anti-aircraft gunfire and even small-arms gunfire. The feeling I felt was exhilaration brought on by the general fear of being hit."
That fear formalized a few rules: straight-and-level flight was forbidden, as was flying below 4,000 feet. Pilots were not to engage in second passes. If they missed a target, they let it be until a later return. In November 1968, Kelly Irving ignored that rule, which, he said, is why his military career consisted of one more takeoff than landing. Circling back over a target for a second try, his aircraft was hit. Irving recalled the incident at a 2008 Misty reunion in Oregon, outlining the procedure that pilots were to execute (if possible) after being hit: Level the wings, hit the afterburner for greater thrust, gain altitude, and head for the South China Sea (it was easier to retrieve pilots from the water than from the jungle).
When Irving's F-100 was hit, his GIB said the pair had to eject. Irving said no way. Moments later, Irving agreed it was time to eject, but this time his GIB voted no. The aircraft reached 23,000 feet, but its hydraulics had been destroyed and Irving couldn't control it. Losing altitude quickly, the two men bailed out over land. A bit more than an hour later, they were picked up by an HH-53 Sikorsky helicopter, commonly known as the Jolly Green Giant. The helicopter pilot was making his first rescue, and instead of hovering and pulling Irving up to safety, he started flying sideways, with Irving dangling in a rescue harness and dodging tree limbs. Said Irving at the reunion: "I may be one of the few people to get a Purple Heart for having been injured by a tree."
There were worse fates. Seven Mistys were killed. Four were captured. Thirty-four were shot down, landing either in the South China Sea or in North Vietnamese-held territory.
Read more at https://www.airspacemag.com/military-aviation/the-misty-mystique-3494168/#rMZe8bwzfRKB4Q0s.99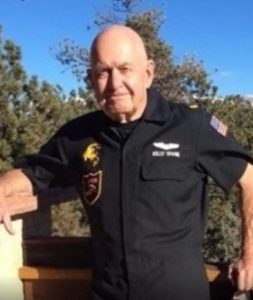 Major Lawrence Kelly Irving (Misty 66) "Headed West" September 4, 2020
Lawrence Kelly Irving, 80, died in the care of his loving wife at home in Colorado Springs, Colorado, September 5, 2020. He entered Heaven's gates at 12:15 pm because of his renewed faith in Christ.
He was born on March 25, 1940, in Phoenix, Arizona to Walter Lee Irving and Lawilda W. McGrew. Upon graduation from Hollywood High, Hollywood, California, in 1958, he joined the Aviation Cadet Program with the US Air Force. He received his navigator wings and commission in 1960 and was assigned to B-47s with the Strategic Air Command at Mountain Home AFB, Idaho. In 1966, while assigned to Mountain Home, Kelly became the father of a beautiful daughter, Kelly Suzanne Irving.
He entered pilot training at Laredo AFB and received his pilot wings in 1967. Upon graduation he began his career as a fighter pilot which took him to assignments to Cannon AFB, New Mexico; Bien HOA AB, Vietnam; PhuCat AB, Vietnam; Craig AFB, Alabama; Ubon RTAFB, Thailand; Spangdahlem AB, Germany; and Eglin AFB, Florida. He was a command pilot with over 3,500 hours total flying time in the T-37, T-38, T-39, B-47, F-100, and F-4. He served his country with two tours of duty in Southeast Asia, with over 800 combat hours.

While in Southeast Asia on his first tour he volunteered to serve as a Misty FAC, with the callsign of Misty 66. While flying as a Misty he was shot down by enemy ground fire and later rescued. After returning Stateside he served a short tour in Air Training Command prior to volunteering for a second combat tour. During this second tour while flying the F-4 he participated in, and led, combat missions during Linebacker II. His military awards include the Silver Star with Oak Leaf Cluster, Distinguished Flying Cross with 3 Oak Leaf Clusters, Air Medal with 29 Oak Leaf Clusters, and the Purple Heart.
In 1978, while at Eglin AFB working at TAWC, Kelly met Gail, the love of his life. They were married on November 9, 1979, and their life journey began. Kelly retired from the USAF in January 1980. Together, they enjoyed scuba diving, traveling, flying, skiing, church, pets, family, and friends. March 1981, Kelly became an airline pilot with New York Air which later merged into Continental Airlines, retiring as a DC-10 Captain in March 2000. They went on to build their dream home in Florissant, Colorado, where they lived until August 2019. In September, Kelly and Gail moved to Colorado Springs and enjoyed their beautiful new home until his passing.
In addition to his military and commercial flying, Kelly was an avid general aviation pilot and a member of the Quiet Birdmen. A raconteur of the highest order, he will be remembered as a true patriot and strong supporter of Constitutional Law.
He is survived by his wife of forty-one years, Gail Irving; his daughter, Kelly Suzanne Taylor; and many extended family and friends.
Kelly will be missed by all who loved him and enjoyed his colorful personality.
A private Funeral Service will be held, 3:00 PM, Sunday, September 13, 2020. The service will be streamed live. The link to watch the Funeral Service is located on Lawrence's Tribute Wall on The Springs Funeral Services website.
Interment will be at a later date at Arlington National Cemetery, Arlington, Virginia 22211.
To send flowers to the family or plant a tree in memory of Maj Lawrence Kelly Irving, USAF, (Ret.) please visit our 
Tribute Store
.
1967 481st Tactical Fighter Squadron "Crusaders", RTU, Cannon AFB, NM
1968-1969 510th Tactical Fighter Squadron "Buzzards" Bien Hoa AB, Vietnam (F-100)
1968-1969 "Misty 66" FAC,  Phu Cat AB, Vietnam (F-100)
Military & Civilian Education
Kelly Irving – Caterpillar Club Story
Author, Kelly Irving, Back Seat, Misty 66
Frank Kimball, Front Seat, Misty 61


The Action:  On 20 November, 1968, Frank Kimball and I briefed for the midday mission, call sign Misty 41. Misty briefings were not the local how to start, taxi, takeoff, blah, blah, blah, BS. They were straight to the heart of it, where are we going, what are we doing, and how are we going to do it affairs. Also, I never heard a briefing that didn't end with: What We're Going To Do If We Take A Hit: Level the wings, stroke the 'burner, start a climb, and clean the wings was usually the plan.
As we climbed out toward The Trail in Laos, we discussed the differences between the environment in North Viet Nam and Laos.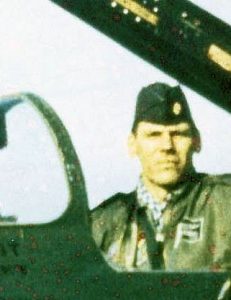 Since the bombing halt a few weeks earlier, we were having to play in a new ballpark. Frank is up front flying, and I'm in the back working the maps, ready to communicate with and coordinate with any strike aircraft that came our way. (As an aside, during that period of my life, the term GIB was reserved for the poor bastards relegated to the rear cockpit of the F-4, real pilots who didn't get to fly from the front seat. Later, in 1972, that would change to a term of endearment for the non-pilot Weapons Systems Operators in that rear cockpit helping to save my ass on a regular basis up around Ha Noi. Misty pilots usually alternated seats every other mission. Ah, but I digress.)
The weather was crummy that day. As we were learning our way around, I looked down through a break in the clouds and saw a HALFTRACK, A PRIME MOVER! We needed some ordnance now! None coming! I thought that we could pinpoint the target and put a strike in after tanking up and giving some time to get a strike flight inbound. So, we committed The Sin of the Second Pass. (For additional details on this particular sin, check with Rutan, Detwiler, and perhaps Wells Jackson.) As we went through and looked at our prize again, I got the impression of muzzle flashes, the wings leveling, the afterburner lighting, and the nose going up into a climb. We cleaned the wing as Frank says, "We've taken a hit. We're gonna have to get outta this thing." Frank takes it out of burner and it seems to be running smoothly for the moment. I say, "Not yet, not here, not now. Those are NOT friendly people down there!!" This exchange went on for a couple iterations as the AC electrics died, and the hydraulics died. The only things left were the battery and the still-running engine. The hydraulics did not lock up. They just went slack. The wings were level, we were trimmed for 300 KIAS, climbing with absolutely no control. We were simply passengers along for the ride. About 10 minutes after getting hit, the engine flamed out and we started coming down like a set of car keys. While all of this was taking place, we had made radio contact with the Search and Rescue (SAR) force as they got airborne out of Da Nang.
Now descending at 330 KIAS with the imminent terrain conflict becoming a rising priority, we tidied up and got ready to go. I sat up straight and told Frank that I was ready. BOOM! The canopy went. Then nothing! Several seconds later BOOM, the seat went. I tried to beat the seat as taught, and my reward for that effort was to have my hand knocked into the something-less-than-330-KIAS slipstream, which led to further complications a few seconds later. The delay between canopy and seat was due to Frank's realization that his chin strap wasn't fastened. I can still visualize him peering into one of those little mirrors on the inside of the windshield frame as though he were checking for food between his teeth. He ejected both of us, meaning I exited first (zero-second lanyard not connected), then his system went (zero-second lanyard connected). That circumstance led to his exit and parachute opening being almost instantaneous while mine was opening more slowly using the barometric/timing system. Frank noted my chute risers and shroud lines wound up tight and thought that I was a goner. Then, he noted me spinning like a top resulting in a normal canopy.
Just minutes after getting on the ground, the Sandys and Jollys flew right over us. We made contact, followed instructions, and got pulled out of there about an hour later.
One more item of note: The helicopter pilot was the Rescue Detachment Commander on his first operational mission. His anxiety level may have been as high as ours, for in each case he began transitioning to horizontal flight before we were clear of the treetops. We may be among the very few to be awarded the Purple Heart for wounds inflicted by enemy trees. — Kelly Irving
Epilogue:
Less we forget…Ron Thurlow, a SEA SAR expert, provided this information about the SAR forces who rescued Frank and Kelly that day.
Low Bird (pickup acft): HH-3E "Jolly Green 33"; AC – Lt Col John J. Devlin Jr (age 44); CP – Maj Herman C. Stafford Jr. (age 40); FE – MSgt Charles L. Manes; PJ – SSgt Eugene L. Nardi
High Bird (cover acft): HH-3E "Jolly Green 21"; AC – Capt Jerry M. Griggs; CP – Capt Don W. Wiegard
FE – TSgt Arthur L. Ambrose; PJ – Sgt Thomas T. Winters
"Spad 11": Maj W. T. Frankam; "Spad 12": Capt W. L. Thompson
I also found a short article on the SAR from the Dec 11, 1968 issue of Pacific Stars and Stripes. Here was one quote I found interesting: "'Actually, it wasn't too rough, although we did almost hit some tree limbs while we were extracting the men from the slope.' added Stafford, age 40, from Bluefield, WV." — Ron Thurlow