Date of Birth: August 29, 1937
Highest Military Grade Held: 0-6 – Colonel
Hometown: Finland/New York, NY
"Life after the Air Force: Retired to Libertyville, IL in June 1986 where I managed a flight department for a Chicago company flying three different model Falcons, the 10, 50 and 900.
Closed the department in 1999 and moved to Naples, FL where I flew Falcon 100 and 50s part time from 2002 to 2007.
Retired, for the third time, at the age of 70."
1959-1960 Pilot Training: Avn Cadet 60‐H. Lackland AFB, TX/Bainbridge AFB, FL/Reese AFB, TX
1960-1964 Flight Instructor, Reese AFB, TX (T‐33, T‐37, T‐38)
1964-1965 311th Air Commando Squadron, Da Nang RVN (C‐123)
1966 F-100 Training, Luke AFB, AZ
1966-1970 353rd Tactical Fighter Squadron, Torrejon AB, Spain (F-100)
1970: 4430th Combat Crew Training Squadron ("Teeny Tigers"), Myrtle Beach AFB, SC (AT‐33)
1971-1972 356th Tactical Fighter Squadron, Myrtle Beach AFB, SC (A‐7D)
1972-1973 356th v & 3rd Tactical Fighter Squadron, Korat RTAB, Thailand (A‐7D)
1973-1975 9th AF Stan/Eval, Shaw AFB, SC (A‐7D and F‐100)
1975-1977 159th Tactical Fighter Group, Air Force Advisor, New Orleans, LA (F‐100)
1977-1979 355tgh Tactical Fighter Squadron, Commander, Myrtle Beach AFB, SC (A‐7D, A‐10)
1979-1980 Student, US Army War College, Carlisle Barracks, PA
1980-1982 AFNORTH (NATO) Senior Staff Officer, Air Deputy, Oslo, Norway
1982-1984 81st Tactical Fighter Wing, DO/Vice Commander, RAF Bentwaters, England
1984-1986 406th Tactical Fighter Training Wing, Commander, Zaragoza AB, Spain
1986 Retired USAF

Defense Superior Service Medal

Distinguished Flying Cross

Air Medal with 30 Oak Leaf Clusters

Meritorious Service Medal with Oak Leaf Cluster

Air Force Commendation Medal
T‐33
T‐37
T‐38
C‐123
F-100
AT‐33
A‐7D
A‐10
Military & Civilian Education
Military Education:
IPIS
SOS
Air Command and Staff
ICAF
US Army War College
Civilian Education:
Benjamin Franklin High School, NY
Academy of Aeronautics, Flushing, NY
John Granskog – Caterpillar Club Story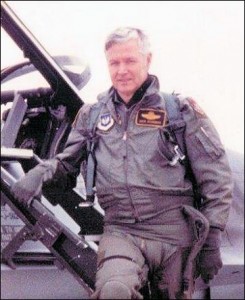 "I was Flying an F-100 S/N 55-3735 at Luke on 31 Mar 1966. I was flying number two returning from a range mission. Luke was landing to the southwest and we just passed the White Tank mountains starting a right turn for initial when the engine flamed out. We were at about 1,500 Ft AGL and I pulled the nose up, turned left toward an unpopulated area, and went through the airstart procedure to no avail. Set up a glide at 220 knots, rechecked all switches, and confirmed that I had an ignition light but no start, looked outside, and decided it was time to eject.
Ejection was uneventful as all the systems worked as advertised. As the chute opened the aircraft hit the ground at my 12 o'clock in perfectly wings-level flight. The impact showed an imprint of the fuselage, drop tanks, and rocket rails. According to the tapes from Luke tower, it was 50 seconds from the time I called flameout and the flight lead called me out of the airplane. The time was 9:04 AM.
Investigation showed the female teeth turning the fuel pump were totally worn and consequently no fuel flow and no possibility of an airstart.