Nickname/Call Sign: J.J./Capt. Marvel
Date of Birth: September 28, 1940
Highest Military Grade Held: 0-3 – Captain
John J. Schulz
In His Words… (extract from the Super Sabre Society web page)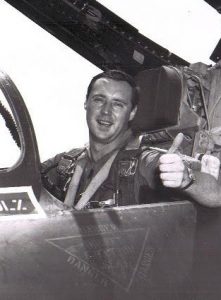 "During my year at Bien Hoa, early on, folks learned I had majored in journalism and worked six months at
 UPI in San Francisco before reporting to flight school. I was tagged by Ops Officer Dale Rook with 'mild-mannered Billy Batson' ('who works for a large metropolitan daily,' you'll recall). Some days later, I had a cart start instead of an auxiliary powered unit to start the engine, and as I hit the button, I stood up in the cockpit amid the smoke and noise of the starter can and yelled for all the crew chiefs to hear, "SHAZAAM!!!!" (the magic phrase that caused thunder and lightning and the transformation into Capt. Marvel, Batson's alter ego.)
"A few days later, I noticed the plane with my name on it had the only extra "paint marking" in the entire 3rd Wing. The little door in front of the front landing gear had the standard squadron "Dice" logo, but added underneath was: "Capt. Marvel.'" (That said, most days he went by the nickname "JJ"–except to Maj. Rook!)
The Rest of His Story… (by the web page editor)
During that year at Bien Hoa AFB, Vietnam, from April 1967-68, John "JJ" Schulz flew 275 missions as an F-100 fighter pilot in the 90th Tac Fighter Squadron "Dice" of the 3rd TFW. His combat decorations include the Silver Star, 3 DFCs, 2 Vietnamese Gallantry Crosses and 16 Air Medals, including two for single mission actions. He also was awarded the Bronze Star for service. In 1962, as a distinguished AFROTC graduate at the University of Montana, he received a Regular AF commission and went to pilot training at Williams AFB (Jan'63-Feb '64). Assigned to Vance AFB, OK, as a T-37 IP, he had over 1,400 hours of military flying time when he reported to Cannon AFB, NM in late 1966 for F-100 RTU (upgrade/combat training) before going on to Bien Hoa (April 1967-8).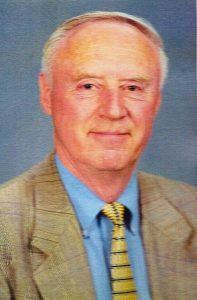 Reassigned to RAF Lakenheath, UK (1968-71) after his year in combat, he continued to fly the F-100 (eventually getting 1,000 hours in the Super Sabre) and was the 48th TFW head varsity football coach for two years. As a player-coach, he was selected as first-team Quarterback on the 3rd AF All-Star team in 1969.
Leaving the Air Force after 8 and 1/2 years, he went on to become a distinguished journalist, war correspondent and Voice Of America (VOA) Deputy News Director. His foreign assignments for VOA included Hong Kong, Tokyo, and Islamabad, where he covered the wars in Vietnam, Laos and Cambodia, and later, from Pakistan, the Soviet war in Afghanistan (and the Tamil Tiger uprising in Sri Lanka). He retired from VOA in 1991 after 21 years.
In college (1958-62), he was a prize-winning poet and varsity quarterback (three of his five passing records lasted 30+ years). From 1977-79, he was an Oxford scholar (M.Phil. and Doctorate in International Relations), and later a National War College student (1985-6), then a professor of National Security Studies at NWC (1989-91). From 1992-95, Dr. Schulz was Associate Director of The Arms Control Association (for publications) in Washington D.C. and edited the award-winning Arms Control Today magazine. He joined Boston University in November 1995 as Professor of International Communication. A year later was elected Chair of the Mass Com, Advertising and Public Relations Department and served as chair for three years. From 2005-8 he was Dean of the BU College of Communication, with 2,500 students and over 180 full- and part-time faculty under his supervision. He retired from BU in 2009 and was elected a Professor Emeritus.
Other honors include VOA Director's Award for Superior Achievement in International Reporting (1989); University of Montana Distinguished Alumnus Award (1995); Who's Who (1997); International Who's Who (1999); Cambridge Who's Who in the Twentieth Century (2001); BU Best Professor of the Year (2001), first-ever award by the student body).
Dr. Schulz is the author of Songs From a Distant Cockpit (2013), a book of prose and poetry that captures the lives of F-100 Super Sabre pilots in war and peacetime. It continues to receive rave notices from fighter pilots and non-aviators alike.
His 36-page booklet, Please Don't Do That!, a guide to good writing, was purchased in the hundreds by major universities and during 2011 was the best-selling publication for Marquette Books publishing house.
He currently resides in Cape Charles, Virginia, with his wife, Linda, where he serves as Board President, Eastern Shore Rural Health, Inc. (with five centers on the Eastern Shore, 95,000 patient visits annually). He is one of three Trustees for the local American Legion post and is Editor of The Intake, the official Super Sabre Society journal.
1/1963-2/1964 UPT, Williams AFB
4/1964-6/1964 Instructor Pilot School, James Connally AFB, Waco, TX
1964-1966 1776th Sqdn, UPT Instructor Pilot, Vance AFB, OK
1966-1967 481st Tactical Fighter Squadron, F-I00 Training,  Cannon AFB, NM (F-100)
4/1967- 1968 90th Tactical Fighter Squadron("Dice")/3rd Tactical Fighter Wing, Bien Hoa AB, Viet Nam
6/1968-5/1971 493rd Tactical Fighter Squadron/48th Tactical Fighter Wing, RAF Lakenheath, UK

Distinguished Flying Cross (3)

Republic of Vietnam Gallantry Cross (2)
Military & Civilian Education
Military Education:
1964 UPT, 64-E, Williams AFB
1964 IP School, T-37s, Randolph, AFB
1965 Platform Instructor School, Randolph AFB
1966 F-100 Training, Cannon AFB RTU
1966 Survival School, Fairchild AFB
1967 Jungle Survival School, Clark AB
1969 FAC School, Ramstein AB, Germany
1985-1986 National War College (Diploma)
Civilian Education:
1962 BA/Journalism, University of Montana
1979 M.Phil/International Relations, Oxford University, UK
1981 D. Phil. (Oxford's Ph.D.)/International Relations (specialties in Strategic Studies and E. Asia) Oxford University
1989-1991 Prof., NWC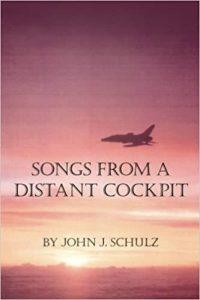 Whether you have ever flown a jet, or just wished to do so, and whether you served in Vietnam or just read about it, you will be riveted by this fast-paced and vivid account in prose and poetry that tells the story of a special breed of men. These were the hand-picked few who led death-defying lives as F-100 Super Sabre pilots. "Songs" tells the story of the "Hun Drivers" in war and peace, who flew low and fast between the trees with troops under fire day or night, or spent weeks away from home and family on nuclear alert, hoping that the red phone that signaled WW III would never ring. Their plane was called "The Widow Maker" for good reason, as you soon learn. Songs From A Distant Cockpit puts you in the cockpit and in among these single-seat, single-engine fighter pilots as they trained in the "most dangerous plane ever built." (Available on Amazon)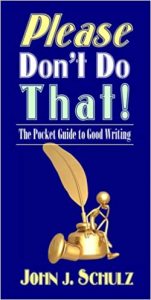 This affordable pocket guide to better writing has been shown to boost writing scores of students in the mass communication program at Boston University. Easy to read and follow. Endorsed by executives at major U.S. corporations and by professors at major U.S. universities. (Available on Amazon).