Nickname/Call Sign: Chilly
Date of Birth: July 7, 1934
Highest Military Grade Held: 0-5 – Lieutenant Colonel
I was determined to fly single engine/single-seat fighters and TAC seemed to be closing down many locations during my pilot training, so upon graduation, I asked for ADC (and was lucky enough be assigned to Advanced Interceptor Training at Moody. During my six (06) months at Moody, it appeared that TAC had survived, and our class received three direct assignments to F-100's at George AFB.
I was again lucky enough to be able to choose one of these assignments and went directly to the 31st TFW, George AFB (no Luke or Willis). Five (5) Lt's arrived (3 from Moody and 2 from Perrin) at George and you can imagine what the Wing DO said: 'I have four squadrons of Combat Ready F-100 aircrews —
I do not have time to train you people.
As you would imagine, the five of us sat around for a couple of months doing nothing. Thankfully, I was assigned to a Squadron with a Commander who had some feelings for us, and he had some contacts and pulled some strings The five of us were sent to Nellis to receive a "Check Out" in the Hun. When we arrived, two of the Lt's were sent to each of the two training squadrons and I was sent to the Fighter Weapons School (you remember — the criteria for FWS was a minimum of 1000 hours F-100 time and handpicked by their respective Squadron Commanders.)
You could never imagine what happened next — I had a VERY short ground school telling me everything you SHOULD know about the Hun, was introduced to my IP and flew Transition One with two touch & go's and a full stop. While walking back to Operations to debrief, my IP pointed to an F-4D and said "You are flying as number TWO on an Air to Ground sortie this afternoon"!
I obviously lived through about 25 hours of training with some of the greatest pilots in the world, went back to George, qualified for Combat Ready, and flew a "D" model across the pond (FA-114) before most of my classmates (59G) finished their training and were assigned to TAC squadrons.
Believe it or not — one of the IP's at FWS (it was either Boyd or Bond) said one day: "What they have done to you is insane — however if you live through the first 100 hours of flying the Hun, you will probably be a damn good Fighter Pilot!"
Maybe he knew what he was talking about — I flew fighters for the next 19 years (including 203 missions in Vietnam flying the Phantom) and here I am today, 33 years after retiring in 1978.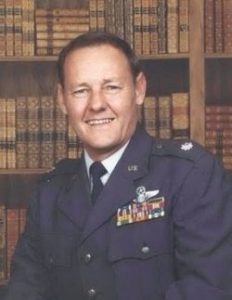 John Robert "Chilly" Childers, Sr (Lt Col USAF, Ret) "Headed West" on July 8, 2015
Chilly was born in Shreveport on July 7, 1934, and passed away on July 1, 2015. He graduated from Byrd High School in 1952, received his undergraduate degree from LSU in 1957, and his MBA from USC in 1974. He proudly served his country in the US Air Force for 20 years, retiring from active service in 1978. He was a decorated F-4 combat pilot flying 203 combat missions over Vietnam. He then enjoyed a successful career as an electrical engineer working for several large international corporations.
Chilly was active in many social and civic organizations. He was a member of the Rotary Club, was a Paul Harris Fellow, volunteered at the VA Hospital, and a Caddo Sheriff Auxiliary Deputy. He was a lifelong member of St. Paul's Episcopal Church where he participated in their flower delivery group, was an usher, and on the Vestry. He donated his time and financial support to many civic and charitable organizations.
Chilly is survived by four children, Lisa Easterly, Jill DiPerna, John Childers, Jr., and Stefanie Childers, as well as six grandchildren and his beloved dog, CeCe. He is also survived by his brother Dr. David O. Childers and wife Dottie, and friend and neighbor Ed Tooley, as well as many friends and family.
The family suggests memorial contributions to Cancer and Alzheimer's research and St. Paul's Episcopal Church.
Services for John Robert "Chilly" Childers were held at 1 pm on Wednesday, July 8, 2015, at St. Paul's Episcopal Church. He is buried at Arlington National Cemetery.
1958  Class 59G, Bainbridge, GA (T-34, T-37)
1958-1959  Primary Pilot Training, Greenville MS (T-33)
1959  Advanced Interceptor Training, Moody AFB, GA (F-86L)
1959-1961  307th TFS, George AFB, CA (F-100D)
1961-1964  92nd TFS, RAF Bentwaters, UK (F-101 A/C)
1964-1969  47th & 45th TFS, MacDill AFB, FL (TDY Ubon 65) (F-4 C/D/E)
1969  389th & 4th TFS, Danang AB, RVN (F-4E)
1970-1971  35th TFS/Wing Flt Test, Yokota AB, Japan (F-4C)
1971-1974  Wing Flt Test/QC, Kadena AB, Okinawa (F-4C, RF-4C)
1975  ALO, Ft Hood, TX (O-2)
1976-1978  63rd TFS, MacDill AFB, FL (F-4 C/D/E)
1978 Retired USAF
T-34
T-37
T-33
F-86L
F-100D
F-101 A/C
F-4 C/D/E
RF-4C
O-2
Military & Civilian Education
Military Education:
1977-1978 Command and Staff College
Civilian Education:
1957 BS/Electrical Engineering, LSU
1974 MS/System Management, USC