Wallace A. Kulczyk, Jr.
---
Preferred Name: Mike
Nickname/Call Sign:
Date of Birth: March 26, 1931 (June 27, 2014)
Highest Military Grade Held: Lieutenant Colonel
Hometown: Worcester, MA
Biography
From his youngest memory he loved airplanes and made it his life's mission to fly. A dream he achieved by applying for and being accepted for pilot training with the United States Air Force.
Mike married his high school sweetheart, Nancy L. Hartigan, in March of 1953 and they enjoyed a wide variety of duty assignments across both oceans before she preceded him in death in June 2012.
Mike lived, breathed and loved everything about airplanes and flying. He was also a model airplane builder and one of the early pioneers of the ducted fan technology in model airplanes. His other loves besides his family and flying were gathering the gang together at Lynnies, ice cold beer, Mexican food and soup of all kinds.
Units Assigned
506th Tactical Fighter Wing, Tinker AFB, OK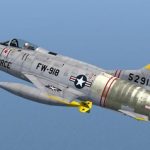 Wallace Anthony "Mike" Kulczyk, Jr – March 26, 1931 – June 27, 2014
At 40 minutes past midnight June 27, 2014, Wallace Anthony "Mike" Kulczyk Jr. (Retired Lt. Col. USAF) slipped peacefully from this world and onto his last duty assignment. The only child of Wallace A and Eleanor Kulczyk was born in Worcester, MA on March 26, 1931.
Left to mourn his passing are his four children and spouses; Mark Kulczyk and wife Sheila, Lyn Pool and husband Bob, Chris Kulczyk and wife Laurie and Chickie Shields and husband Mike; and four grandchildren, Christine and Hannah Shields, Sean Kulczyk and Stephanie Del Rio. He also leaves behind many cherished friends from all over the world.
In lieu of flowers or plants please make a donation to "The Wounded Warrior Project" at www.woundedwarriorproject.org
The family will greet guests at a visitation on Thursday, July 3, 2014, from 10:00 to 11:00 am at Cook-Walden Capital Parks Funeral Home in Pflugerville, Texas. A Funeral Mass will take place afterward at 1:00 pm at Saint Louis King of France Catholic Church, 7601 Burnet Road in Austin, Texas. Interment with military honors at Cook-Walden Capital Parks Cemetery in Pflugerville, Texas.
(source: Published in Austin American-Statesman from July 2 to July 4, 2014)
Biography

From his youngest memory he loved airplanes and made it his life's mission to fly. A dream he achieved by applying for and being accepted for pilot training with the United States Air Force.
Mike married his high school sweetheart, Nancy L. Hartigan, in March of 1953 and they enjoyed a wide variety of duty assignments across both oceans before she preceded him in death in June 2012.
Mike lived, breathed and loved everything about airplanes and flying. He was also a model airplane builder and one of the early pioneers of the ducted fan technology in model airplanes. His other loves besides his family and flying were gathering the gang together at Lynnies, ice cold beer, Mexican food and soup of all kinds.

Units Assigned

506th Tactical Fighter Wing, Tinker AFB, OK

Wallace Anthony "Mike" Kulczyk, Jr – March 26, 1931 – June 27, 2014
At 40 minutes past midnight June 27, 2014, Wallace Anthony "Mike" Kulczyk Jr. (Retired Lt. Col. USAF) slipped peacefully from this world and onto his last duty assignment. The only child of Wallace A and Eleanor Kulczyk was born in Worcester, MA on March 26, 1931.
Left to mourn his passing are his four children and spouses; Mark Kulczyk and wife Sheila, Lyn Pool and husband Bob, Chris Kulczyk and wife Laurie and Chickie Shields and husband Mike; and four grandchildren, Christine and Hannah Shields, Sean Kulczyk and Stephanie Del Rio. He also leaves behind many cherished friends from all over the world.
In lieu of flowers or plants please make a donation to "The Wounded Warrior Project" at www.woundedwarriorproject.org
The family will greet guests at a visitation on Thursday, July 3, 2014, from 10:00 to 11:00 am at Cook-Walden Capital Parks Funeral Home in Pflugerville, Texas. A Funeral Mass will take place afterward at 1:00 pm at Saint Louis King of France Catholic Church, 7601 Burnet Road in Austin, Texas. Interment with military honors at Cook-Walden Capital Parks Cemetery in Pflugerville, Texas.
(source: Published in Austin American-Statesman from July 2 to July 4, 2014)