Date of Birth: August 28, 1934
Highest Military Grade Held: 0-5 – Lieutenant Colonel
Jack was born in Norfolk, VA, where his Dad was in the US Navy. He flew287 missions with the 90th TFS out of Bien Hoa AB, Vietnam in 1967. As a Misty pilot #145, he flew 102 missions over North Vietnam and Laos from 1969-1970.
In total, Jack flew 572 F-100 combat missions.
He says he "Never had an Air Force job that didn't involve flying of some kind! (Even if I don't talk about the C-131 very much?)" and that he actually knows John Egan!
His career took him from Aviation Cadet to Lt. Col.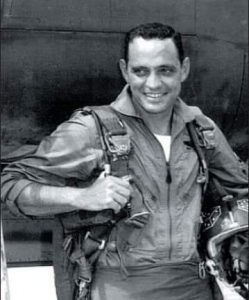 Logan "Jack" Doub (Lt Col USAF, Ret) "Headed West" on January 13, 2017
Retired Lt. Col. Logan "Jack" Doub, Sr.-82 of Valdosta, Ga. passed away on January 13, 2017. He was born on August 28th, 1934. Jack Doub split his time between Valdosta and Santa Ynez and San Diego, California, and Dallas, Texas. Jack was the most decorated fighter pilot from the Vietnam War. He has the record of 575 combat missions in the F-100.
After 22 years in the Air Force and work at the Pentagon, he retired to the private sector. He had private businesses and loved spending time with his grandchildren and the children of Pam and Bill Gnekow of Buellton. Jack was a dedicated supporter of the Santa Ynez Pirates Women's Basketball team and football team. He traveled to every volleyball, basketball, football game that he could.
Jack was a charter member of the Super Sabre Society and Commando Society, call sign "Misty", generally regarded as the World's Greatest Fighter Pilots.
He held the hearts of many. Jack is survived by two sons, Logan J. Doub Jr. and Scot Doub. Their wives Angie and Kim and 5 grandchildren: Jade, Landen, Luke, Alexa, and Trey, and goddaughter Briana Gustafson.
There was a Military Memorial at Avenue of the Flags, Buellton, and CA, on March 5, 2017, followed by an open reception, hosted by William and Pam Gnekow and Family. All friends and Veterans were invited.
The Memorial was officiated by Alvin Salge, VFW Post 7139 commander, Pastor Rick Murray of the Santa Ynez Valley Presbyterian Church, Vandenberg Air Force Base color guard.
The world lost a war hero, we lost our heart. (1)
Jack did not want a funeral or "any monument" and instructed son Scott to organize a big open bar party that lasted "as long as anyone is there to have another free drink".
A Jack Doub farewell party event was held on Saturday, January 28, 2018, at the Q Deli Bar in Valdosta, GA. All SSS members were invited.
The SSS membership said "We lost another great F-100 pilot who started in the F-86 Sabre Jet and went on to fly the next great fighter, the Super Sabre, for 11 years. He flew this great jet in the most challenging and hazardous environments;  in combat at the height of the Vietnam War, and later as Misty 145 flying in combat over the Ho Chi Minh Trail, where prisoners only rarely survived. He holds the record for F-100 combat missions: 572. He ended his F-100 flying days as Active Air Advisor to the Terre Haute Indiana Air National Guard, the last military unit to fly the Super Sabre.
Jack was a charter member of the Super Sabre Society and a frequent contributor to our journal, The Intake. His contagious personality filled any room. Jack was clever, very curious and a joy to all his friends.
Jack really loved both flying and people. We miss you, Jack!
Source (1) https://syvnews.com/lifestyles/announcements/obituaries/logan-jack-doub/article_24492b7b-4a6b-5da8-872f-1775dd56ff10.html
Pilot Training, Class -57F, Spence/Bryan (T-34, T-28, T-33)
1957-1959 357th FS, Nouasseur AB, Morocco (F-86)
1959-1960 Flight Test, Moody AFB, GA (T-33, F-86)
1960-1963 UPT IP, Reese AFB, TX (T-33)
1963-1966 BIS IP, Randolph AFB, TX (T-33, T-38)
1964-1965 Bootstrap, Univ. of Omaha, NE
1966 4514th CCTS, Luke AFB, AZ (F-100)
1967 90th TFS, Bien Hoa AB, RVN (F-100)
1968-1969 CinC Briefer, PACAF HQ (T-33)
1969 510th TFS, Bien Hoa AB, RVN (F-100)
10/1969-5/1970, Misty 145 (F-100F)
1970 531st TFS, Bien Hoa AB, RVN (F-100)
1970-1971 Student, Army Command & Staff, Ft. Leavenworth, KS (T-41)
1971-1973, TAC AIR Instructor, Army Command & Staff, Ft. Leavenworth, TX (T-41, C-131)
1973-1977, 181st Tac Fighter Group, IN ANG, Terre Haute, IN (F-100)
1977 Retired from USAF
T-34
T-28
T-33
F-86
T-38
F-100
T-41
C-131
Military & Civilian Education
Military Education:
1958 Preflight, Aviation Cadets, Lackland AFB, TXUSAFE E&E, Ramstein AB, GE
1960 BIS, Randolph AFB, TX
1962 SOS
1963 IPIS, Randolph AFB, TX
1966 4514th CCTS, Luke AFB, AZ
1966 USAF Survival School, Fairchild AFB, WA
1969 F-100 Requal, Cannon AFB, NM
1969 USAF Water Survival, Homestead AFB, FL
1969 USAF Jungle Survival, Clark AB, PI
1970 Army C & S, Ft. Leavenworth, KS
1971 Industrial College, DOD
1971 Academic Instructor Course, Maxwell AFB, AL
Civilian Education:
BS, Univ. of Omaha, 1965 (Bootstrap)