Date of Birth: January 2, 1944
Highest Military Grade Held: 0-5 – Lieutenant Colonel
I may have gotten to the game late compared to the warriors who flew the F-100 and F-105 during the '50s and early '60s, but I got there as fast as I could.
My first hero was Captain Dick Hackford (RIP), my T-38 instructor with a "100 Missions F-105" patch on his shoulder.  I was riveted by his stories of Rolling Thunder.  I wanted to be a fighter pilot hero just like him and pick a "Thud" on graduation.  But that was not to be; my class got two dozen F-100s.
Arriving at Luke in '67 I was not to be disappointed. My two greatest memories of Hun training was an occurrence during my first week when a Starfighter crashed on takeoff and a Hun crashed in the final turn.  My roommate, Major Elmer Slavey (RIP), stated: "Welcome to the world of fighters kid;" and later in training my first solo low level at the bottom of the Grand Canyon.
In Vietnam, Bien Hoa allowed me to join the last great generation of warriors the air force has ever had. I loved it so much I got to do it again in '72 albeit in the Phantom II.  The good news was both of my F-4 squadron commanders were Hun pilots too.
No offense to the guys today, but the life that these men led will never be replicated.  I was lucky to get in on the tail end and get a glimpse when they were willing to open up and talk about it.  It all ended in the mid-eighties when political correctness became the rule.
Now the SSS carries on in our memories and in our great magazine.  Thanks to all the great men who flew the Hun (and some other great fighter jets too).
1966-1967 Undergraduate Pilot Training, Vance AFB, OK (T-41, T-37, T-38)
1967-1968 Combat Crew Training, Luke AFB, AZ (F-100)
1968-1969 90th Tactical Fighter Squadron, Bien Hoa AB, Vietnam (F-100)
1969-1971 76th Fighter Training Wing, Instructor Pilot, Vance AFB, OK  (T-38)
1972 25th Tactical Fighter Squadron, Ubon AB, Thailand  (F-4)
1973-1974 425 Tactical Fighter Training Squadron, Williams AFB, AZ (F-5)
1975-1976 58th Tactical Fighter Training Wing, Luke AFB, AZ (F-5)
1977-1979 Operations Staff, HQ TAC, Langley AFB, VA
1979 Armed Forces Staff College, Norfolk NB VA
1979-1981 57th FWW, Nellis AFB NV (F-5)
1981-1983 PACAF IG, Hickam AFB, HI
1983-1984 Air War College, Maxwell AFB, AL
1984-1986 57th FWW, Nellis AFB,  NV (F-5)

Silver Star with 2 Oak Leaf Clusters

Distinguished Flying Cross with 3 Oak Leaf Clusters

Air Medal with 37 Oak Leaf Clusters
1970 Air Force Association "Citation of Honor"
T-41
T-37
T-38
F-100
F-4
F-5
Military & Civilian Education
Military Education:
1979 Armed Forces Staff College
1984 Air War College
Civilian Education:
1966 BA, University of Nebraska
1980 MBA, Golden Gate University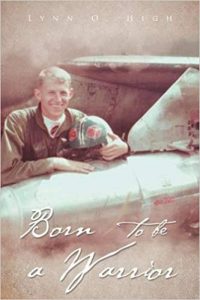 Born to be a Warrior – by Lynn O High  (Author)
Flying at 500 miles per hour over North Vietnam in August 1972, a 14.5mm armor-piercing incendiary anti-aircraft bullet rips through the cockpit striking the author in the chest. The impact renders him instantly unconscious. How did he survive? What miracle of fate kept this highly decorated combat fighter pilot alive? Find out in chapter 39. From twisting and turning along the bottom of the Grand Canyon in an F-100 "Super Sabre" (yes that was legal in 1967) in chapter 3, to diving through a thousand foot overcast saving nineteen army soldiers while almost hitting the ground due to the extreme weather situation in chapter 14; this is how heroes are made.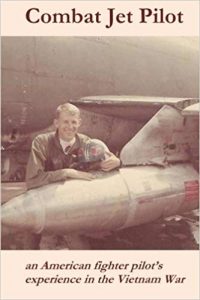 Combat Jet Pilot: An American fighter pilot's experience in the Vietnam War – by Lynn O. High
An account of the over 450 combat missions flown by the author in the Vietnam War. The author is a highly decorated fighter pilot having been awarded three Silver Stars, four Distinguished Flying Crosses, and the Purple Heart. His account of being shot over North Vietnam and living to tell will keep you on the edge of your seat. His stories are filled with dialogue bringing the combat action directly to the reader. His method to overcome boredom was most unconventional as he flew 28 additional missions in helicopters and FAC aircraft.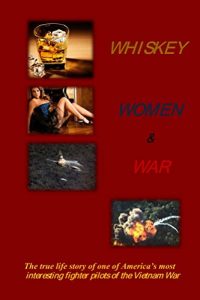 Whiskey Women & War by Lynn High
The Vietnam War was no ordinary time. It was a time of turbulence with women's liberation, a new drug culture, and massive protests of government. It was a time of heroes when young men heard the call to serve their country. For hotshot fighter pilots like the author, it was also a time of booze, sex and the thrill of combat. This is the story of one of those young men – a true American hero – who served two tours of duty in Vietnam flying over 450 combat missions as a fighter pilot. Fighter pilots were at the top of the pyramid. His stories are raw, fearsome and fraught with personal behavior that today would risk being court-martialed.
Lynn O. High is the author of several other books on finance: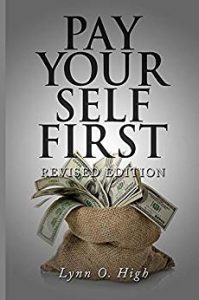 Pay Yourself First by Lynn High
Do you want to be wealthy someday? Most people do but simply don't know-how. This book contains a 3,000-year-old secret. It is NOT a get-rich scheme — they never work. All you need to do is Pay Yourself First. If you put yourself in front of your mortgage or rent, your utilities, car payment, food, etc. you will attain wealth if you follow the three secrets in this book. And the only price you will ever pay for this knowledge is the price of this book. No seminar fees, no multi-level recruiting, no software to buy. Just the price of this book. This book was originally published in 1984 and since then thousands of people have achieved their financial goals. Do you want to be next?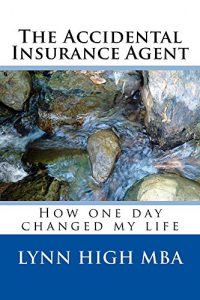 The Accidental Insurance Agent – by Lynn High
In 1986 I had a life-changing event. I lost my dream sales job selling jet fighter aircraft around the world due to an act of Congress. I was mortified. I had entered the selling arena five years prior to this even when I obtained a Series 7 license and sold limited partnership offerings while I lived in Honolulu, Hawaii. With that experience, I was quickly offered the chance to sell personal life insurance for a major fraternal organization. I lasted seven months. I failed, not because I couldn't sell (I set three sales records for them) but because I was not able to make cold calls. I left the industry with my tail between my legs and banished myself to Saudi Arabia as a contract consultant. During my time in Saudi, I read sales book after sales book. In one year I returned to a new chance to sell insurance to banks. My third time at selling became a huge success. I was even Agent of Year four times. I made it. This is my story of success, failure, and then an ultimate triumph.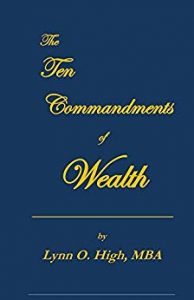 The Ten Commandments of Wealth by Lynn High
Ten commandments do exist for gaining wealth.
They are simple and straightforward.
Anyone who has a job can become wealthy if he knows how and has the discipline.
The purpose of this short book is to show you how.
The rest is up to you.