Date of Birth: March 26, 1937
Headed West: July 22, 2020
Highest Military Grade Held: 0-6 – Colonel
I had pilot training at Marianna, FL and Greenville, MS, then F-100 training at Luke and Nellis. I served in the Fight'en Tenth TFS, Hahn AB Germany as a Victor Alert Pilot for four years and as an F-100 instructor.
I then served four years at Del Rio, TX as a T38 Instructor and Academic Instructor, separated from active duty in 1969, and worked for the Louisiana ANG as an alert pilot in the F102 and transitioned into the F-100 and served as a Technician Instructor and 122TFS Commander.
My next move was to GA ANG at Dobbins AFB in 1973 to transition the unit into F100s. I served as the 116TFG/DO and then as 116TFW/DO and Technician Air Commander, then returned to the LA ANG in 1979 at New Orleans as the 159TFG/CC to convert the unit to the F4.
In 1983 returned to active duty as the Reserve Forces Advisor to the 12AF/CC at Bergstrom AFB. I accepted the 125FW/CC position on active duty in the FL ANG at Jacksonville in 1987 and served until retirement in 1990.
After retiring from the USAF, I worked for the FAA from 1990-2000 as an Aviation Safety Inspector and checked out in the B-727 and B-737.
I presently live in Fort Mill, SC and terrorize the golf course.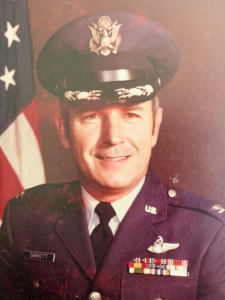 Marion Donald Garrett "Col USAF, Ret) "Headed West" July 22, 2020
From son Donald Garrett: Marion Donald Garrett (Col USAF, Ret) my father, flew west during the night after a hard-fought battle with a sudden illness.
His career in the Air Force and Air National Guard lasted for 32 years and he flew Huns, Deuces, Thuds, Phantoms, and Vipers. Luke, Nellis, Hahn, Del Rio, NAS New Orleans, Dobbins, and Jacksonville were the places we called home.
After he retired, he went to work as an Aviation Safety Inspector for the FAA. I always thought that it was so he could see old friends on the flight deck and reminisce about the fighter days. He was a good guy and a shit hot fighter pilot.
My dad was my hero as I was growing up, and I wanted to be just like him. I was fortunate to follow in his footsteps. I would never be able to fill his boots. I love you, dad.
(More information to follow as it becomes available.)
1961-196510TFS/50TFW Hahn AB (F-100)
1965-1969 3640FTW Del Rio, TX (T-38)
1969-1973 159 TFG/LA ANG (F-102, F-100)
1973-1979 116TFW/GA ANG (F-100, F-105)
1979-1983 159 TFG/LA ANG (F-4)
1983-1987 12AF HDQTRS. Bergstrom AFB (F-4, F-16)
1987-1990 125TFW FL ANG (F-16)
F-100
T-38
F-102
F-105
F-4
F-16
Military & Civilian Education
Military Education:
Pilot Instructor TrainingAcademic Instructor Training
Interceptor Weapons Instructor Training
Air Command and Staff College
Industrial College of the Armed Forces
Civilian Education:
Furman University
University of Maryland