Date of Birth: September 23, 1929
Headed West: May 10, 2021
Highest Military Grade Held: 0-5 – Lieutenant Colonel
In his words…
Even though this story is not about the F-100, I did fly the Hun from 1957 till 1972, taking a 15-month "break" to fly the Spad in Vietnam.  I got about 3500 hours in the F-100 C, D, and F models.  My last flight in 1972 was with the 48th TFW at RAF Lakenheath, UK, the last active duty Fighter Wing equipped with the F-100.  I certainly have some wonderful memories of that old bird.
Mel's Story…Bailout at Plei Me
On October 19, 1965, I was assigned to lead a flight of four  A-1E's from the 1st Air Commando Squadron, then stationed at Bien Hoa AB, RVN, scheduled for a routine "0-dark-thirty" combat mission in South Vietnam. Just before our takeoff, we were told to divert to the Plei-Me Special Forces camp, about 30 NM south of Pleiku.
The departure and flight to Plei-Me were uneventful.  Arriving just before dawn, we circled and watched a flight of F-l00s working in the area with a C-123 flare ship with a FAC aboard.  When the F-100s had expended their ordnance we were directed into the target area, and told the compound was in trouble from an attack by what was later determined to be regular North Vietnam troops (the first confirmed in South Vietnam).
Two days later, on Sunday, October 21st, I was in the officer's club having a drink with a friend from Hurlburt who was flying the AC-47 gunship, (known as Puff the Magic Dragon, Dragonships or Spooky) when the phone in the club rang.  It was the command post asking for A-1E pilots to go on alert.
Four pilots including me, picked up our flight gear, proceeded to the aircraft, and "cocked" the birds for alert.  We had just loaded our gear in the planes when the command post called and ordered (the first) two planes to launch.  About two hours later (me and my wingman) scrambled and were told that we should proceed to Plei-Me and to then rendezvous with a flare ship and an Army Caribou (C-7) at 12:30 AM.  We completed the rendezvous with the flare ship. We then set up an orbit around Plei-Me to wait for the Caribou while the flare ship was keeping the area lit from above the clouds.
I'm hit
After about an hour of orbiting, I advised the flare ship that we would be able to stay in the area longer if we expended the external ordnance we were carrying: napalm, CBU (cluster bombs) and rockets.  The compound marked an area with a mortar round, and we expended our external ordnance.
About 2:15 AM, I requested the status of the Caribou and told it had been canceled for that night.  I told the flare ship and compound that we would have to leave the area shortly, but that we could strafe any likely areas with our 20m cannon before leaving.  The compound again marked an area with a mortar round, and I rolled in on a strafing pass.
As I pulled off the target I noticed that things were quite bright.  I looked at my left wing and it was ablaze!
I called my wingman, Robert Haines, to tell him that I was on fire. I decided my best plan was to maneuver over the compound and bail out (no Yankee extraction system back then).  Before I could get into position over the compound, the flares went out, so it was impossible to see the ground.  I continued in the orbit, at approximately 800 feet AGL… suddenly my aircraft controls failed and I notified all concerned that I was bailing out immediately.
Over the side
As I was attempting to bail out, I got stuck against the rear part of the left canopy.  My helmet was blown off immediately when I stuck my head out of the cockpit (a few days earlier I had cut the chin strap off my helmet because the snap on it had become corroded and wouldn't unfasten after a mission). At this point, the aircraft was out of control and was rolling, due to the fire burning through the left wing.
I finally freed myself from the aircraft and reached for the D-Ring, but it was not in the retainer pocket on the parachute harness where it was normally stowed.  Luckily, I found the cable and followed it to the ring, pulled it, and the chute opened.  Shortly after that, some flares lit, and I could see that I was going to land in some trees outside of the compound.  Stuck in the trees about fifty feet above the ground, I bounced up and down to make sure that the chute was not going to come loose, then swung over to the trunk of the tree and grabbed a nearby vine.  I had lost my hunting knife during the bailout, so I was forced to abandon the survival kit that was a part of the parachute as I worked my way out of the chute harness.
After climbing down the vine, I sat down for a short time to think about my situation and take stock of what remained of my survival equipment.  I had a .38 caliber revolver with five rounds of ammo, a pen-gun-flare, a strobe light, a two-way radio (which at times was a luxury to A-1 pilots), my Mae West, and a brand new "chit book" from the Bien Hoa Officers Club.
After regrouping, I got out the two-way radio and contacted my wingman, who was orbiting the area.  I told him I had him in sight and advised him when he was directly above me. Then I instructed him to fly from my position to the compound so I'd know which direction to head in my attempt to make it to safety.  About thirty minutes later, Haines had to leave the area and proceed to Pleiku because he was running short on fuel.
A failed rescue attempt
I proceeded toward the compound, and just when I thought I was getting close to the perimeter, a heavy fire-fight broke out, so I found a likely place to hide and stayed there the rest of the night.  Shortly after dawn, I spotted an O-1 aircraft orbiting the area, turned on my strobe.
I stayed hidden where I was all day, and just after dusk, the Bird Dog (same pilot) told me that a Huey was coming to get me out.  Shortly afterward, the Huey and I made radio contact, and he told me to get into the best position I could to get picked up.  The Huey arrived on the scene, and I moved from my hiding place onto a small trail through the brush.  When the Huey came around with lights out, I turned on my strobe.  The Huey made two orbits and on the third circle came in and turned on his floodlight.
At that point, a .50 caliber machine gun opened fire about fifty yards from my position. The Huey turned his lights off and left the area.  I put the strobe in my pocket and got off the trail into the brush and laid low.
About ten minutes later, two North Vietnamese soldiers came down the trail with a flashlight. I was about twenty feet off the trail and flat on the ground. The soldiers were chatting as if they were out for a Sunday stroll, sweeping their flashlight from one side of the trail to the other.  One of the sweeps came to within about two feet of me; the next sweep was beyond me. After the two soldiers were satisfied that I was not in the area, I moved to a new hiding place and settled down for the rest of the night, but there was no sleep for me because aircraft were in the area the entire time I was on the ground.  Between them and the mortars, it was quite noisy.
As dawn approached (my second on the ground), I heard the familiar sound of a C-47.  I got out of my hiding place and saw an AC-47 orbiting with the business side towards me.  The aircraft made a couple of orbits as I was going around the trunk of a large tree much like a treed squirrel who is being hunted.  Soon after that, the AC-47 sent a couple of short bursts and then left.
After two nights in the jungle, another Bird Dog arrived and advised me that a chopper was coming to pick me up and told me to get into a suitable area.  I moved into an opening clear of brush but full of five to six feet high grass, that was swampy.  Upon reaching the middle of this clearing I contacted the FAC and was advised that the chopper had been diverted on a "HIGHER PRIORITY" mission.
This was really the only time while I was on the ground that I was completely demoralized.  I proceeded back to my nighttime hiding place and decided that I was going to move away from the Special Forces compound to make it easier to get picked up.  During the move, about a half to three-quarters of a mile, I came across a small stream, washed my face up a bit, and washed my mouth out.  This made me feel somewhat better.
I came upon rising terrain and climbed up until I came upon a fair sized clearing.  I spotted a clump of bamboo suitable for a hiding place and headed for it. Suddenly, something darted out of it, scaring me half to death.  After my heart started again, I saw that it was a wild pig.  I proceeded into the bamboo thicket and contacted a Bird Dog orbiting overhead.  He said to come on the air again in fifteen minutes.
When I turned my radio on again, I heard several pilots talking on "GUARD," several of whom I recognized as A-1E pilots.  The FAC said that an HH-43B AF rescue chopper was about five minutes out and that the A-1Es would be dropping napalm along a tree line about one hundred yards from my position.  He advised me to move into the middle of the clearing as soon as the A-1Es flew over.  Doing this, I spotted the H-43 coming directly toward me, about twenty feet off the ground.  The pilot got into position but had to hover because of brush in the grass. I was forced to crawl through it to the chopper.   When I clambered aboard, I was dragging a tangle of vines that grew in the grass.
The PJ on the chopper was hanging out the door, and I stepped on what I thought was a skid—but instead, it was a wheel!  As soon as I reached up, the PJ told the pilot he had me, and away we went.  The wheel rotated, and I slipped off it.  This left me hanging in mid-air, arm in arm with the PJ as we rose quickly from the grassy field.  I looked up at him and told him I was not going back down there alone, which no doubt inspired him to even greater efforts as he pulled me into the chopper.
The pickup was at about noon.  I had been on the ground for about thirty-six hours.
After debriefing and being checked over by the Doc, I asked if my wife in Phoenix had been notified of this episode, but I could not get a definite answer.  I explained why I was calling, and (the Operator) put the call through immediately.  My wife had not yet heard anything about my bailout and ultimate rescue, so I briefly told her about my adventure.  After we hung up, she got a copy of the local newspaper which had my picture on the front page, along with the rest of the story.
There is no way of saying thanks to all the people involved in a successful rescue mission and there is no way to tell someone who has not been through such an ordeal what it is really like.
For Mel's full story see The Intake, Volume 4, story begins on page 28. https://supersabresociety.com/the-intake-journal-of-the-super-sabre-society/the-intake-journal-of-the-super-sabre-society-archives-2/intake-issue-4-summer-2007/
Melvin Elliott (LtCol USAF, Ret) "Headed West" on May 10, 2021.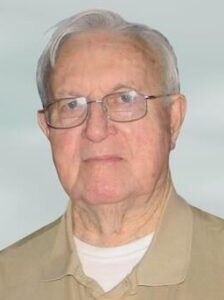 Glendale, AZ –  Melvin C. Elliott, 91, passed away surrounded by his children on May 10, 2021, and was reunited with Pat, his best friend, and wife of 61 years. He was born September 23, 1929, in Spavinaw, OK to John and Georgia Elliott. He enlisted in the U.S. Army Air Corps in 1946. After seven years as a radio operator, including a tour during the Korean War, he entered aviation cadet training and earned his pilot wings and his commission as a 2nd Lieutenant in 1954. For most of the next 20 years, he served as an F-84 and F-100 pilot. He fought during the Vietnam War flying the A-1. He retired from the U.S. Air Force as a Lt. Colonel in 1974 and rejoined his family in their long-time home in Glendale.
Mel met and married 1st Lieutenant Patricia Hodgens at Turner AFB, GA in 1956; he made good on his promise to take care of her until her passing in 2018. Mel is survived by son, Edward Elliott and wife Nora of Durham NC; daughter, Kathy Sparks and husband Mark of Glendale, AZ; daughter Barbara Westbrook and husband Darrel of Gainesville, TX; brother, George Elliott; six grandchildren and three great-grandchildren with his first great-great-grandchild on the way.
Mel was a wonderful husband, father, Popo, and friend to all; he spent his life serving others through his long military career, volunteering and being there for anyone who needed him. He was interred with his beloved wife in the National Cemetery of Arizona on June 18, 2021,  with a celebration of life at his daughter Kathy's home.
1946 Entered U.S. Army Air Corp
1947-1949 1962nd AACS SQ, Ground radio operator, Okinawa, Japan
1949-1950 Sherman Field, KS
1950-1952 AACS SQ, Korea
1952-1953 Lake Charles AFB, LA
1953-1955 Pilot Training Aviation Cadet (Class 55D)
1955-1957 309th Fighter Bomber Squadron/Tactical Fighter Squadron, 31st SFW/TFW, Turner AFB, GA (F-84F, F-100D)
1957-1958 306th Tactical Fighter Squadron (F-100D/F)
1958-1961 67th Tactical Fighter Squadron/18th Tactical Fighter Wing,  Kadena AB, Japan (F1-00D/F)
1961-1964 4510th Combat Crew Training Wing, Luke AFB, AZ  (F-100 C/D/F)
1964-1966 1st Air Commando Squadron, Bien Hoa AB, Vietnam (A-1 E/G)
1966-1968 4510th Combat Crew Training Wing, Luke AFB, AZ  (F-100 C/D/F)
1968-1972 48th Tactical Fighter Wing, Lakenheath RAF, England (F-100 D/F)
1972-1973 19th Tactical Support Squadron, Osan AB, Korea (O-2A) ALO to 2nd Infantry Division at Camp Casey
1973-1974 12th AF HQ
5/1/1974 Retired USAF (Bergstrom AFB)
F-84 E/F
F-100 C/D/F
A-1 E/G
O-2 A
Military & Civilian Education
Military Education
1946 Basic Training Lackland AFB, TX
1947 Radio Operator (AACS) Scott AFB, Ill
1953 Pilot Training (Aviation Cadet), Lackland AFB, TX (PreFlight)
1954 Bartow AB, FL (Primary)
1954 Bryan AFB, TX (Basic)
1954 Laughlin AFB, TX (Fighter Lead-In)
1955 Luke AFB, AZ F84E/F84F (Split Tail)
1959 Fighter Weapons School, Nellis AFB, NV
1964 A-1E Checkout, Hurlburt Field, FL
1972 O2A Checkout, Hurlburt Field, FL
Civilian Education
1946 High School, Talala, OK