Nickname/Call Sign: MP/Porky
Date of Birth: August 28, 1928
Headed West: July 16, 2014
Highest Military Grade Held: 0-5 – Lieutenant Colonel
"So far, this has been one hell of a fine ride, and we ain't pulled into the station yet!!"
After serving in the USAF, Mike had a number of interesting businesses. He was a Real Estate Broker, a swimming pool contractor (800+), a Regional Sales/Tech Rep for industrial biocides, had a  fabric cover/antique aircraft restoration biz, and was a hot sauce entrepreneur.
His hobbies included, sports aviation, Confederate AF, Courtesan, and he was part of organizations that included the VFW, Daedalians, (former), Confederate Air Force, River Rats, Man-Will-Never-Fly-Society, Air Force ASSN, and the Super Sabre Society.
Mike had attended the Maron Military Institue and said that  "Approximately 70% of the students at Marion Military Institute had appointments to West Point or Annapolis. The other 30% had daddies that wanted their boys out of jail. I never could pull that appointment deal together." -Porky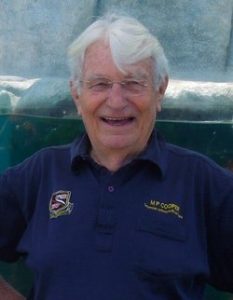 Michael P. Cooper (LtCol USAF, Ret) "Headed West" on July 16, 2014
Lt. Col. (ret.) Michael P. Cooper, age 80, died Wednesday at home. Born in Montgomery, AL, he was the son of the late Guy Harris and Mary Patricia Flint Cooper. He was a member of St. Stephen's Episcopal Church and had served his country proudly in the United States Air Force as a Pilot. A decorated Vietnam Veteran, he was a recipient of the Silver Star. Michael was a member of the River Rats Association – Red River Valley Pilots; the Birdman Society – Men will Never Fly; the Quiet Birdmen – QB. He was also the proud founder of Mile High Hot Sauce Company.
Lt. Col. Cooper is survived by the love of his life, Rose Morrison Cooper; a son, David Cooper of Raleigh; and a daughter and son-in-law, Caroline and Eddie Hinson; and four grandchildren, Ashley Cooper, Megan Cooper, Adam Hinson, and Noah Hinson.
A memorial service honoring his life was held at St. Stephen's Episcopal Church with Rev. Jill Beimdiek officiating. Inurnment was held at a later date at Arlington National Cemetery which included a fly-by in his honor.
In lieu of flowers, the family requests that memorial contributions to St. Stephen's Episcopal Church, 200 N. James St., Goldsboro, NC 27530.
3/1953-10/1953 USAF pre-cadet James Connelly AFB, TX
10/1953-2/19554 Aviation Cadet Preflight, Lackland, TX
2/1954- 8/1954 Primary, Spence AB, GA (PA-18, T-6G)
8/1954- 2/1955 Basic, Webb AFB, TX
8/1954- 2/1955  Graduated- Lt, USAF jet fighter pilot! (T-28, T-33)
2/1955-4/1955 Gunnery training Phase 1, Laughlin AFB, TX
4/1955- 9/1955 Gunnery training, Phase 2, Luke AFB, AZ (T-33, F-80C)
9/1955- 8/1957 614th FIghter-Bomber Squadron, England AFB, LA (F-84E/G, F-84F (split tail))
8/1957- 6/1958 613th Tactical Fighter Squadron, England AFB, LA (F-84F/F-100D)
6/1958- 5/1959 614th Tactical Fighter Squadron, England AFB, LA (F-100D/F)
6/1959- 6/1962 430th Tactical Fighter Squadron, Cannon AFB, NM (F-100 D/F)
6/1962- 5/1964 36th Tactical Fighter Squadron, Itazuke AB, Japan (F-100 D/F)
5/19646/1965  36th Tactical Fighter Squadron, Yokota AB, Japan (F-100 D/F, F-105D)
7/1965-8/1968 (13 counters North, Gulf of Tonkin, Rolling Thunder, Korat AB/Takhli AB, Thailand (F-105 D/F)
334th Tactical Fighter Squadron, Seymour Johnson AFB, NC (F-105D/F, F-4D) (total of 102 north in F-105D)
1968 Takhli AB, Thailand, zero North Korea, pueblo  (F-4D)
8/1968- 6/1971 71st Tactical Fighter Squadron, McDill AFB, FL (F-4E)
7/1971-7/19672 555th Tactical Fighter Squadron, Udorn RTAFB, Thailand
8/1972- 1/1973 334/336th Tactical Fighter Squadron, Seymour Johnson AFB, NC(F-4D-156 total, one-third north, zero migs)
6/1973 4th Fighter Squadron puke (F-4E)
1/1973- Retirement
8/1991 Retirement from Military
PA-18
T-6G
T-28
T-33
F-80C
F-84 E/F/G
F-100D/F
F-105 D/F
F-4 D/E
Military & Civilian Education
Military Education:
US Army Parachutist Training (jump school)
US Army Field Surveyors School
USAF Pilot Training- s/e jet
Advanced Jet Fighter Training (gun school)
Fighter Weapons School – F-100
All other standard fighter pilot training, ie: advanced, Artic, 2x water, 2x jungle, survival schools, 2x fac, AGOS, SOS, 5 months TFY to afxopfl Pentagon
Civilian Education:
1950-1951 HS- Marion Military Institute
1952 JC- Marion Military Institute
Alabama Polytechnical Institute
LtCol Michael P. Cooper's Flyover 2015 (aircraft show up at minute 2:25 on video).