Robert J. Graham
---
Preferred Name: Bob
Nickname/Call Sign: Bob
Date Of Birth: 11-28-1934
Highest Military Grade Held: Colonel, O6
Hometown: Bloomfield, NJ
Bob Graham – Caterpillar Club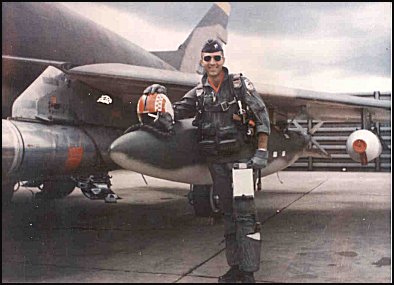 In November 1964, I was with the 531st TFS. We were deployed to Clark AB in the Philippines from England AFB, Louisiana. I was flying as an IP in the backseat of an F-100F.
On takeoff, we took some groundfire at the end of the runway from what was presumed to be a group of Huk Guerillas. Some rounds hit the generator, fuel tank and a bunch of other stuff resulting in explosions and a massive fire from forward of the wing root down the length of the fuselage. Apparently it was quite a spectacular sight from the ground.
We were over a populated area (the city of Angeles and surrounding villages) so we could not punch off the stores or eject. We managed to get the bird up to a low downwind thinking that we might be able to get it back down on the runway. However, as we turned base, fortunately over a wide open unpopulated area, the flight controls burned through and we ended up ejecting slightly nose down and inverted at about 800 feet.
My chute did not have a chance to fully deploy so I hit pretty hard but, fortunately, in the middle of a narrow stream about four feet deep running through the elephant grass. All in all, it was a tough way to start the day but it could have been a lot worse.
-Bob Graham

Units Assigned
1953 953 953-1955 Enlisted and Avia Aviation Cadet
1956 956 956-1959 Navigator, 60 60th th FIS, Otis AFB, F F-94c/F F-101B
1959 1959-1960 Pilot Training, Bainbridge, GA; a and Laredo, TX
1960 1960-1964 Pilot, 531 531st st TFS, Misawa, Japan, F F-100
1962 TDY, Da Nang, Vietnam, L L-19
1964 1964-1966 Pilot, 531 531st st TFS, England AFB, LA; Bien Hoa, Vietnam, F F-100
1966 1966-1969 Gunnery Instructor, 4511 CCTS, Luke AFB, AZ, F F-100
1969 1969-1972 Asst. DO and Chief of Maintenance, Incirlik AFB, Turkey
1972 Pilot, Checkout, George AFB, CA, F F-4
1973 1973-1974 Squadron Commander, 4TFS, Udorn AFB, Thailand, F F-4E
1974 1974-1975 Air Staff, Pentagon, DCS Plans
1975 1975-1976 Air War College
1976 1976-1978 Plans & Programs, AFLC Headquarters, Wright Patterson AFB, OH
1978 1978-1980 DCO, 51 51st st TFW, Osan AFB, South Korea, F F-4E
1980 1980-1982 Director of Programs, USAFE, Ramstein AFB, Germany
Military Education
Pilot Training
Navigator Training
Industrial College of the Armed Forces
Air War College
Civilian Education
B.S., University of Nebraska
M.B.A., Auburn University
Bob Graham – Caterpillar Club

In November 1964, I was with the 531st TFS. We were deployed to Clark AB in the Philippines from England AFB, Louisiana. I was flying as an IP in the backseat of an F-100F.

On takeoff, we took some groundfire at the end of the runway from what was presumed to be a group of Huk Guerillas. Some rounds hit the generator, fuel tank and a bunch of other stuff resulting in explosions and a massive fire from forward of the wing root down the length of the fuselage. Apparently it was quite a spectacular sight from the ground.

We were over a populated area (the city of Angeles and surrounding villages) so we could not punch off the stores or eject. We managed to get the bird up to a low downwind thinking that we might be able to get it back down on the runway. However, as we turned base, fortunately over a wide open unpopulated area, the flight controls burned through and we ended up ejecting slightly nose down and inverted at about 800 feet.

My chute did not have a chance to fully deploy so I hit pretty hard but, fortunately, in the middle of a narrow stream about four feet deep running through the elephant grass. All in all, it was a tough way to start the day but it could have been a lot worse.

-Bob Graham


Units Assigned

1953 953 953-1955 Enlisted and Avia Aviation Cadet
1956 956 956-1959 Navigator, 60 60th th FIS, Otis AFB, F F-94c/F F-101B
1959 1959-1960 Pilot Training, Bainbridge, GA; a and Laredo, TX
1960 1960-1964 Pilot, 531 531st st TFS, Misawa, Japan, F F-100
1962 TDY, Da Nang, Vietnam, L L-19
1964 1964-1966 Pilot, 531 531st st TFS, England AFB, LA; Bien Hoa, Vietnam, F F-100
1966 1966-1969 Gunnery Instructor, 4511 CCTS, Luke AFB, AZ, F F-100
1969 1969-1972 Asst. DO and Chief of Maintenance, Incirlik AFB, Turkey
1972 Pilot, Checkout, George AFB, CA, F F-4
1973 1973-1974 Squadron Commander, 4TFS, Udorn AFB, Thailand, F F-4E
1974 1974-1975 Air Staff, Pentagon, DCS Plans
1975 1975-1976 Air War College
1976 1976-1978 Plans & Programs, AFLC Headquarters, Wright Patterson AFB, OH
1978 1978-1980 DCO, 51 51st st TFW, Osan AFB, South Korea, F F-4E
1980 1980-1982 Director of Programs, USAFE, Ramstein AFB, Germany

Military Education

Pilot Training
Navigator Training
Industrial College of the Armed Forces
Air War College

Civilian Education

B.S., University of Nebraska
M.B.A., Auburn University