Date of Birth: August 14, 1933
Headed West: May 18, 2014
Highest Military Grade Held: 0-5 – Lieutenant Colonel
After serving in the USAF, Bob Blocher worked as the Business Manager of Mountain States Research & Development subsidiary of MSME in Tucson, AZ. From 1983-1984 he was the Director of Corporate Planning at Mountain States Mineral Enterprises, Inc., in Tucson, AZ. From there he and his wife Sandy became Co-owners and operators of their own commercial pecan tree orchard from 1995 – 2008 in Elfrida, AZ. They retired in 2008 and began living the good old life in Sahuarita/Green Valley, AZ.
Bob spent many hours volunteering Voluntary services since 1980 USAF Retirement including Vice President Health Systems Agency of Southeastern Arizona Board of Directors, Tucson, AZ from 1984 – 1987; Founding Director Chiricahua Community Health Centers, Inc., (clinics in Elfrida, Douglas, &
Bisbee) from 1995-2008; Supervisor & Vice Chairman; Whitewater Draw Natural Resources Conservation District (NRCD), 1996 – 2004; Founder, Editor, & Publisher of Elfrida Vision News – a quarterly newspaper from 1998 – 2000; Vice-Chairman, District 2 Cochise County Board of Adjustment, Bisbee, AZ from 2003-2008; and Director, Arizona Pecan Growers Association. 2004- 2008.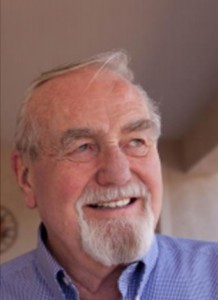 Robert M. Blocher (LtCol USAF, Ret) Headed West May 18, 2014.
Robert M. Blocher, 1933-2014, West Point Academy graduate and USAF Veteran Fighter Pilot, will be buried at Arlington National Cemetery with full honors on Nov. 19, 2014 at 1 p.m.
Bob is survived by his loving wife Sandy, children Katharine and Robynn, two granddaughters, one grandson, and one great-grandson.
After 25 years in USAF, the Blocher family has resided in Arizona for the past 33 years, currently in Green Valley.
1956-1957 Primary Pilot Training, Marana AB, AZ (T-34, T-28)
1957 Basic Pilot Training, Goodfellow AFB, TX (B-25)
1957-1959 Mission Pilot, Navigator Training, Mather AFB, CA (T-29)
1959-1960  Commander, M&S Hq Squadron, Mather AFB, CA (T-29)
1960-1963 Aide to Vice Commander ATC, Randolph AFB, TX (T-39)
1963-1964 Student, USAF Operational Training Course, Luke AFB, AZ (F-100C/D/F)
1964-1967 494th Tactical Fighter Squadron/48th Tactical Fighter Wing, Tactical Fighter Pilot, RAF Lakenheath, England (F-100)
1967 37th Tactical Fighter Wing, Tactical Fighter Pilot, Commando Sabre, Phu Cat AB, RVN (F-100F)
1967-1968 37th Tactical Fighter Wing, Wing Operations Officer, Phu Cat AB, RVN (F-100)
1968-1969 Instructor, Military Training Division, Air Force Academy, CO (T-33)
1969-1970 Air Officer Commanding, Cadet Squadron 37, Air Force Academy, CO (T-33)
1971-1973 Chief, Operations Plans Applications Div, Hq PACAF, Hickam AFB, HI (T-33)
1973-1974 Executive Officer to Vice CINC PACAF, Hickam AFB, HI (T-33)
1974 434 Tactical Fighter Squadron, Student, USAF F-4 Operational Training Course, George AFB, CA (F-4)
1974-1975 35th Tactical Fighter Squadron/8th Tactical Fighter Wing, Squadron Operations Officer, Kunsan AB, Korea (F-4)
1976-1980, Chief, Tactical & Airlift Forces Branch, DCS Plans, Hq AF Logistics Cmd, Wright-Patterson AFB, OH: non-flying, got grounded by medics for cluster headaches
1980 Retired USAF

Distinguished Flying Cross with 2 Bronze Stars

Meritorious Service Medal (3)
T-34
T-28
B-25
T-29
T-39
T-33
F-100 (C/D/F): 1,065 Hours
F-4: 260 Hours
Total Flight Hours: 5,000; Combat 331; Total Jet 1,800
Military & Civilian Education
Military Education:
1952-1956 B.S. USMA West Point, NY
1962 Squadron Officers School, Maxwell AFB, AL
1970-1971 Armed Forces Staff College, Norfolk, VA
1975-1976 Air War College, Maxwell AFB, AL
USAF Survival Schools at Stead, Eglin, & Clark plus a couple of Hurlburt COIN courses
Civilian Education:
1976 MS, Troy State University, Montgomery, AL