Nickname/Call Sign: Misty 30
Date of Birth: December 3, 1934
Headed West: March 13, 2021
Highest Military Grade Held: 0-5 – Lieutenant Colonel
Just before graduation, led a 5-ship of solo studs to make a flyover of Reese AFB "to show those B-25 pukes what the REAL pilots were doing". Had Reese all reccyed from the air, or so I thought. In contact with Reese tower, made a perfect 5 ship flyby, when Reese asked: "what is your position"? We had just buzzed Lubbock Municipal. When he pinned my wings on a couple of days later, my instructor, Frank Rodkey, said in a low voice, "Don't know where Reese is, huh".
After USAF service, in 1976 Mick worked as Project Engineer, Chief Engineer, Program Manager with several Aerospace companies. He worked on Aircraft Ground Support Equipment Development, MX First Stage propulsion, and FTOS and OIS; Nav/Wep delivery systems retrofit for foreign aircraft, Tacit Rainbow Autonomous radar killer, Anti-missile propulsion systems, Saudi Radio production, and PM training, Comanche Helicopter development, and Standard Missile Interceptor Third Stage Rocket Motor.
Mick's Daughter Kathy is married to JAG B/G Steve Lepper USAFA 1979 and his Granddaughter Jen, USAFA '04 is a Capt Bioenvironmental Engineer at Patrick. His Granddaughter  Helen is a Colo State grad and a Bio Research Scientist in Denver.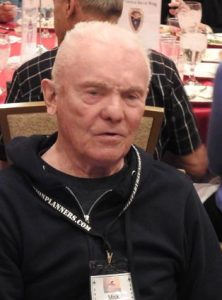 Robert "Mick" Greene, (LtCol USAF, Ret) "Misty 30" Headed West on March 13, 2021.
His daughter Kathy Lepper informed us that Mick passed away in his sleep at the nursing home where he had been residing. More information will be posted as it becomes available.
He will be missed.
Mick is buried at the United States Air Force Academy Cemetery.
1956-1957 Primary Pilot Training, Marana AB, AZ (T-34, T-28)
1957-1958 Basic Pilot Training, Distinguished Graduate, Webb AFB, Big Springs, TX (T-33)
1958 Advanced Pilot Training, Williams AFB, AZ (F-86F)
1959 Advanced Pilot Training, Nellis AFB, NV (F-100A/F)
1959 AF Survival School, Stead AFB, NV
1959-1960 Bomb Commander 9th Tactical Fighter Squadron/49th Tactical Fighter Wing, Etain AB, France (F-100D)
1960-1961 Bomb Commander 9th Tactical Fighter Squadron/49th Tactical Fighter Wing, Spanghdalem AB, Germany (F-100)
1961-1962 Chief, Maintenance Flight test and F-105 Flightline Maintenance Officer (L-20)
1962-1964 AFIT, WPAFB OH (T-33)
1964-1966 AFWL and AFSWC Weapons Scientist and Flight Test Engineer (F-100F, F-104 C/D, F-4)
1967 Clovis AFB NM, F-100 Refresher: Jungle Survival Philippines (F-100)
1967 416th Tactical Fighter Squadron/3rd Tactical Fighter Wing, Bien Hoa AB, Vietnam (F-100)
1967 416th Tactical Fighter Squadron/3rd Tactical Fighter Wing, Phu Cat Vietnam (F-100)
1967-1968 416th Tactical Fighter Squadron, Det 1 Commando Sabre (Misty 30) Ops Officer, Phu Cat AB, RVN (F-100)
1968-1972 FX/F-15 Safety Design Project Engineer IG, Norton AFB CA (T-39, F-4)
1972-1974 48th Tactical Fighter Wing, RAF Lakenheath, England Chief of Safety (T-39)
1974-1976 48th Tactical Fighter Wing, RAF Lakenheath, England Asst DCM, OMS/CC (T-39)
1976 Assigned to WPAFB as Chief of Maintenance-Resigned in Lieu of assignment

Distinguished Flying Cross (2)
T-34
T-28
T-33
F-86F
F-100 A/D/F
L-20
F-104 C/D
F-4
T-39
Military & Civilian Education
Military Education:
1956 BS, US Naval Academy
1964 MS/Aerospace and Mechanical Engineering AFIT, WPAFB
Civilian Education:
1951 Taft Union High School
1982 BBA, Utah State University
Mick Greene knew at an early age what he wanted to be – a fighter pilot. But as the youngest of a family struggling to get along, his options were limited. Still, he persisted and managed to get an appointment at the Naval Academy. It was a start. But when he learned that upon graduation from the Academy, he could transfer into the Air Force and directly into pilot training, he knew this was what he wanted to do.
Years passed, as Greene honed his flying skills in fighter squadrons and later as a test pilot. Then came the ultimate challenge. A combat tour in Vietnam as a "Misty FAC", a then classified, extremely dangerous mission, directing airstrikes against targets along the Ho Chi Minh trail in North Vietnam and Laos. All pilots were volunteers and the losses were high. In his simple, plain-spoken way, author Mick Greene describes how he survived in the flak-filled skies over North Vietnam.
Source: Amazon