Perry McCoy Smith, Jr.
---

Preferred Name: Perry
Nickname/Call Sign: Jamba
Date of Birth: December 16, 1934
Highest Military Grade Held: Major General, O8
Hometown: Augusta, GA
Biography
Perry M. Smith is a teacher, speaker, TV and radio commentator and best-selling author. A retired major general, Smith served for 30 years in the U. S. Air Force. During his career he had a number of leadership experiences, including command of the F-15 fighter wing at Bitburg, Germany where he provided leadership to 4000 personnel. Later, he served as the top Air Force planner and as the commandant of the National War College.
Smith's total number of flying hours as a pilot (mostly in fighter aircraft: F-84, F-100, F-4 and F-15) is 3400.  He flew 180 combat missions in the F-4D aircraft over North Vietnam and Laos during the Vietnam War. He was a member of the following fighter squadrons, 10th, 615th, 612th, 555thand the following fighter wings: 50th, 401st, 432ndand 36th.  Smith is the recipient of two distinguished flying crosses, ten air medals and the bronze star. Other awards include the distinguished service medal, defense distinguished service medal and two legions of merit.
A graduate of the U. S. Military Academy at West Point, he later earned his Ph.D. in International Relations from Columbia University. His dissertation earned the Helen Dwight Reid award from the American Political Science Association. At West Point, he played on the varsity lacrosse team—earning All American honors (second team) his senior year.
Smith's published books include Rules and Tools for Leaders, Assignment Pentagon, and Courage, Compassion, Marine: The Unique Story of Jimmie Dyess. The latter book is a biography of the only person to have earned America's two highest awards for heroism, the Medal of Honor and the Carnegie Medal.
With more than 350,000 copies in print, Rules and Tools for Leaders,is his most popular book. After he was interviewed on the Today Show, this book reached #2 on the amazon.com bestseller list. Assignment Pentagon, the only substantive guide on how to operate in the Pentagon, is also in its 4thedition. Jeff Foley and Dan Gerstein are co-authors of recent editions of Rules and Tools for Leaders and Assignment Pentagon respectively.
Since 2015 Smith and videographer Mark Albertin have produced four DVDs: Twice a Hero: The Jimmie Dyess Story. When Duty Calls: The Life and Legacy of Don Holleder. Dr. Hervey Cleckley: A Man for All Seasons. and Flying Combat with the Triple Nickel.
Smith's seven-year relationship with CNN ended on June 14, 1998, when he resigned over an issue of integrity (CNN's egregious special accusing the U. S. Air Force of using lethal nerve gas during the Vietnam War). Later he served as a military commentator for NBC TV, CBS TV and CBS radio.
In 2011, The General Perry Smith Parkway near the Augusta Regional Airport was dedicated.
In 1959 Smith married the talented Connor Cleckley Dyess, the daughter of Marine Lieutenant Colonel Jimmie Dyess. Connor was eight years old when her father was killed in the Marshall Islands in February, 1944. The Smith's have two children, McCoy and Serena, and four grandchildren, Dyess, Porter, Perry IV and Jacob.
Smith's email address is genpsmith@aol.com and his web site is genpsmith.com.  Telephone: 706 399-9754. He and Connor live at 3007 Cedar Hill Lane, Augusta, GA 30909.
Units Assigned
9/1957 Pilot training,  Marana Air Base, AZ/ Webb Air Force Base, TX
Combat crew training, Luke AFB, AZ/Nellis AFB. NV
1958-1963 Toul-Rosieres Air Base, France, Germany; England Air Force Base, LA.; Incirlik/Cigli Common Defense Installations, Turkey (F-100)
1963-1964 Faculty, U.S. Air Force Academy, CO
1964-1966 Graduate work, Columbia University
1966-1967 Faculty, USAF Academy, CO faculty on three separate occasions (1966-1967, 1969-1970, 1971-1973
1968 F-4 replacement training, Homestead AFB, FL
8/1968-8/1969 555th (Triple Nickle) Tactical Fighter Squadron, Udorn Royal Thai AFB, Thailand (F-4D- 180 missions/370 combat hours)
1969-1970 Faculty, U.S. Air Force Academy, CO
1970-1971 Visiting professor, National War College
1971-1973 Faculty, U.S. Air Force Academy, CO
1973-1975 Plans Directorate, branch chief, division chief, and Joint Chiefs of Staff planner,Headquarters USAF, Washington, DC
5/1975-7/1976 Military assistant to the deputy secretary of Defense
1976 50th Tactical Fighter Wing, deputy commander for maintenance, Hahn AB, Germany
6/1977-5/1978 36th Tactical Fighter Wing, Vice commander, Bitburg AB, Germany
5/19783/1979 36th Tactical Fighter Wing, Commander, Bitburg AB, Germany
3/1979-2/1981 2nd Allied Tactical Air Force, Deputy chief of staff for operations, , Rheindahlen, Germany
2/198-8/1981 USAF Headquarters, Deputy director of plans in the Office of the Deputy Chief of Staff, Plans and Operations
8/1981-7/1983 USAF Headquarters, Director of plans in the Office of the Deputy Chief of Staff, Plans and Operations
7/1983-8/1986 Commandant, National War College, Fort Lesley J. McNair, Washington, DC
8/1/1986 Retired USAF
Awards & Decorations
Distinguished Flying Cross (2)

Air Medal (10)

Bronze Star


AF Distinguished Service Medal


Defense Distinguished Service Medal

Legion of Merit (2)
Helen Dwight Reid Award from the American Political Science Association for the best doctoral dissertation of 1967 in the fields of international law, organization and politics.
Flight Info
F-84
F-100
F-4
F-15
180 combat missions
Flight Hours: 3400
Civilian Education
1952 Highland Falls High School, NY
1956 USMA, West Point, NY
PhD/International Relations, Columbia University
Flying With the Triple Nickel (DVD)- If you are interested in a free copy of Flying Combat With The Triple Nickel you can contact Perry thru his website's contact page and he will send one for with a $5 postage and handling fee. This 55 minute video tells the story of the renown Triple Nickel (555th) Fighter Squadron. Smith flew with this squadron from August, 1968 to August, 1969. This video is dedicated to "Nickels" past, present and future. Click here for the website link: http://genpsmith.com/contact-perry/
Assignment Pentagon: How to Excel in a Bureaucracy, Fourth Edition, Revised
by Perry M. Smith  (Author), Daniel M. Gerstein  (Author)

Selected for the 2019 Commandant's Professional Reading List
Since the first edition of Assignment: Pentagon was published in 1988, great changes have occurred in the international environment, the application of U.S. national security strategy, and the manner in which the Pentagon functions. Now in its fourth printing and with a coauthor to lend a different perspective, Assignment: Pentagon remains the best book for anyone who works for the Pentagon, or for any big bureaucracy for that matter. Eminently readable, Assignment: Pentagon is the essential guide for the newly assigned military person, fresh civilian, and interested outsider to the Pentagon's informal set of arrangements, networks, and functions that operate in the service and joint service world. From the type of wristwatch one needs to how to succeed on the Joint Staff, the book delivers a wealth of practical advice and helpful hints about surviving the pressures and problems of working in "The Building." If you've been assigned to the Pentagon or are starting work for any large company, you need Assignment: Pentagon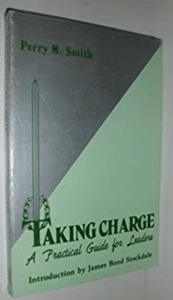 Taking Charge – A Practical Guide for Leaders
by Perry M. Smith; Introduction-James Bond Stockdale (Author)
Taking Charge: Making the Right Choices
by Perry M. Smith  (Author)

A handy guide for leaders. Includes more than 25 checklists to help leaders and managers hire, fire, run meetings, plan, deal with the press, etc. Over 200,000 of this book in print.





Rules & Tools for Leaders: From Developing Your Own Skills to Running Organizations of Any Size, Practical Advice for Leaders at All Levels
by Perry M. Smith  (Author), Foley MA, General Jeffrey W.  (Author)

Rules and Tools for Leaders offers insightful and useful advice that avoids the flavor-of-the-month management theories that are long on speculation and short on practical application.
This is a fully revised, updated, and reorganized edition of a classic management handbook. It never loses sight of the big picture of how any company should operate. It provides useful and time-tested advice that can be implemented immediately to the benefit of the entire organization. From defining the qualities of outstanding leaders to putting good leadership skills into practice, from managing yourself and others to handling the difficult tests that leadership brings, this book includes valuable checklists and reviews. In addition, it highlights some of the best leadership programs and presents a host of compelling and instructive anecdotes that illustrate the ideas throughout.


Courage, Compassion, Marine: The Unique Story of Jimmie Dyess
In June, 2015, Perry published Courage, Compassion, Marine: The Unique Story of Jimmie Dyess. This book tells the story of Jimmie Dyess, the only person to receive both the Carnegie Medal and the Medal of Honor. Smith's biography honors a decorated World War II Marine. Jimmie Dyess was the epitome of an all-American hero: he served as a student cadet leader at military school, excelled on the football field, and received the Carnegie Medal for civilian heroism for saving a drowning woman. During the Depression, he was a young father and served in both the Army and Marine Reserves. As the U.S. built up its military in anticipation of the country's entrance into WWII, Dyess was called up as an active-duty Marine officer and eventually placed in command of an infantry battalion. Dyess led his men into combat against the Japanese military in the battle for the Kwajalein Atoll in the Marshall Islands…read more at http://genpsmith.com/jimmy-dyess-twice-a-hero/



A Hero Among Heroes: Jimmie Dyess and the 4th Marine Division
by Perry M. Smith (Author)
The story of a true American hero who earned both the Carnegie Medal and the Medal of Honor. As an undergraduate at Clemson he earned the Carnegie Medal for saving two women caught in a storm off the coast of South Carolina. Sixteen years later, as a Marine Lieutenant Colonel he went behind enemy lines to save four wounded Marines. For his extraordinary valor and leadership in combat he earned the Medal of Honor. Read more at http://genpsmith.com/jimmy-dyess-twice-a-hero/
Lessons of the Gulf War and Media Coverage
Rules and Tools for Leaders
Biography

Perry M. Smith is a teacher, speaker, TV and radio commentator and best-selling author. A retired major general, Smith served for 30 years in the U. S. Air Force. During his career he had a number of leadership experiences, including command of the F-15 fighter wing at Bitburg, Germany where he provided leadership to 4000 personnel. Later, he served as the top Air Force planner and as the commandant of the National War College.

Smith's total number of flying hours as a pilot (mostly in fighter aircraft: F-84, F-100, F-4 and F-15) is 3400.  He flew 180 combat missions in the F-4D aircraft over North Vietnam and Laos during the Vietnam War. He was a member of the following fighter squadrons, 10th, 615th, 612th, 555thand the following fighter wings: 50th, 401st, 432ndand 36th.  Smith is the recipient of two distinguished flying crosses, ten air medals and the bronze star. Other awards include the distinguished service medal, defense distinguished service medal and two legions of merit.

A graduate of the U. S. Military Academy at West Point, he later earned his Ph.D. in International Relations from Columbia University. His dissertation earned the Helen Dwight Reid award from the American Political Science Association. At West Point, he played on the varsity lacrosse team—earning All American honors (second team) his senior year.

Smith's published books include Rules and Tools for Leaders, Assignment Pentagon, and Courage, Compassion, Marine: The Unique Story of Jimmie Dyess. The latter book is a biography of the only person to have earned America's two highest awards for heroism, the Medal of Honor and the Carnegie Medal.

With more than 350,000 copies in print, Rules and Tools for Leaders,is his most popular book. After he was interviewed on the Today Show, this book reached #2 on the amazon.com bestseller list. Assignment Pentagon, the only substantive guide on how to operate in the Pentagon, is also in its 4thedition. Jeff Foley and Dan Gerstein are co-authors of recent editions of Rules and Tools for Leaders and Assignment Pentagon respectively.

Since 2015 Smith and videographer Mark Albertin have produced four DVDs: Twice a Hero: The Jimmie Dyess Story. When Duty Calls: The Life and Legacy of Don Holleder. Dr. Hervey Cleckley: A Man for All Seasons. and Flying Combat with the Triple Nickel.

Smith's seven-year relationship with CNN ended on June 14, 1998, when he resigned over an issue of integrity (CNN's egregious special accusing the U. S. Air Force of using lethal nerve gas during the Vietnam War). Later he served as a military commentator for NBC TV, CBS TV and CBS radio.

In 2011, The General Perry Smith Parkway near the Augusta Regional Airport was dedicated.

In 1959 Smith married the talented Connor Cleckley Dyess, the daughter of Marine Lieutenant Colonel Jimmie Dyess. Connor was eight years old when her father was killed in the Marshall Islands in February, 1944. The Smith's have two children, McCoy and Serena, and four grandchildren, Dyess, Porter, Perry IV and Jacob.

Smith's email address is genpsmith@aol.com and his web site is genpsmith.com.  Telephone: 706 399-9754. He and Connor live at 3007 Cedar Hill Lane, Augusta, GA 30909.

Units Assigned

9/1957 Pilot training,  Marana Air Base, AZ/ Webb Air Force Base, TX
Combat crew training, Luke AFB, AZ/Nellis AFB. NV
1958-1963 Toul-Rosieres Air Base, France, Germany; England Air Force Base, LA.; Incirlik/Cigli Common Defense Installations, Turkey (F-100)
1963-1964 Faculty, U.S. Air Force Academy, CO
1964-1966 Graduate work, Columbia University
1966-1967 Faculty, USAF Academy, CO faculty on three separate occasions (1966-1967, 1969-1970, 1971-1973
1968 F-4 replacement training, Homestead AFB, FL
8/1968-8/1969 555th (Triple Nickle) Tactical Fighter Squadron, Udorn Royal Thai AFB, Thailand (F-4D- 180 missions/370 combat hours)
1969-1970 Faculty, U.S. Air Force Academy, CO
1970-1971 Visiting professor, National War College
1971-1973 Faculty, U.S. Air Force Academy, CO
1973-1975 Plans Directorate, branch chief, division chief, and Joint Chiefs of Staff planner,Headquarters USAF, Washington, DC
5/1975-7/1976 Military assistant to the deputy secretary of Defense
1976 50th Tactical Fighter Wing, deputy commander for maintenance, Hahn AB, Germany
6/1977-5/1978 36th Tactical Fighter Wing, Vice commander, Bitburg AB, Germany
5/19783/1979 36th Tactical Fighter Wing, Commander, Bitburg AB, Germany
3/1979-2/1981 2nd Allied Tactical Air Force, Deputy chief of staff for operations, , Rheindahlen, Germany
2/198-8/1981 USAF Headquarters, Deputy director of plans in the Office of the Deputy Chief of Staff, Plans and Operations
8/1981-7/1983 USAF Headquarters, Director of plans in the Office of the Deputy Chief of Staff, Plans and Operations
7/1983-8/1986 Commandant, National War College, Fort Lesley J. McNair, Washington, DC
8/1/1986 Retired USAF

Awards & Decorations

Distinguished Flying Cross (2)
Air Medal (10)
Bronze Star
AF Distinguished Service Medal
Defense Distinguished Service Medal
Legion of Merit (2)
Helen Dwight Reid Award from the American Political Science Association for the best doctoral dissertation of 1967 in the fields of international law, organization and politics.

Flight Info

F-84
F-100
F-4
F-15
180 combat missions
Flight Hours: 3400

Civilian Education

1952 Highland Falls High School, NY
1956 USMA, West Point, NY
PhD/International Relations, Columbia University

Flying With the Triple Nickel (DVD)- If you are interested in a free copy of Flying Combat With The Triple Nickel you can contact Perry thru his website's contact page and he will send one for with a $5 postage and handling fee. This 55 minute video tells the story of the renown Triple Nickel (555th) Fighter Squadron. Smith flew with this squadron from August, 1968 to August, 1969. This video is dedicated to "Nickels" past, present and future. Click here for the website link: http://genpsmith.com/contact-perry/




Assignment Pentagon: How to Excel in a Bureaucracy, Fourth Edition, Revised
by Perry M. Smith  (Author), Daniel M. Gerstein  (Author)


Selected for the 2019 Commandant's Professional Reading List
Since the first edition of Assignment: Pentagon was published in 1988, great changes have occurred in the international environment, the application of U.S. national security strategy, and the manner in which the Pentagon functions. Now in its fourth printing and with a coauthor to lend a different perspective, Assignment: Pentagon remains the best book for anyone who works for the Pentagon, or for any big bureaucracy for that matter. Eminently readable, Assignment: Pentagon is the essential guide for the newly assigned military person, fresh civilian, and interested outsider to the Pentagon's informal set of arrangements, networks, and functions that operate in the service and joint service world. From the type of wristwatch one needs to how to succeed on the Joint Staff, the book delivers a wealth of practical advice and helpful hints about surviving the pressures and problems of working in "The Building." If you've been assigned to the Pentagon or are starting work for any large company, you need Assignment: Pentagon


Taking Charge – A Practical Guide for Leaders

by Perry M. Smith; Introduction-James Bond Stockdale (Author)




Taking Charge: Making the Right Choices

by Perry M. Smith  (Author)

A handy guide for leaders. Includes more than 25 checklists to help leaders and managers hire, fire, run meetings, plan, deal with the press, etc. Over 200,000 of this book in print.






Rules & Tools for Leaders: From Developing Your Own Skills to Running Organizations of Any Size, Practical Advice for Leaders at All Levels
by Perry M. Smith  (Author), Foley MA, General Jeffrey W.  (Author)


Rules and Tools for Leaders offers insightful and useful advice that avoids the flavor-of-the-month management theories that are long on speculation and short on practical application.
This is a fully revised, updated, and reorganized edition of a classic management handbook. It never loses sight of the big picture of how any company should operate. It provides useful and time-tested advice that can be implemented immediately to the benefit of the entire organization. From defining the qualities of outstanding leaders to putting good leadership skills into practice, from managing yourself and others to handling the difficult tests that leadership brings, this book includes valuable checklists and reviews. In addition, it highlights some of the best leadership programs and presents a host of compelling and instructive anecdotes that illustrate the ideas throughout.

Courage, Compassion, Marine: The Unique Story of Jimmie Dyess
In June, 2015, Perry published Courage, Compassion, Marine: The Unique Story of Jimmie Dyess. This book tells the story of Jimmie Dyess, the only person to receive both the Carnegie Medal and the Medal of Honor. Smith's biography honors a decorated World War II Marine. Jimmie Dyess was the epitome of an all-American hero: he served as a student cadet leader at military school, excelled on the football field, and received the Carnegie Medal for civilian heroism for saving a drowning woman. During the Depression, he was a young father and served in both the Army and Marine Reserves. As the U.S. built up its military in anticipation of the country's entrance into WWII, Dyess was called up as an active-duty Marine officer and eventually placed in command of an infantry battalion. Dyess led his men into combat against the Japanese military in the battle for the Kwajalein Atoll in the Marshall Islands…read more at http://genpsmith.com/jimmy-dyess-twice-a-hero/




A Hero Among Heroes: Jimmie Dyess and the 4th Marine Division
by Perry M. Smith (Author)

The story of a true American hero who earned both the Carnegie Medal and the Medal of Honor. As an undergraduate at Clemson he earned the Carnegie Medal for saving two women caught in a storm off the coast of South Carolina. Sixteen years later, as a Marine Lieutenant Colonel he went behind enemy lines to save four wounded Marines. For his extraordinary valor and leadership in combat he earned the Medal of Honor. Read more at http://genpsmith.com/jimmy-dyess-twice-a-hero/

Lessons of the Gulf War and Media Coverage

Rules and Tools for Leaders