James V. Sullivan
---

Preferred Name: Jim
Nickname/Call Sign: Sully
Date of Birth: June 27, 1937
Highest Military Grade Held: Colonel
Hometown:
Biography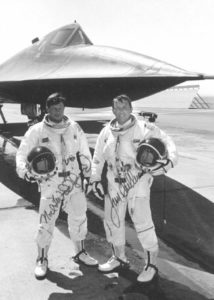 On September 1, 1974 Major James V. Sullivan, 37 (pilot) and Noel F. Widdifield, 33 (reconnaissance systems officer) (photo inset), flashed across the starting line (radar gates in New York) at approximately 80,000 feet and speed in excess of 2,000 miles per hour. Exactly 1 hour 54 minutes and 56.4 seconds later, they had set a new world speed record from New York to London England. The average speed was 1,807 statute mph over the 3,461 statute mile course, slowing to refuel one time from a specially modified KC-135 refueling tanker. The aircraft was placed on static display at Farnborough Air Show for 1 week. It marked the first time the secret plane had been on public display outside of the United States. 
Clarence L. "Kelly" Johnson (photo inset), the aircrafts designer, was on hand for the event. He remarked, "It (the SR-71) has exceeded all my expectations."
In 2016 Colonel James V. Sullivan still held the world speed record from New York to London.  He is one of the few pilots who ever flew one of those machines, and the SR-71 is on display at the Hill Aerospace Museum in Utah.
His original experience is in fighter jets. He spent 4 years in the F-100, and even longer in the F-105D, which he flew during his first tour in Vietnam. He was shot down on December 12, 1965 on a mission to strick Ha Tinh Bridge. He was rescued and was flying again in 3 days.
Jim flew a second tour in the F-4, and a third Vietnam tour in the SR-71. In total, he had about 300 flights combined.
Colonel Sullivan retired from the Air Force on January 1, 1985, but still holds the world speed record. He and his wife Nancy have 4 children and 5 grandchildren.
Units Assigned
494th Tactical Fighter Squdron/48th Tactical Fighter Wing, RAFB Lakenheath, England (F-100)
Flight Info
F-100
F-105D
F-4
SR-71
Biography

On September 1, 1974 Major James V. Sullivan, 37 (pilot) and Noel F. Widdifield, 33 (reconnaissance systems officer) (photo inset), flashed across the starting line (radar gates in New York) at approximately 80,000 feet and speed in excess of 2,000 miles per hour. Exactly 1 hour 54 minutes and 56.4 seconds later, they had set a new world speed record from New York to London England. The average speed was 1,807 statute mph over the 3,461 statute mile course, slowing to refuel one time from a specially modified KC-135 refueling tanker. The aircraft was placed on static display at Farnborough Air Show for 1 week. It marked the first time the secret plane had been on public display outside of the United States. Clarence L. "Kelly" Johnson (photo inset), the aircrafts designer, was on hand for the event. He remarked, "It (the SR-71) has exceeded all my expectations."
In 2016 Colonel James V. Sullivan still held the world speed record from New York to London.  He is one of the few pilots who ever flew one of those machines, and the SR-71 is on display at the Hill Aerospace Museum in Utah.
His original experience is in fighter jets. He spent 4 years in the F-100, and even longer in the F-105D, which he flew during his first tour in Vietnam. He was shot down on December 12, 1965 on a mission to strick Ha Tinh Bridge. He was rescued and was flying again in 3 days.
Jim flew a second tour in the F-4, and a third Vietnam tour in the SR-71. In total, he had about 300 flights combined.
Colonel Sullivan retired from the Air Force on January 1, 1985, but still holds the world speed record. He and his wife Nancy have 4 children and 5 grandchildren.

Units Assigned

494th Tactical Fighter Squdron/48th Tactical Fighter Wing, RAFB Lakenheath, England (F-100)

Flight Info

F-100
F-105D
F-4
SR-71