William T. Washburn
---
Preferred Name: Bill
Nickname/Call Sign:
Date of Birth: March 30, 1937 (October 2. 2009)
Highest Military Grade Held: Lieutenant Colonel
Hometown: Avalon, PA
Biography
William T. Washburn once told his son, Bill "You can do whatever you want- but whatever you do, be the best at it".
Some of Bill Washburn's friends referred to him as WGFP "World's Greatest Fighter Pilot".
"Bill is… listed as one of a select few persons to not only survive a high-speed ejection but to do so unscathed. His F-100 caught fire while in flight over It[Torrejon, Spain]. He related that every **** light was lit on the instrument panel and they were all red. He radioed his wingman, who help guide him on a course away from habitation, and he continued to fly the jet now fated to make only one more, but spectacular, return to earth as a Roman candle. Only one error was made, he didn't reduce throttle and so his ejection was done at about 400 mph (640kph). He said he didn't recall what must have been a brutal hit as his body went from a no wind cockpit environment to a wind speed more than four times the force of a hurricane's in less than the blink of one's eye." His leg was injured due to falling in a semi-conscious state.
(source: Fighter Pilot Up! November 19, 2009: https://travelforaircraft.wordpress.com/2009/11/19/fighter-pilot-up/)
William Taylor Washburn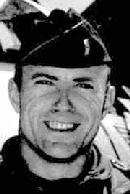 William T. Washburn, retired U.S. Air Force Lt. Col., 72 of Odessa, Fla., died Friday, October 2, 2009, after a lengthy struggle with congestive heart failure. He was born in Avalon, PA, March 30, 1937.
He graduated from Perry High School in Pittsburgh, PA, and Lehigh University. He joined the U.S. Air Force in 1960 and became a fighter pilot, flying the F-100 and A7D and serving two tours of duty in southeast Asia. He retired after 21 years of active duty service to the Air Force in 1981 and settled in the Tampa area. He retired a second time in 2000 as an engineer with the State of Florida, Department of Environmental Quality.
He is survived by two children, William, and Laura Washburn Noble (Douglas), from his marriage to Alice B. Washburn. Also surviving are six grandchildren, and one great-grandson, William T.
Lt. Col. Washburn was an organ donor and his family encourages everyone to follow his example.
Units Assigned
1962-1966 355th Tactical Fighter Squadron, Myrtle Beach AFB, SC
1966-1969 353rd Tactical Fighter Squadron/401st Tactical Fighter Wing, Torrejon, Spain
1970 355th Tactical Fighter Squadron/31st Tactical Fighter Wing, Tuy Hoa AB, Vietnam
1970 614th Tactical Fighter Squadron/35th Tactical Fighter Wing, Phan Rang AB, Vietnam
1970-1971 4403rd Tactical Fighter Wing, England AFB, LA
Flight Info
F-100
A-7 D Corsair
Civilian Education
Perry High School, Pittsburgh, PA
Lehigh University
Biography

William T. Washburn once told his son, Bill "You can do whatever you want- but whatever you do, be the best at it".
Some of Bill Washburn's friends referred to him as WGFP "World's Greatest Fighter Pilot".

"Bill is… listed as one of a select few persons to not only survive a high-speed ejection but to do so unscathed. His F-100 caught fire while in flight over It[Torrejon, Spain]. He related that every **** light was lit on the instrument panel and they were all red. He radioed his wingman, who help guide him on a course away from habitation, and he continued to fly the jet now fated to make only one more, but spectacular, return to earth as a Roman candle. Only one error was made, he didn't reduce throttle and so his ejection was done at about 400 mph (640kph). He said he didn't recall what must have been a brutal hit as his body went from a no wind cockpit environment to a wind speed more than four times the force of a hurricane's in less than the blink of one's eye." His leg was injured due to falling in a semi-conscious state.
(source: Fighter Pilot Up! November 19, 2009: https://travelforaircraft.wordpress.com/2009/11/19/fighter-pilot-up/)

William Taylor Washburn
William T. Washburn, retired U.S. Air Force Lt. Col., 72 of Odessa, Fla., died Friday, October 2, 2009, after a lengthy struggle with congestive heart failure. He was born in Avalon, PA, March 30, 1937.
He graduated from Perry High School in Pittsburgh, PA, and Lehigh University. He joined the U.S. Air Force in 1960 and became a fighter pilot, flying the F-100 and A7D and serving two tours of duty in southeast Asia. He retired after 21 years of active duty service to the Air Force in 1981 and settled in the Tampa area. He retired a second time in 2000 as an engineer with the State of Florida, Department of Environmental Quality.
He is survived by two children, William, and Laura Washburn Noble (Douglas), from his marriage to Alice B. Washburn. Also surviving are six grandchildren, and one great-grandson, William T.
Lt. Col. Washburn was an organ donor and his family encourages everyone to follow his example.

Units Assigned

1962-1966 355th Tactical Fighter Squadron, Myrtle Beach AFB, SC
1966-1969 353rd Tactical Fighter Squadron/401st Tactical Fighter Wing, Torrejon, Spain
1970 355th Tactical Fighter Squadron/31st Tactical Fighter Wing, Tuy Hoa AB, Vietnam
1970 614th Tactical Fighter Squadron/35th Tactical Fighter Wing, Phan Rang AB, Vietnam
1970-1971 4403rd Tactical Fighter Wing, England AFB, LA

Flight Info

F-100
A-7 D Corsair

Civilian Education

Perry High School, Pittsburgh, PA
Lehigh University