Jack E. Wilhite
---

Preferred Name: Jack
Nickname/Call Sign: Jocko
Date of Birth: 1928- January 26, 2018
Highest Military Grade Held: Colonel
Hometown: Deep River, IA
Biography
Wilhite's career began at the age of 19 when he was hired by the FBI to work under J. Edgar Hoover in Washington D.C. and Phoenix, AZ.
He continued his service and joined the Army Air Corps, beginning a 32-year career as a pilot accruing more than 41,000 flying hours, 5,000 of those in military fighter jets.  In 1956 he transitioned into the Colorado Air National Guard. During his time in the military, he served in multiple wars, to include WWII, the Korean War, and Vietnam.
While serving in Vietnam he was awarded two Distinguished Flying Crosses, 13 Air Medals, a Vietnam Cross of Gallantry, 21 other awards and decoration and survived an ejection from an F-100 Super Sabre.
In addition to his military career, Wilhite served as a reserve officer at the Jefferson County Sheriff's department for more than 35 years. During that time he earned The Distinguished Service Medal, rescuing a Boy Scout troop and other citizens from a raging forest fire.
Wilhite's love of aviation was evident through his service as President, Vice President, Board Member, and Chairman of the Board for the Colorado Aviation Historical Society, including the CAHS Hall of Fame Banquet Chairman.
Wilhite was hired by United Airlines in 1956 where he spent more than 32-years as a pilot of the Convair 240, DC-6, DC-7, DC-8, and DC-10. Wilhite retired from United Airlines as a Captain in 1988.
After he retired from United Airlines, Wilhite continued his involvement with the aviation community by performing in airshow aerobatics; flying rare MiG-17 Fighter Jet, where he raised more than $400,000 for charity through ride donations.
Wilhite dedicated his time to educating the general public, especially children, about aviation history.Colonel Jack E. Wilhite is a Veteran of the  Korean and Vietnam Wars and was President of the Colorado Aviation Historical Society.
Units Assigned
120th Tactical Fighter Squadron, COANG, Buckley AB, CO (F-100)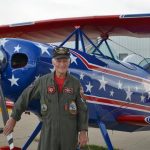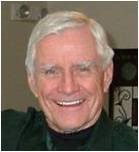 Colonel Jack E. Wilhite (Ret) – Headed West January 26, 2015
With an abounding history of aviation accomplishments, Col. Jack Wilhite will be remembered as a dedicated pilot, philanthropist and adventure enthusiast.
Wilhite, 87, died — or "flew west," as the aviation community says — Jan. 26, of unknown causes, said Bea Wilhite, his wife of 37 years.
In place of "Good morning," the Morrison couple would always greet each other with "Looks like a great day to fly," she said.
"I never knew when he took me on my honeymoon to Kenya on a photo safari that that was only the beginning," she said.
Wilhite, known to friends as Smilin' Jack, had so many piloting accolades and experiences that it is nearly impossible to list them all, Bea Wilhite said.
Born in Deep River, Iowa, Wilhite began his 32-year flying career in the Army Air Corps in World War II. He flew more than 41,000 hours in the Air Force, joined the Colorado Air National Guard 140th Fighter Wing and was hired as a United Airlines pilot in 1956. He also participated in airshow acrobatics.
He was president of the Colorado Aviation Historical Society and a Colorado Hall of Fame Laureate — and that list omits many of his piloting journeys, she said.
One of his favorite activities was educating children about the world of aviation, she said.
"He loved kids and sharing his passion," she said. "We got to travel all around the world," she said. "He was fun. He was a fabulous husband and a wonderful father."
In addition to flying, Bea Wilhite said her husband loved to play baseball and had an "amazing, robust" time playing ball, flying his prized Steen Skybolt Colorado-built plane and going to a health club on the day he passed away.
"He lived such a robust life," she said. "I just feel like he did so much and accomplished so much, and I can't be sad about that."
A wake will be held Sunday at the Rocky Mountain Metropolitan Airport. The Colorado Air National Guard and others will honor Wilhite with flyovers.
In addition to his wife, Wilhite is survived by his sons, Michael Wilhite and Lance Wilhite; a stepson, James Harrod; a stepdaughter, Jan Carr; cousins; and grandchildren and great-great grandchildren.
Article in the Denver Post:  Colorado aviation enthusiast Jack Wilhite remembered for his passion, By ELIZABETH HERNANDEZ | ehernandez@denverpost.com | The Denver Post | PUBLISHED:  | UPDATED: 
Biography

Wilhite's career began at the age of 19 when he was hired by the FBI to work under J. Edgar Hoover in Washington D.C. and Phoenix, AZ.
He continued his service and joined the Army Air Corps, beginning a 32-year career as a pilot accruing more than 41,000 flying hours, 5,000 of those in military fighter jets.  In 1956 he transitioned into the Colorado Air National Guard. During his time in the military, he served in multiple wars, to include WWII, the Korean War, and Vietnam.
While serving in Vietnam he was awarded two Distinguished Flying Crosses, 13 Air Medals, a Vietnam Cross of Gallantry, 21 other awards and decoration and survived an ejection from an F-100 Super Sabre.
In addition to his military career, Wilhite served as a reserve officer at the Jefferson County Sheriff's department for more than 35 years. During that time he earned The Distinguished Service Medal, rescuing a Boy Scout troop and other citizens from a raging forest fire.
Wilhite's love of aviation was evident through his service as President, Vice President, Board Member, and Chairman of the Board for the Colorado Aviation Historical Society, including the CAHS Hall of Fame Banquet Chairman.
Wilhite was hired by United Airlines in 1956 where he spent more than 32-years as a pilot of the Convair 240, DC-6, DC-7, DC-8, and DC-10. Wilhite retired from United Airlines as a Captain in 1988.
After he retired from United Airlines, Wilhite continued his involvement with the aviation community by performing in airshow aerobatics; flying rare MiG-17 Fighter Jet, where he raised more than $400,000 for charity through ride donations.
Wilhite dedicated his time to educating the general public, especially children, about aviation history.Colonel Jack E. Wilhite is a Veteran of the  Korean and Vietnam Wars and was President of the Colorado Aviation Historical Society.

Units Assigned

120th Tactical Fighter Squadron, COANG, Buckley AB, CO (F-100)

Colonel Jack E. Wilhite (Ret) – Headed West January 26, 2015
With an abounding history of aviation accomplishments, Col. Jack Wilhite will be remembered as a dedicated pilot, philanthropist and adventure enthusiast.
Wilhite, 87, died — or "flew west," as the aviation community says — Jan. 26, of unknown causes, said Bea Wilhite, his wife of 37 years.
In place of "Good morning," the Morrison couple would always greet each other with "Looks like a great day to fly," she said.
"I never knew when he took me on my honeymoon to Kenya on a photo safari that that was only the beginning," she said.
Wilhite, known to friends as Smilin' Jack, had so many piloting accolades and experiences that it is nearly impossible to list them all, Bea Wilhite said.
Born in Deep River, Iowa, Wilhite began his 32-year flying career in the Army Air Corps in World War II. He flew more than 41,000 hours in the Air Force, joined the Colorado Air National Guard 140th Fighter Wing and was hired as a United Airlines pilot in 1956. He also participated in airshow acrobatics.
He was president of the Colorado Aviation Historical Society and a Colorado Hall of Fame Laureate — and that list omits many of his piloting journeys, she said.
One of his favorite activities was educating children about the world of aviation, she said.
"He loved kids and sharing his passion," she said. "We got to travel all around the world," she said. "He was fun. He was a fabulous husband and a wonderful father."

In addition to flying, Bea Wilhite said her husband loved to play baseball and had an "amazing, robust" time playing ball, flying his prized Steen Skybolt Colorado-built plane and going to a health club on the day he passed away.
"He lived such a robust life," she said. "I just feel like he did so much and accomplished so much, and I can't be sad about that."
A wake will be held Sunday at the Rocky Mountain Metropolitan Airport. The Colorado Air National Guard and others will honor Wilhite with flyovers.
In addition to his wife, Wilhite is survived by his sons, Michael Wilhite and Lance Wilhite; a stepson, James Harrod; a stepdaughter, Jan Carr; cousins; and grandchildren and great-great grandchildren.
Article in the Denver Post:  Colorado aviation enthusiast Jack Wilhite remembered for his passion, By ELIZABETH HERNANDEZ | ehernandez@denverpost.com | The Denver Post | PUBLISHED:  | UPDATED: