Date of Birth: November 2, 1940
Highest Military Grade Held: 0-6 – Colonel
Hometown: East St. Louis, IL
Military Biography
Colonel (Ret.) William B. Goss was born on November 2, 1940, in East St. Louis, Illinois. He attended East St. Louis Senior High School and graduated in 1958. He received a Bachelor of Arts degree in Chemistry from Southern Illinois University in 1963. Colonel Goss was accepted by the United States Air Force to go to pilot training.
After receiving his commission to Second Lieutenant from Officer Training School in February 1964, he entered undergraduate pilot training a Reese Air Force Base, Texas receiving his wings in May 1965 and then qualified in the F-4C aircraft at Davis-Monthan, Arizona. The 33rd Tactical Fighter Wing at Eglin Air force Base, Florida was the Colonel's first operational unit.
In April of 1966, Colonel Goss received orders to Vietnam. Survival Training at Fairchild AFB, Washington and Jungle Survival School at Clark AB, Philippines was completed en route. While stationed at DaNang Air Base, Republic of Vietnam, he flew 97 combat missions. Subsequent to his departure from DaNang in April of 1967, Colonel Goss married Sharon Craig at Eglin AFB, Florida. Colonel Goss served tours of duty at Spangdahlem and Bitburg Air Bases, Republic of Germany, while flying F-4D aircraft. He separated from active duty on November 20, 1970. His son Russell was born on September 25, 1970, in Bitburg.
Colonel Goss joined the 159th Tactical Fighter Group, Louisiana Air National Guard, located at USNAS New Orleans in November 1971. The 159th TFG transitioned to F-100D aircraft and was assigned to Tactical Air Command. A second son, Victor Goss, was born in Metairie Louisiana on January 11, 1974.
Colonel Goss served as the Safety Officer in the 122nd Tactical Fighter Squadron and was selected as the 159th Tactical Fighter Wing Chief of Safety in March 1974. In 1979, the 159th TFG's F-100Ds were retired and replaced with F-4Cs. Colonel Goss returned to Active Duty in the Air Force when he was selected for a statutory tour in September of 1983 and served until July 1984 as the Air National Guard (ANG) Advisor to the Joint Reconnaissance Center, Joint Chiefs of Staff. Pentagon, Washington, D.C.
He served as the ANG Advisor to the Secretary of the Air Force Inspector General, Pentagon, Washington, D.C., from July 1984 through May 1991. He was then selected as the ANG Advisor to the Secretary of the Air Force Office of Legislative Liaison and served in that capacity until November 23, 1993, when he was appointed to the position of Director of Plans, Programs and Manpower at the ANG Readiness Center, Andrews AFB, Maryland. He retired from active duty on May 31, 1995.
Civilian Biography
Colonel Goss joined the National Guard Association of the United States (NGAUS) Legislative Staff January 1, 1996, as the Deputy Director for Air Activities. NGAUS lobbies Congress, Department of Defense, The Departments of the Air Force and the Army to ensure the National Guard members are properly equipped to execute their missions. He established himself as the NGAUS subject matter expert for Air National Guard Matters.
In addition, he has been thoroughly involved Guard and Reserve personnel benefits, healthcare and veteran's issues with the Military Coalition. He was appointed Legislative Director on November 1, 2000, and was responsible for averaging 1.3 Billion dollars per year in additional funds for the National Guard. Colonel Goss resigned as NGAUS Legislative Director on April 30, 2005. The Colonel's civic affiliations include the National Guard Association of the United States, Air Force Association, the National Guard Association of Louisiana, Secretary of the Air Force Alumni Association, Vietnam Veterans of America, Super Sabre Society, and BMWCCA.
Colonel Goss is a Command Pilot with over 3800 hours in ten different aircraft, including T-37, T-38, F-100D/F, F-4C/D, T-29 and C-131. His military awards and decorations include the Legion of Merit, Distinguished Flying Cross, Meritorious Service Medal, Air Medal with one silver and two oak leaf clusters, Air Force Commendation Medal, Presidential Unit Citation, Air Force Outstanding Unit Award, Air Force Organizational Excellence Award, Combat Readiness Medal with oak leaf clusters, National Defense Service Medal, Vietnam Service Medal with two bronze stars, Air Force Overseas Ribbon – SHORT, Air Force Overseas Ribbon – LONG, Air Force Longevity Service Award Ribbon with one silver and on oak leaf cluster, Armed Forces Reserve Medal, Small Arms Expert Marksmanship Ribbon, Air Force Training Ribbon, Republic of Vietnam Gallantry Cross with Palm (unit citation), Republic of Vietnam Campaign Medal.
Colonel Goss resides in Alexandria, Virginia. He is retired and spends most of his time playing golf with friends, cooking, working on his home and cars and spending time with Ms. Harriette Kinberg. They enjoy going to the Kennedy Center, Museums and traveling and have been to Hawaii, Yellowstone, Yosemite, New York City, Cooperstown, NY, Marco Island, and Amelia Island, Florida, San Diego, San Francisco, Redmond, Los Gatos, and Santa Barbara, California to name a few.
In, June 2006, Bill drove across the country from Northern Virginia to California and back. The trip covered 7800 miles in 30 days. He and Harriette met up in Salt Lake City and spent several days exploring the canyons of Southern Utah. They have been seeing one another since June 1999.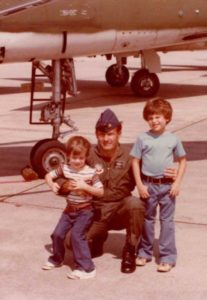 Bill's sons: The little fellow [in the photo] is Victor S. Goss, the other is Russell C. Goss. Ages are 46 and 49 respectively. Both later enlisted in the Louisiana ANG and attended and received degrees from Louisiana State University. Victor went on to get his Doctorate in Veterinary Medicine. He has been practicing in Prairieville, Louisiana for over 20 years and has one son Marshall. Russell attained a BS degree in Computer Science and Information Technology. He resides in Alexandria, Virginia where he does custom software development
2/1964 Officer Training School Commissioned 2nd LT

2/1965-5/1965 UPT Reese AFB, TX/Davis Monthan AFB, AZ (F-4C)

5/1965-5/1966 33rd Tactical Fighter Wing, Eglin AFB, FL (F-4C)

5/1966-4/1967  33rd Tactical Fighter Wing, DaNang AB, Vietnam (97 combat missions)

4/1967-11/1970  Spangdahlem AB/Bitburg AB, Germany (F-4D)

11/20/1970 Separated from active duty

11/1971 159th Tactical Fighter Group/122nd Tactical Fighter Squadron, Safety Officer, Louisiana ANG, USNAS, LA

3/1974 159th Tactical Fighter Wing, Chief of Safety, Louisiana ANG, USNAS, LA

9/1983-7/1984 Air National Guard Advisor to the Joint Reconnaissance Center, Joint Chiefs of Staff, Pentagon, Washington, DC

7/1984-5/1991 ANG Advisor to the Secretary of the Air Force Inspector General, Pentagon, Washington, DC

5/1991-11/1993 ANG Advisor to the Secretary of the Air Force Office of Legislative Liaison, Pentagon, Washington, DC

11/1993-5/1995 Director of Plans, Programs and Manpower at the ANG Readiness Center, Andrews AFB, MD

5/31/1995 Retired USAF

Distinguished Flying Cross

Meritorious Service Medal

Air Medal with 1 Silver/2 Bronze Oak Leaf Clusters

Air Force Commendation Medal

Presidential Unit Citation

Air Force Outstanding Unit Awar

Air Force Organizational Excellence Award

Combat Readiness Medal with Oak Leaf Cluster

National Defense Service Medal

Vietnam Service Medal with 2 Bronze Stars

Air Force Overseas Ribbon – Short Tour

Air Force Overseas Ribbon – Long Tour

Air Force Longevity Service Award with 1 Silver/2 Bronze Oak Leaf Clusters

Armed Forces Reserve Medal

Small Arms Expert Marksmanship Ribbon

Air Force Training Ribbon

Republic of Vietnam Gallantry Cross with Palm

Republic of Vietnam Campaign Medal
T-37
T-38
F-100D/F
F-4C/D
T-29
C-13
Rating: Command Pilot
Flight Hours: 3800 hours (10 different aircraft)
Military & Civilian Education
Military Education
1978 Air Command and Staff College (correspondence)
Officer Training School
UPT, Reese AFB, TX
Survival Training, Fairchild AFB, WA
1985 Air War College (Seminar)
Civilian Education
1958 East St. Louis Senior High School
1963 BA/Chemistry, Southern Illinois University