David "DH" Williams
---
Preferred Name: David
Nickname/Call Sign: D.H.
Date Of Birth: August 31, 1934
Highest Military Grade Held: Brigadier General
Hometown: Coleman, TX
Biography
After the Hun, flying was still fun, but not nearly so demanding.The F4 had INS so navigation was ho-hum. On the F-16 the gun sight made bombing easy (15 foot CEA even when jinking all the way down the shoot). Overall, the performance of the F-15 and F-16 made ACM a piece of cake. The A-10 didn't have a lot of bells and whistles, so it was a lot of fun. The F-104 was a neat jet and it was a pleasure to strafe from the airplane.
At the Pentagon, I had the opportunity to influence fighter aviation to some degree, I was the Program Element Monitor for the F-16 from competition of the light weight fighter to production of the first 1000 airplanes. Also, while at the Pentagon, I, along with two majors, solely constructed the requirements for the F-117, from inception to production (including range, performance, engines, ordnance, avionics, communications and employment doctrine).
I would not trade a minute of my time in the Air Force (especially my time in the Hun) and would do it all over again in a New York minute.
Dave Williams – Caterpillar Club
Wheelus AB, Libya
November 1964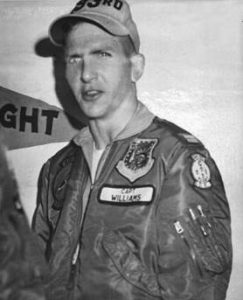 I was stationed at RAF Lakenheath, England, in 1961 to 1965. In 1964, I moved from 493rd TFS Assistant Operations Officer to 48th TFW TAC Eval. I still flew with the 493rd for record keeping purposes, but flew with all the squadrons of the 48th (492nd TFS, 493rd TFS & 494th TFS) for TAC evals, Stan rides and Instrument checks.
During previous deployments to Wheelus AB, Libya, I had, on several occasions, landed an F-100 at El Uotia Range for mechanical problems. As a result, I had flown back to Wheelus with the range crew at the end of the day in the L-20, and from Wheelus to El Outia to fly the Hun back home after it was fixed. On the occasions of flying with the range crew in the L-20, the pilots took great pleasure in finding goat herds in the dessert and buzzing them. Always when this occurred the goats scattered, which was the fun of it, and the herdsmen would pick up whatever they could find to throw at the L-20, including their staffs. I am pretty certain that they did not think it was as much fun as the L-20 crew did – truly ugly Americans.
I went to Wheelus in November, 1964, for two weeks gunnery training (LABS, Toss, and Laydown; Skip Bomb, Rockets, Dive Bomb, Strafe and Dart). On 23 November, around noon, I flew #4 in Paladin flight to El Outia Range on a conventional delivery training mission. Loren Eastburn was Lead, can't remember who was #2, and #3 was Jimmy Wilcox.  All was normal throughout the mission – as usual, the 493rd had exceptional scores in all events.
On recovery from the range, we joined up and proceeded back to Wheelus. En-route, we climbed to 11,000 feet to cross the Idris Corridor (corridor between the coast and King Idris airport) between 10,000 and 12,000 feet (standard procedure).
As the flight leveled at 11,000 +/- feet, and as I began to reduce power, I began to drop back in the flight. I felt as though I was being forced forward in the cockpit and "pushing it up" was not helping.
I soon realized that I had flamed out (it was not a violent event – the engine just quit running). From our climb at 350 KIAS, I began to lose airspeed. I did five air starts in as many seconds and then slowed down to do a methodical air start procedure as my airspeed slowed to glide speed (220 KIAS). The engine did not start in normal fuel control, nor in emergency fuel control.
With the RAT out, the machine flew beautifully, but I had no nav-aid to point to the airfield, and I could not see the runway because of the clouds. Jimmy Wilcox,  who was now flying my wing, gave the best directions possible, but there was a broken cloud deck at 4,000 to 7,000 feet and I could not see the air patch.
I decided that, with Jimmy's help we would set up for a base leg approach and, if we had enough altitude when we broke out, I would attempt a dead stick landing – if not, I would punch out. When we broke out at a little below 4,000 feet, it was obvious that I was too far out to make the field (we had not kept it close enough to the runway to make a landing even close).
I checked everything out one last time, pulled the aircraft up short of a stall, pulled up the handles and squeezed the triggers. (Later they told me that only the right trigger was activated; I am right handed). I considered telling mobile control, just before punching out, that "OK Mobile, you got it!" but resisted the urge.
I reached for the parachute lanyard after separating from the seat, but it was not there – the system had beaten my reaction time. I later recovered the lanyard from the seat as well as my flight cap, stowed on the left side of the cockpit above the dash cowling (Captain's bars were pretty beaten up.)
When the chute opened, I activated the seat pack and shortly thereafter made a perfect PLF. I found the emergency radio in the seat pack and called Lead that Paladin 4 was on the ground and was OK. I was somewhat concerned that I might have landed in an area where the range crews had buzzed the goat herds. But as it happened, I landed in an olive orchard very near to the EOD range at Wheelus.
I started policing up my gear, when an U.S. Airman appeared who gave me a salute – I saluted smartly and then immediately gave him a hug. He gave me ride back to Wheelus. Another no sweat day in the life of a Hun driver from "the Heath" at Wheelus AB, Libya.
It turned out that this aircraft, along with a few others, had a new boost pump test switch installed on the aircraft as a result of a high priority retrofit. The new test switch shorted out, which caused the boost pumps to fail and the engine flamed out, even though there was still fuel in the fuselage tank. The engine would not start because it was not getting fuel.
Enclosed is a blurb from the "AIRSCOOP" flight safety magazine of USAFE.
~ Dave Williams
Units Assigned
1958 Lackland AFB, TX
1958 Primary Flight Training, Malden AB, MO (T-34, T-28)
1958-1959 Basic Flight Training, Reese AFB, TX (T-33)
1959 Combat Crew Training, Luke AFB, AZ (F-100 C/F)
1959-1960 Combat Crew Training, Nellis AFB, NV (F-100 D/F)
1960-1961 522nd Tactical Fighter Squadron/27th Tactical Fighter Wing, Cannon AFB, NM (F-100 D/F)
1961-1965 493rd Tactical Fighter Squadron/48th Tactical Fighter Wing/TAC EVAL; RAF Lakenheath, England (F-100 D/F)
1965 4514th Combat Crew Training Squadron; Luke AFB, AZ (F-100D/F)
1966-1967 Aerospace Research Pilot School, Edwards AFB, CA (T-33, T-38, F-104, B-57)
1967-1972 3246 Test Wing/Test Ops, Eglin AFB, FL (F-100D/F, T-38, F-4C/D)
(TDY to Ubon RTAFB, Thailand; Tan Son Nhut ABF, Vietnam; Udorn RTAFB, Thailand)
1972-1973 Air War College, Maxwell AFB, AL
1973-1974 4th Tactical Fighter Squadron/432nd Tactical Fighter Wing (ADO), Udorn RTAFB, Thailand (F-4D/E)
1975-1979 HQ USAF, Tactical Fighter Requirements, Washington, DC
1979 57th Tactical Fighter Wing (DO), Nellis AFB, NV (F-5)
1979-1982 3246th Test Wing (CC), Eglin AFB, FL (T-38, F-4C/D/E, A-10, F-16, F-15)
1982-1983 Canandian NORAD (VC); North Bay, Ontario, Canada (T-33)
1983-1986 HQ Air Force Systems Command (TE), Andrews AFB, MD
1986 Retired USAF
Flight Info
T-34
T-28
F-100 C/D/F
T-33
T-38
F-104
B-57
F-4 C/D/E
F-5
A-10
F-16
F-15
Military Education
1972-1973 Air War College, Maxwell AFB, AL
Civilian Education
1952-1957 BS/Chemical Engineering, The University of Texas
1972-1973 MBA, Auburn University
Biography

After the Hun, flying was still fun, but not nearly so demanding.The F4 had INS so navigation was ho-hum. On the F-16 the gun sight made bombing easy (15 foot CEA even when jinking all the way down the shoot). Overall, the performance of the F-15 and F-16 made ACM a piece of cake. The A-10 didn't have a lot of bells and whistles, so it was a lot of fun. The F-104 was a neat jet and it was a pleasure to strafe from the airplane.
At the Pentagon, I had the opportunity to influence fighter aviation to some degree, I was the Program Element Monitor for the F-16 from competition of the light weight fighter to production of the first 1000 airplanes. Also, while at the Pentagon, I, along with two majors, solely constructed the requirements for the F-117, from inception to production (including range, performance, engines, ordnance, avionics, communications and employment doctrine).
I would not trade a minute of my time in the Air Force (especially my time in the Hun) and would do it all over again in a New York minute.

Dave Williams – Caterpillar Club
Wheelus AB, Libya
November 1964

I was stationed at RAF Lakenheath, England, in 1961 to 1965. In 1964, I moved from 493rd TFS Assistant Operations Officer to 48th TFW TAC Eval. I still flew with the 493rd for record keeping purposes, but flew with all the squadrons of the 48th (492nd TFS, 493rd TFS & 494th TFS) for TAC evals, Stan rides and Instrument checks.
During previous deployments to Wheelus AB, Libya, I had, on several occasions, landed an F-100 at El Uotia Range for mechanical problems. As a result, I had flown back to Wheelus with the range crew at the end of the day in the L-20, and from Wheelus to El Outia to fly the Hun back home after it was fixed. On the occasions of flying with the range crew in the L-20, the pilots took great pleasure in finding goat herds in the dessert and buzzing them. Always when this occurred the goats scattered, which was the fun of it, and the herdsmen would pick up whatever they could find to throw at the L-20, including their staffs. I am pretty certain that they did not think it was as much fun as the L-20 crew did – truly ugly Americans.
I went to Wheelus in November, 1964, for two weeks gunnery training (LABS, Toss, and Laydown; Skip Bomb, Rockets, Dive Bomb, Strafe and Dart). On 23 November, around noon, I flew #4 in Paladin flight to El Outia Range on a conventional delivery training mission. Loren Eastburn was Lead, can't remember who was #2, and #3 was Jimmy Wilcox.  All was normal throughout the mission – as usual, the 493rd had exceptional scores in all events.
On recovery from the range, we joined up and proceeded back to Wheelus. En-route, we climbed to 11,000 feet to cross the Idris Corridor (corridor between the coast and King Idris airport) between 10,000 and 12,000 feet (standard procedure).
As the flight leveled at 11,000 +/- feet, and as I began to reduce power, I began to drop back in the flight. I felt as though I was being forced forward in the cockpit and "pushing it up" was not helping.
I soon realized that I had flamed out (it was not a violent event – the engine just quit running). From our climb at 350 KIAS, I began to lose airspeed. I did five air starts in as many seconds and then slowed down to do a methodical air start procedure as my airspeed slowed to glide speed (220 KIAS). The engine did not start in normal fuel control, nor in emergency fuel control.
With the RAT out, the machine flew beautifully, but I had no nav-aid to point to the airfield, and I could not see the runway because of the clouds. Jimmy Wilcox,  who was now flying my wing, gave the best directions possible, but there was a broken cloud deck at 4,000 to 7,000 feet and I could not see the air patch.
I decided that, with Jimmy's help we would set up for a base leg approach and, if we had enough altitude when we broke out, I would attempt a dead stick landing – if not, I would punch out. When we broke out at a little below 4,000 feet, it was obvious that I was too far out to make the field (we had not kept it close enough to the runway to make a landing even close).
I checked everything out one last time, pulled the aircraft up short of a stall, pulled up the handles and squeezed the triggers. (Later they told me that only the right trigger was activated; I am right handed). I considered telling mobile control, just before punching out, that "OK Mobile, you got it!" but resisted the urge.
I reached for the parachute lanyard after separating from the seat, but it was not there – the system had beaten my reaction time. I later recovered the lanyard from the seat as well as my flight cap, stowed on the left side of the cockpit above the dash cowling (Captain's bars were pretty beaten up.)
When the chute opened, I activated the seat pack and shortly thereafter made a perfect PLF. I found the emergency radio in the seat pack and called Lead that Paladin 4 was on the ground and was OK. I was somewhat concerned that I might have landed in an area where the range crews had buzzed the goat herds. But as it happened, I landed in an olive orchard very near to the EOD range at Wheelus.
I started policing up my gear, when an U.S. Airman appeared who gave me a salute – I saluted smartly and then immediately gave him a hug. He gave me ride back to Wheelus. Another no sweat day in the life of a Hun driver from "the Heath" at Wheelus AB, Libya.
It turned out that this aircraft, along with a few others, had a new boost pump test switch installed on the aircraft as a result of a high priority retrofit. The new test switch shorted out, which caused the boost pumps to fail and the engine flamed out, even though there was still fuel in the fuselage tank. The engine would not start because it was not getting fuel.
Enclosed is a blurb from the "AIRSCOOP" flight safety magazine of USAFE.
~ Dave Williams

Units Assigned

1958 Lackland AFB, TX
1958 Primary Flight Training, Malden AB, MO (T-34, T-28)
1958-1959 Basic Flight Training, Reese AFB, TX (T-33)
1959 Combat Crew Training, Luke AFB, AZ (F-100 C/F)
1959-1960 Combat Crew Training, Nellis AFB, NV (F-100 D/F)
1960-1961 522nd Tactical Fighter Squadron/27th Tactical Fighter Wing, Cannon AFB, NM (F-100 D/F)
1961-1965 493rd Tactical Fighter Squadron/48th Tactical Fighter Wing/TAC EVAL; RAF Lakenheath, England (F-100 D/F)
1965 4514th Combat Crew Training Squadron; Luke AFB, AZ (F-100D/F)
1966-1967 Aerospace Research Pilot School, Edwards AFB, CA (T-33, T-38, F-104, B-57)
1967-1972 3246 Test Wing/Test Ops, Eglin AFB, FL (F-100D/F, T-38, F-4C/D)
(TDY to Ubon RTAFB, Thailand; Tan Son Nhut ABF, Vietnam; Udorn RTAFB, Thailand)
1972-1973 Air War College, Maxwell AFB, AL
1973-1974 4th Tactical Fighter Squadron/432nd Tactical Fighter Wing (ADO), Udorn RTAFB, Thailand (F-4D/E)
1975-1979 HQ USAF, Tactical Fighter Requirements, Washington, DC
1979 57th Tactical Fighter Wing (DO), Nellis AFB, NV (F-5)
1979-1982 3246th Test Wing (CC), Eglin AFB, FL (T-38, F-4C/D/E, A-10, F-16, F-15)
1982-1983 Canandian NORAD (VC); North Bay, Ontario, Canada (T-33)
1983-1986 HQ Air Force Systems Command (TE), Andrews AFB, MD
1986 Retired USAF

Flight Info

T-34
T-28
F-100 C/D/F
T-33
T-38
F-104
B-57
F-4 C/D/E
F-5
A-10
F-16
F-15

Military Education

1972-1973 Air War College, Maxwell AFB, AL

Civilian Education

1952-1957 BS/Chemical Engineering, The University of Texas
1972-1973 MBA, Auburn University